Recent reports show that the third round of quantitative easing is already underway. Along with QE3, there is potentially more foreseeable quantitative easing in the future. In reaction, many stock market and business experts are becoming less and less certain as to which stocks will gain from the United States' government-backed "spurring" of the economy.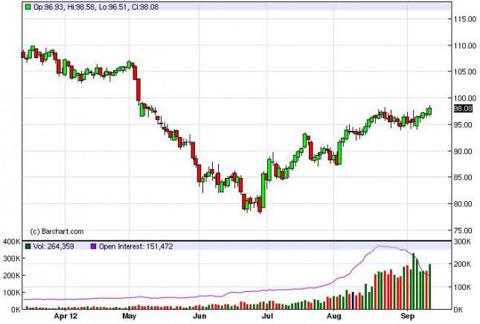 QE3 has led many commodities, including oil, to go higher.
There are many reasons why Valero Energy (NYSE:VLO) presents a great opportunity for investors looking for exposure to the oil and gas sector. Valero showed better than expected results for the second quarter of 2012, with net income of $831 million, or $1.50 per share, compared to net income of $745 million, or $1.30 per share in the second quarter of 2011. Valero has a number of growth catalysts along with QE3 that could push it higher in the coming months, including the expansion of its Port Arthur plant to 95,000 bpd from 85,000 bpd, and completed maintenance projects at its St. Charles and McKee refineries.
Since Valero Energy has a better P/E ratio and better market forces (including legal, acquisition options and competitors' investment) than its competitors, along with rising oil prices from QE3, I believe Valero is poised to be the most profitable oil and gas company in the short and long-term. When it comes to Valero's price to earnings ratio (P/E) alone, it looks like a more expensive stock compared its competitors. However, looking at the stock holistically will show that it is a much cheaper stock going forward compared to its competitors in the energy sector. Valero's baseline price to earnings ratio is 10.75. In contrast, the price to earnings ratio of Exxon Mobil (NYSE:XOM) is 9.64. Based on these two P/E ratios, investors are forecasting higher earnings potential for Valero's stock, albeit with a bit more risk than Exxon's stock. However, Valero has a much greater upside potential.
Due to declining prices of refineries in America, Valero is poised to capitalize on the misfortune of one of its competitors by picking up integral industry assets at fire-sale prices. According to reports by Bloomberg, BP (NYSE:BP) is expected to divest its ownership of its Texas City refinery. BP is expected to receive $2.85 billion from its ownership of the refinery. However, BP now might get less than half of that figure. These actual figures, according to Bloomberg, are based on valuations for United States' plants not staying current with climbing margins. Based on the current valuation of the refinery, experts believe Valero can pick this up for as little as $1 billion.
Another set of market forces and business decisions have given Valero an advantage over its competitor Chevron (NYSE:CVX). According to the New York Times, Chevron may have unknowingly given Valero and its other competitors an advantage by diverting some of its resources to renewable energies versus traditional fossil fuels. During the 2008 election cycle, the Republican and Democratic nominees for the U.S. Presidency made alternative energy a top campaign issue. Because Chevron emphasized its commitment to geothermal power and alternative energies, the company took a major hit when climate change legislation died in the United States Congress, enabling Chevron's push for alternative energies to fall on deaf ears.
Additionally, President Obama permitted the oil industry to drill deeper and in new places; this was just the beginning of the re-incorporation of fossil fuels and the deafening on the importance of alternative fuels. I believe that this change in the political will of Americans and the Presidents to de-emphasize alternative energy and re-focus on fossil fuels hurt Chevron's short and long-term profitability. Since Chevron invested so much into alternative fuels, it put itself behind other energy companies in exploration and recovery of traditional fossil fuels.
There are unintended beneficial effects from Quantitative Easing that will better impact Valero versus Anadarko Petroleum (NYSE:APC). Since Valero is a refining company that makes distillates and caters to customer's fuel needs, and all of its refineries are not in politically unstable lands, when supplied with petroleum it can operate effortlessly and efficiently. Moreover, even though the effects of Quantitative Easing have increased the cost of all commodities, including oil, its efficient technology has lowered its production costs. Valero can also justify price increases because it can rationalize that input and processing costs accordingly cost more. Therefore, profitability is more likely because most, if not all costs, are out of Valero's hands.
In contrast, Anadarko's business is partially involved with oil exploration in politically unstable areas of the world. Since Anadarko has investments in China, Mozambique, South Africa, Kenya, West Africa, Ghana and Algeria, its assets are more at risk of being damaged through civil unrest or potentially nationalized by the present of future governments. Therefore, since Valero's assets are exposed, and there are stable sources of petroleum world-wide, Valero's business is better protected from local or global supply disruptions. I urge investors to consider buying Valero before buying stock of companies like Exxon Mobil, BP, Chevron and Anadarko Petroleum.
Disclosure: I have no positions in any stocks mentioned, and no plans to initiate any positions within the next 72 hours. I wrote this article myself, and it expresses my own opinions. I am not receiving compensation for it (other than from Seeking Alpha). I have no business relationship with any company whose stock is mentioned in this article.