Yesterday marked the first day since July 18 in which the Security and Exchange Commission's emergency ban on naked short selling for 19 financial stocks is not in effect.  The SEC's limit on short sales originally took effect on July 21 and was aimed at stopping traders from driving down the price of financial stocks through selling shares short which they did not first borrow.
Traditionally, short sellers will borrow shares of a stock and then sell them.  Short sellers then profit from buying the shares back at a lower price.
Since the SEC announced the emergency order on July 15, the 19 affected financial stocks have gained 26% according to a report by Bloomberg.  However, the soaring prices of these financial stocks have still only brought their valuations back to the levels of March 17 when JPMorgan Chase & Co. bought out Bear Stearns.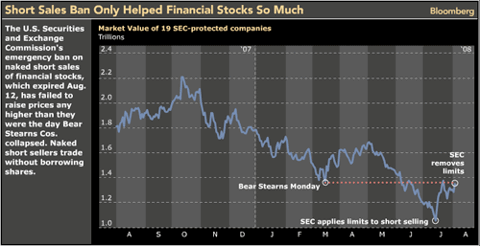 The Security and Exchange Commission is expected to announce new permanent rules on short selling very soon.  Chairman Christopher Cox announced on July 24 that he is considering taking steps to limit rapid-fire short sales and forcing investors to disclose short positions.