The amazing part about the current rally is that the slow growing industries such as utilities and cable companies have led the rally. For the most part though, the rally hasn't been based on any fundamental changes in those industries. Most notably the move has been based on an investor chase for yield. Stocks paying 4% dividend yields are attracting investors getting next to nothing in 10-year Treasuries.
So why has Comcast Corp. (NASDAQ:CMCSA) followed in that rally? The current yield of 1.8% shouldn't be enough to attract investors with the stock trading at nearly 17x next year's earnings. In comparison, Time Warner Cable (TWC) pays 2.3%, while communications providers AT&T (NYSE:T), Verizon Communications (NYSE:VZ), and Vodafone (NASDAQ:VOD) pay over 4%.
Comcast is a leading media, entertainment, and communications company principally involved in the operation of cable systems and in the production and distribution of entertainment, news, and sports for global audiences through NBCUniversal.
Q2 Earnings Highlights
One justification for this rally could be an incredible change in the business prospects over that time frame. Has the earnings profile improved that much?
The company reported the following highlights for Q2 2012:
Consolidated Revenue Increased 6%
Operating Income Increased 5%
Earnings per Share Increased 35% to $0.50
Generated $1.6 Billion of Free Cash Flow
Dividends and Share Repurchases Totaled $1.2 Billion
Free Cash Flow increased 2.2% to $1.6 Billion
Operating Cash Flow increased 4.2% to $5.0 Billion
Due to a charge last year, adjusted earnings only increased 19%. The results are still a considerable improvement over 2011. While analysts only forecast 2.4% revenue growth next year, the earnings are expected to jump roughly 15% to $2.20.
While the company is managing to push more income to the bottom line, it isn't translating into cash flow growth. Ultimately the meager 2-4% cash flow growth rate will be reflected in the multiples.
Soaring Stock
The price action in Comcast has been incredible over the last 12 months. The stock is up an astonishing 71% during that time period. Investors just thought gains in AT&T and Verizon were exceptional. See the chart below: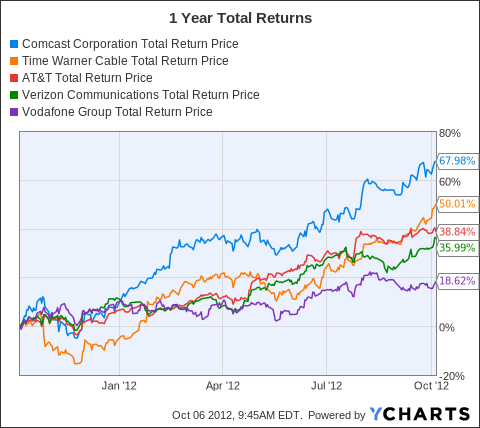 CMCSA Total Return Price data by YCharts
Conclusion
Clearly the recent gains in Comcast won't be repeated due to the current valuation. Nor does the stock provide enough yield to support holding. Besides, the other stocks all provide similar to better valuations a long with much higher yields.
As suggested in this previous article, investors should look into buying the laggard amongst this group. Vodafone has faced issues with reduced demand in some European areas that will not last forever.
When a discrepancy exists amongst similar stocks, investors typically do best to rotate from the winner to the laggard. A reversion to the mean will inevitably occur.
Disclosure: I am long VOD. I wrote this article myself, and it expresses my own opinions. I am not receiving compensation for it (other than from Seeking Alpha). I have no business relationship with any company whose stock is mentioned in this article.
Additional disclosure: Please consult your investment advisor before making any investment decisions.