Since my last post on market direction the S&P 500 has rallied by some 50 points (from 1410 to 1460). However, in recent market action there is an air of uncertainty. The Federal Reserve's announcement of QE3 in the meantime has been met with skepticism. Economic data has been tepid, but has not declined further. A quick summary: Jobless Claims, 367k; payrolls, 114k; ISM manufacturing turns up to 51.5 as did the Philly Fed, but not the Empire State Index. It seems quite premature to get excited about any of these numbers, but they aren't getting weaker either. The internals of the stock market have continued to show indecision, while the bond market has continued to sell off on the long end of the curve, a trend which could be favorable if it continues.
The ratio of cyclical to consumer staples stocks (VIS/VDC), shown below has rolled over slightly a trend that if it continues would be bearish. I viewed the set up for Q4 2012 to be very reminiscent of Q4 2010. We had the announcement of QE and what appears to be a firming in economic data following a correction in the second quarter. But lately the market has been a good deal more reluctant than in 2010. Also, it is worth noting that a substantial amount of profit taking has been happening. Many stocks with good momentum have sold off hard in the last several weeks, a trend which was last observed before the correction during the second quarter.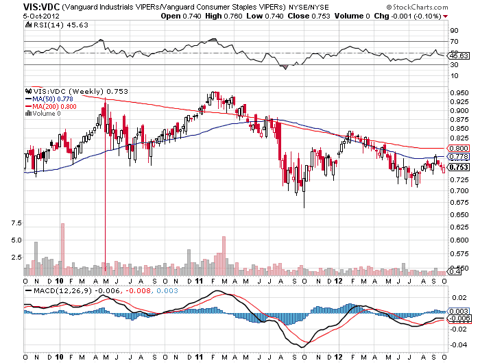 While cyclical stocks have been reluctant to respond to the Federal Reserve's QE program, bonds have begun to respond. Below is a chart, which plots the ratio of TIP/TLT. This can be thought of as a proxy for the inflation expectations of the market. Long bonds underperform and TIPS outperform when inflation expectations are rising. The trend has been somewhat jagged and a pullback occurred from the knee-jerk response to QE3. However, the trend has continued upward, which should be beneficial to stocks. This is interesting, because the bond market has generally been quite slow and reluctant to confirm rallies. For example an uptrend in TIP/TLT was only confirmed near the end of July 2012, well after the bottom of this summer's correction was already in the rear-view mirror.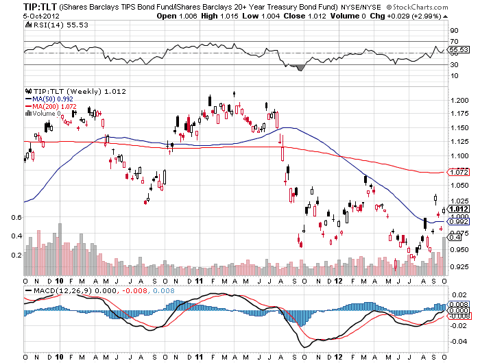 Thus, the present condition of the market is best described as indecisive. Readers who are not confident enough to remain long in an indecisive market could consider booking profits. However, higher stock prices are still my expectation by the end of the year.
Disclosure: I have no positions in any stocks mentioned, and no plans to initiate any positions within the next 72 hours. I wrote this article myself, and it expresses my own opinions. I am not receiving compensation for it (other than from Seeking Alpha). I have no business relationship with any company whose stock is mentioned in this article.