Introduction
Last Wednesday, the famous hedge-fund investor David Einhorn presented his best investment theses at the Value Investing Congress. David Einhorn is most famous for his successful short predictions on Allied Capital, Lehman Brother's and Green Mountain Coffee Roasters. But while his short investments generate the most attention from the media, Einhorn is long more often than short (according to his own book), and one of his long positions is General Motors (NYSE:GM). Wednesday he explained why he thought the company would generate positive alpha for its investors.
Analysis of his arguments
We believe GM is much healthier now, says Einhorn. "It's reduced costs extensively... gross cash at about 3.4 of its market cap that could be returned to shareholders. Their pensions looks manageable, costs contained, balance sheet healthiest
Critics of General Motors often point out that General Motors has $31 billion of unfunded pension liabilities, but since General Motors has a large reserve of cash, it is in a decent position to pay off the liabilities in the future. As long as GM is capable of generating positive earnings and free cash flow, the liabilities won't be a serious concern.

They also won't have to pay US taxes for about a decade.
Since a Treasury Department ruling allows GM to use historical losses of $18 billion to counterbalance its profit, it doesn't have to pay federal income tax in the coming years. Over the last year, it has only paid 10% of its income in taxes on a global basis.
Thinks the consensus forecast which shows good growth is too low.
Analysts expect a 10.5% CAGR over the next five years, and David Einhorn thinks they are pessimistic. Let's take a look at why he thinks that General Motors will grow more.
Sees a significant improvement in product cycle over the next few years... Europe is a problem, but it's a problem for everyone and GM could get it to break even in three years.
I think he is a bit optimistic here. While I don't think Europe will get much worse (it has bottomed), I would not calculate with General Motors breaking even in 2015. It's true that no one is doing particularly well in Europe, but General Motors (along with Ford) is doing worse than its competitors.
Ford and GM have lost market share to the market leader Volkswagen and the South Korean automobile manufacturer Hyundai. Due to lower labor costs, Hyundai can sell vehicles cheaper than Ford and General Motors. Nevertheless, Europe is a region where I expect small improvements over the coming years, as I believe at least one the three things will happen:
1) Labor unions will be more accommodating to wage decreases.
2) Plants will be closed
3) Europe GDP growth rate will stabilize at a growth rate of 1-2%.

Now, lets go back to David Einhorn, and analyze his other arguments.
Assuming GM keeps its current market share it would sell more than 300k units more in the coming years.
I am assuming he is talking about the US market here, and he is definitely correct; the US automobile market is expected to grow. LMC Automotive estimates that there will be 15 million vehicles sold in 2013.sold If General Motors can maintain its market share of 18%, sales in the US will increase from 2.4 million over the last twelve months to 2.7 million in 2013.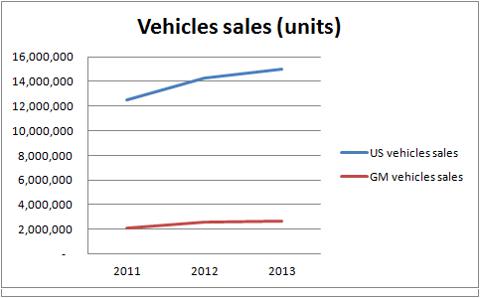 So how does this affect earnings growth? Since David Einhorn didn't outline the exact relationships between increased vehicle sales and earnings, I have estimated the effect myself. In the below model you can see all the steps I have taken to estimate the future earnings growth rate. As this might be a bit confusing to read, I have outlined the most important assumptions below:
This model assumes that earnings in the Non-US segments will be constant.
Sales, General and Administrative ("SGA") for GMNA (General Motors North America) is estimated based on the average SGA/revenue ratio of General Motors.
SGA/revenue is expected to decline slightly due to scale advantages and increased efficiency.
In order for total operating costs to match the historical figures, I have estimated that the average cost per vehicle was $27,000 over the last twelve months.
Cost per vehicle is assumed to be constant in the future.
The end result? Earnings for General Motors will grow by 12.5% over the next six months (26% annualized), and 11% in 2013. Given that David Einhorn also believe losses in Europe will be reduced, his estimated earnings growth rate is probably even higher.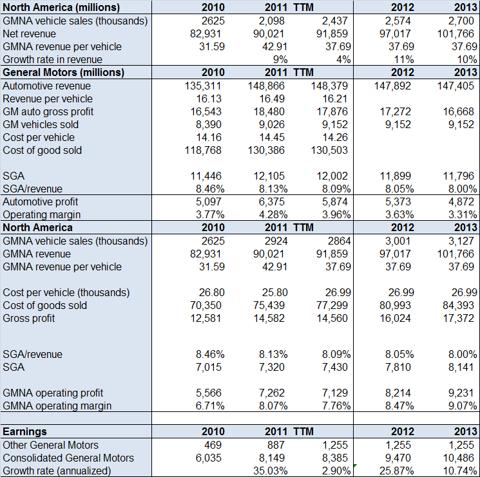 David Einhorn also thinks that General Motors will benefit from new products in the coming years:
GM's pending product refresh cycle should reverse its share loss. 60% new or refresh products in the next few years as opposed to 23% in the last 2 years.
New products, such as the 2014 Chevrolet Impala (the picture below), new Cadillac ATS and XTS, new pick-up trucks and SUVs could definitely help sales growth, and I believe it's not unrealistic for General Motors to obtain a slightly higher market share in the US.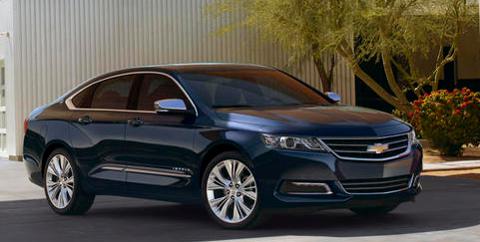 GM derives 38% of revenue from international ventures, and Latin America is about to see a product refresh cycle much like North America's.
Unlike Ford (NYSE:F), General Motors actually sells a lot of cars in South America. But while Ford makes a small profit in the region, General Motors has a negative operating margin of 1%. But given the new product refresh cycle, it's definitely possible that South America could break even in the near future.

Conclusion
It's easy to look at all these growth expectations, and forget that General Motors trades at a P/E-ratio of just 8.7 and a forward P/E-ratio of just 5.7. Yes, despite the great potential, it is being priced as if its earnings will decline. In my opinion, you don't even have to agree with David Einhorn that General Motors will grow by double digits in the coming years. As long as it maintains the profitability in North America, and Latin America and Europe doesn't get any worse, it will be a profitable investment for investors.
Prior to this presentation by David Einhorn I had two concerns with the company which caused me not invest in it: 1) Much higher CAPEX spending than Ford and 2) the level of dealer's inventory has increased a lot over the last year. But David Einhorn is a master of detecting accounting gimmicks/fraud, and I don't think he would have invested in General Motors if these two issues were significant to his investment thesis.
Disclosure: I have no positions in any stocks mentioned, but may initiate a long position in GM over the next 72 hours. I wrote this article myself, and it expresses my own opinions. I am not receiving compensation for it (other than from Seeking Alpha). I have no business relationship with any company whose stock is mentioned in this article.