I first wrote about Horizon Pharma (NASDAQ:HZNP) back in May when it was selling at $4 a share. Over the next few months the shares shot up to $8 a share after I sold out of my position at $7 (Bulls make money, bears make money, pigs get slaughtered theory). The company soon thereafter announced a huge share offering that doubled the shares outstanding and the stock got cut in half. The company is a huge target for shorts but an insider just made a huge purchase and it has had some other positive catalysts. It is an intriguing speculative play here.
Recent positives for HZNP:
A director just bought $2mm in new shares.
It just expanded its sales force from 80 to 150 representatives which should have a commensurate impact on sales growth. The additional sales force will help it market Duexis. This drug is used in the treatment of rheumatoid arthritis and osteoarthritis.
The company also received FDA approval for its second product, Rayos, in July. Rayos is used in the treatment of several diseases including rheumatoid arthritis. Horizon expects to launch Rayos in the U.S. in the fourth quarter of 2012
Farallon Capital has taken a recent liking to this stock and has accumulated more than 5% of the float. Tang Capital and Sutter Hill Ventures have also have accumulated more than 5% stakes. That major players in this space have over 20% of the company's float is encouraging.
Horizon Pharma develops and commercializes medicines for the treatment of arthritis, pain, and inflammatory diseases.
4 additional reasons HZNP is solid speculative play at under $3.50 a share:
The company is on track to tripled revenues to over $20mm in FY2012. Analysts expect revenues to more than triple again in FY2013 to around $75mm.
In addition to Duexis and Rayos, Horizon also two other compounds for pain in its pipeline and is

currently

looking for partners to develop. With the secondary offering, the company now has over $80mm on its balance sheet to develop new drugs and more importantly rapidly increase its revenues from its existing approved compounds.
Almost 50% of the stock is held by shorts, so a squeeze could happen at any time. Horizon is presenting at the 11th Annual BIO Investor Forum on Tuesday, which might generate some buzz for the stock.
The stock has good long term technical support at this level (See Chart).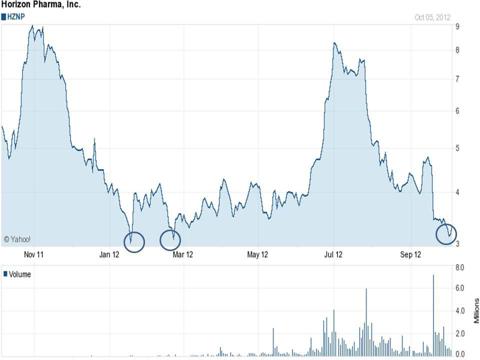 Note: The options markets are thin for this equity, but since it is sort of a binary play, I will be looking to pick up the May 4 calls for thirty cents. If I can't fill, I will take small position outright.
Disclosure: I have no positions in any stocks mentioned, but may initiate a long position in HZNP over the next 72 hours. I wrote this article myself, and it expresses my own opinions. I am not receiving compensation for it (other than from Seeking Alpha). I have no business relationship with any company whose stock is mentioned in this article.