Although I consider myself a contrarian investor, I usually avoid stocks that have completely cratered. Turnarounds have a low percentage of success and for the most part I pass. However, in the case of Rovi Corporation (NASDAQ:ROVI) I am willing to lose my normal turnaround apprehension and take a small stake. The stock is cheap and has some recent positive catalysts. It sold for $50 less than a year ago and I will be very happy if it gets back to half that level.
Positives for Rovi:
The new CEO just purchased $225K worth of shares at $15 a share.
Glenview Capital has built up a stake in the stock now totaling 7% of the outstanding float. It has less than 1% of the shares as of the end of March.
Toys R Us just announced a new video streaming service that will be powered by Rovi.
Rovi Corporation provides digital entertainment technology solutions for the discovery and management of entertainment content
6 additional reasons to pick up ROVI at just over $13 a share:
The stock is cheap at just 88% of book value and 7 times operating cash flow.
The company has a strong patent portfolio with over 5,000 patents that cover its programming and information services. Its programming guides serve over 90% of digital TV households in the United States, but it is just starting to expand in the international market.
The 9 analysts that cover the stock have a median price target of $18 a share, some 30% above the current stock price.
Consensus earnings estimates have finally stabilized after falling for months. In addition, revenue growth is projected to resume with a 7% gain in FY2013 after being slightly down in FY2012.
ROVI is priced at less than 7 times forward earnings, a huge discount to its five year average (15.6). The stock also sports a five year projected PEG of under 1 (.71).
The stock recently bounced off its long term technical support level of $10. The stock has been over $60 in the last few years presenting a solid risk/reward profile (See Chart).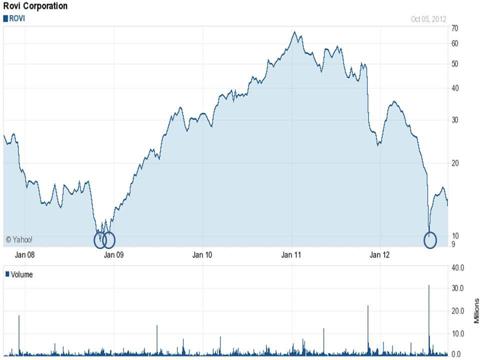 Disclosure: I am long ROVI. I wrote this article myself, and it expresses my own opinions. I am not receiving compensation for it (other than from Seeking Alpha). I have no business relationship with any company whose stock is mentioned in this article.