I believe Apple (NASDAQ:AAPL) is a deep-value dividend stock. This varies distinctly from the "Apple is a growth story" opinion. Apple detractors have come out of the woodwork in recent weeks. Yes, Steve Job passed away far too soon. I am confident Jobs chose his successor, Tim Cook, with his typical brilliance. The facts remain that Apple is powering ahead of the competition.
This article will discuss the merits of investing in Apple as a value stock with a growing dividend. I do not have any illusions that Apple will control 100% of any computer, laptop, smartphone, or tablet market. This article will highlight why Apple is a "must buy" with a 12.2 times P/E. The dividend is 1.6% per year and the company has 16% of its market share in cash. I am a proud shareholder of what the company has accomplished to date.
Click to enlarge images.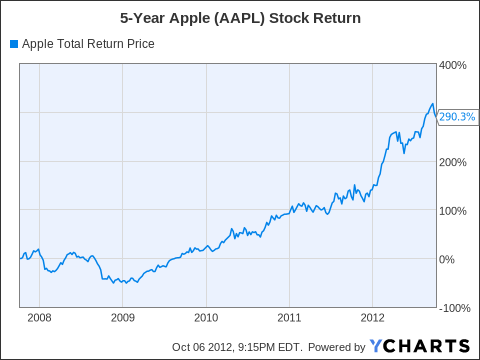 Cash Per Share
Apple is an international entity. Thus, the company retains cash in various currencies outside of the U.S. Technically, cash can be determined by cash, debt investments (i.e., long-term Treasury Bonds vs. short-term Treasury Bills), cash hedged via currency derivatives -- and this cash position varies on daily basis.
Based on reading Apple's SEC filings, the SEC 10Qs and 10Ks, the actual cash appears to be above $100 billion for a company with a $611 billion market cap entity. This assumption implies 16% of Apple's stock is supported by cash on the balance sheet. This figure is supported by long-term Apple followers.
Apple's Success Story to Date
Apple needs almost no introduction as a company. It's famous for its late founder, for its diehard consumer following, its design aesthetics, and its market leadership with popular products such as the Mac line (Mac, MacBook, MacBook Pro, and MacBook Air); the iPod, iPhone and iPad; Apple TV; and accompanying iTunes, iMovie, GarageBand, iBookstore, and the App Store for free and paid multimedia content and applications. Amongst tech enthusiasts, Apple is also known for the robustness and revolutionary design of its OS X operating system for computers, its Safari web browser, the iOS6 operating system for mobile devices, iWork for mobile, and its successful iCloud service.

Apple sells its products and services directly from its website, at its legendary Apple stores, through telecom partners such as AT&T (NYSE:T) -- which exclusively launched the first iPhone -- through retailers such as Wal-Mart (NYSE:WMT), and other channels. While Apple computers were earlier seen as satisfying a niche audience of designers, architects, and graphic arts users, the robustness of its operating system and the integration of everything Apple has renewed Apple's prominence among consumers, educational institutions (for ease of use by children of all ages), and select corporate and government customers.
Looking Ahead
The iPhone 5 was released on Sept. 21. I am still waiting for my iPhone 5, and am eagerly awaiting placement of the device in the Otter case.
Management keeps product release info close to the vest. Apple is expected to release an iPad mini this month. The iPad mini would go head to head against Google's (NASDAQ:GOOG) Nexus 7. I believe both products will have avid users. Apple's operating system competes with Google's Android. The below 10-year earnings yield estimates appear high, in my opinion. I project Apple grows earnings and dividends at 10% per annum. A 10% growth rate will support my lifestyle to perfection. Analysts project a growth rate of 25.3%.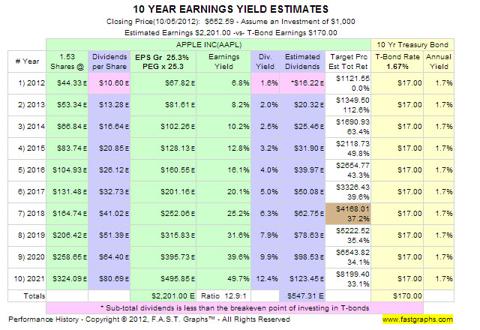 Apple released its Mountain Lion operating system and updated its MacBook line. While the company is fairly secretive about its products pipeline, it is extremely well-positioned to lead the current wave of personal and business mobile communications and transactions, with rumors that it plans to introduce mobile wallet functionality.
Strategy
Where competitors offer specific parts for computers or smartphones -- such as just hardware from Dell (DELL), just software from Microsoft (NASDAQ:MSFT), and just the Android smartphone operating system from Google -- Apple offers an integrated product bundled with consistently developed hardware, processors, software, connectors, and applications for a seamless communications experience completely contained within the Apple ecosystem.
Apple recognizes that it is not the only font for creativity and encourages third parties to develop applications and content compatible with Apple products and software. Apple also runs versions of Microsoft's popular Office productivity suite (Word, Excel, PowerPoint, etc.) for the Mac, allowing users from Windows or other computing platforms to share content with Mac users.
Core to its success has been its strategy to focus on secretive, cutting-edge research and development, and complementing its internal efforts with selective acquisitions. Apple's is also focused on expanding its sales and service offerings to reach more customers, gain market share, provide service and support, and complement its product and services strategy.
Recent Introductions
Apple continues to innovate with new versions of existing products at a speed that is well beyond the norm in the computing world. Now, users eagerly look forward to new Apple product and service announcements.
For example, in June 2012 Apple introduced Retina Display for the MacBook Pro. And in March 2012 Apple presented a new version of its iPad, lowered the price of older iPad 2 models, introduced iPhoto for the iOS for mobile phones, and updated its other products.
Dividends
Apple had famously amassed a massive cash hoard from its tremendous business and financial success over the past few years, but had not paid out dividends. Speculation was rife regarding whether the company would alter this historical no-dividend policy. Then, in March 2012, Apple announced its plan to initiate quarterly dividends starting with $2.65 per share payable to eligible shareholders on Aug. 16, 2012.
At $2.65 quarterly ($10.60 annualized), Apple offers a 1.6% dividend yield with shares trading at approximately $652.59 as of Oct. 6, 2012.
Highest Market Cap
At $611.7 billion, Apple has the highest market capitalization of all publicly traded companies.
Quarterly Financial Update
For its third quarter ended June 30, 2012, Apple reported net sales of $35 billion, up 23% from third-quarter 2011, cost of sales were up 20%, and a gross margin increase of 26%. As a percentage of revenue, its gross margin was 42.8% vs. 41.7% in Q3 2011, reflecting tighter manufacturing and sourcing operations. Total operating expenses were 10% of revenue, and Apple reported net income of $8.82 billion, up 21%. Diluted earnings per share were $9.32, up 20% from the year-ago quarter.
The table below also shows results for the first nine months of fiscal 2012 with revenues up 50.7% to $120.5 billion and net income up 73.6% to $33.5 billion vs. the year-ago nine-month period.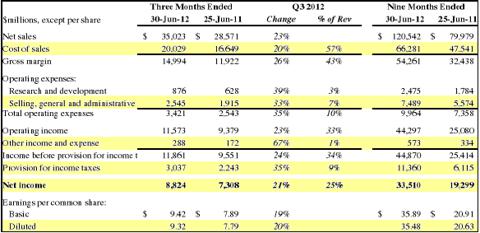 In the quarter, net sales were driven by Japan (up 33% year over year), Americas up 26%, and Asia-Pacific up 25%. Europe lagged a little but still delivered a 16% increase in net sales. Overall, Americas led sales with a $12.8 billion contribution followed by Europe at $8.2 billion and Asia-Pacific at $7.9 billion. Japan accounted for $2 billion of net sales.

By product, relative to Q3 2011, iPad $ sales were up 52% in Q3 2012, iPhone sales grew 22%, and Mac portables were up 3%. Mac desktops saw a 19% dollar decline in net sales, while iPod net sales were down 20%.

The table below shows unit sales in the quarter and the nine months ended June 30, 2012. iPad unit volumes were up a solid 84%. Apple sold 28% more iPhone units and 8% more Mac portables, but 10% fewer iPods and 13% fewer Mac desktops.

Apple has no debt and a fairly clean balance sheet. Apple ended the quarter with cash and cash equivalents of almost $8 billion, short-term marketable securities of $19.7 billion, and long-term marketable securities of $89.6 billion.
Total shareholders' equity was $111.7 billion, about one-fifth of its market capitalization as of early August 2012. Shareholders' equity grew by over $35 billion in the first nine months of fiscal 2012.

In the first nine months, Apple generated $41.7 billion in cash, up considerably from $27.1 billion in the comparable nine-month period of fiscal 2011. Apple invested a substantial portion ($43.9 billion) of its cash and generated $324 million from financing activities that included the issuance of $433 million of common stock. It ended the quarter with $7.9 billion in cash and cash equivalents.

Action
I am a buyer of Apple stock at present levels. The 1.6% dividend yield should increase due to Apple's balance sheet. I am comfortable owning the stock if the earnings grow at 10% and the dividend increases each year.
Apple's stock trades at 12.2 times 2013's $53.34 earnings per share. Future missteps or shortfalls in regard to delivering on Wall Street's expectations could cause sharp pullbacks in the stock, based on psychological fears that Apple may not be able to sustain its culture of innovation without Jobs.
That said, Apple is often touted as the first company likely to reach a trillion-dollar market cap. How this pans out, only time will tell. But I'm a believer.
Disclosure: I am long AAPL, GOOG, MSFT. I wrote this article myself, and it expresses my own opinions. I am not receiving compensation for it (other than from Seeking Alpha). I have no business relationship with any company whose stock is mentioned in this article.