This article is the second in a series where I will be choosing two stocks and presenting a bull case for one stock (the Hero) and bear case for the other stock (the Zero). Today's bull case will be for PDL BioPharma (NASDAQ:PDLI) and the bear case will be for Alcatel-Lucent (ALU).
PDL BioPharma - Bull Case
| | |
| --- | --- |
| Sector | Biotechnology |
| Market Cap | $1.13B |
| 52 Week High/Low | $4.70/$8.08 |
| Latest Closing Price (10/5/12) | $8.08 |
| Share Price Performance YTD | 39.31% |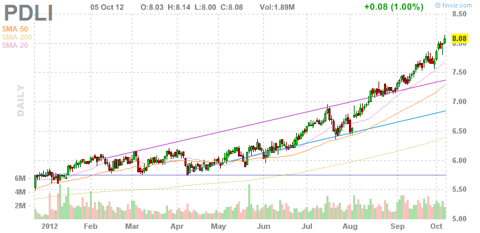 Business summary from Yahoo Finance:
PDL BioPharma, Inc. engages in intellectual property asset management and royalty bearing assets investment activities. The company is involved in the humanization of monoclonal antibodies and the discovery of a new generation of targeted treatments for cancer and immunologic diseases. The company was formerly known as Protein Design Labs, Inc. and changed its name to PDL BioPharma, Inc. in 2006. PDL BioPharma, Inc. was founded in 1986 and is headquartered in Incline Village, Nevada.
Below are 4 reasons I am bullish on PDL BioPharma:
1) Consistent and Strong Growth - PDL BioPharma has an enviable track record of posting consistent and strong growth numbers. It has averaged annual growth of revenues over 20% since 2004. It has also proven to be profitable as well. EPS for 2012 is expected to be $1.33 and EPS for 2013 is projected at $1.75. PDL manages and licenses intellectual property and royalty assests which provide the company with a consistent cash-flow.
2) Annual Dividend - PDL BioPharma pays a $.60 per share annual dividend ($.15 per quarter) which yields 7.43%. It isn't often you get a strong growth stock that pays a very nice dividend.
3) Excellent Leadership - Lead by CEO John P. McLaughlin the management team at PDLI is top notch. McLaughlin has a very accomplished executive resume which includes senior level/leadership positions at several different companies. He also has extensive experience in Washington D.C. as Counsel to various Congressional subcommittees where he drafted several measures that become FDA laws.
4) Future Prospects - PDL BioPharma has several royalty bearing products as shown in the graph below from PDL BioPharma's investor relations web page.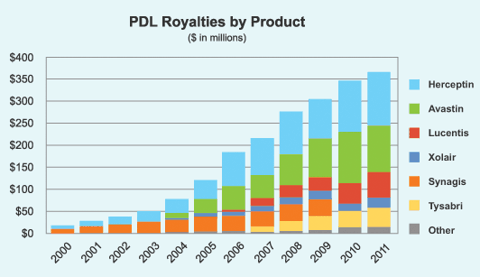 Many of the drugs listed above are in clinical trials for additional indications which portends well for PDLI's future revenue stream. PDLI also has new prospects being developed in the pipeline such as:
Bapineuzumab - A potential therapy to delay progression of Alzheimer's disease
Solanezumab - Another potential therapy to slow the progression of Alzheimer's disease
Teplizumab - A potential treatment for type 1 diabetes mellitus
Trastuzumab-DM1- A potential treatment for metastatic breast cancer
I think PDL BioPharma is a "Hero". It has shown tremendous growth, share appreciation, pays a healthy dividend, and has bright prospects for the future. I will be watching PDLI closely and will look to start a position on any share price dips moving forward.
Alcatel-Lucent - Bear Case
| | |
| --- | --- |
| Sector | Communications Equipment |
| Market Cap | $2.42B |
| 52 Week High/Low | $.99/$3.12 |
| Latest Closing Price (10/5/12) | $1.04 |
| Share Price Performance YTD | (33.33%) |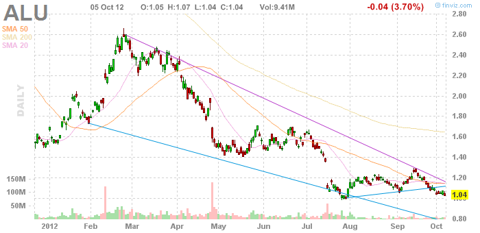 Business summary from Yahoo Finance:
Alcatel-Lucent, S.A. provides networking and communications technology, products, and services to service providers, enterprises, and governments worldwide. Alcatel-Lucent, S.A. was formerly known as Alcatel, S.A. and changed its name to Alcatel-Lucent, S.A. in December, 2006. The company was founded in 1898 and is based in Paris, France.
Below are 4 reasons I am bearish on Alcatel-Lucent:
1) Weak Balance Sheet - Alcatel-Lucent carries an enormous amount of debt. Its current debt to equity ratio sits at 1.43. The company has 2.2 billion Euros of convertible debt maturing over the next 3 years and only sits on 2.8 billion Euros of gross cash. Alcatel-Lucent currently burns about $470M of cash per year. With declining margins and analysts predicting higher than expected losses in the second half of 2012 plus a slow down in China and weak European telecom spending - the future doesn't look very rosy for Alcatel-Lucent.
2) Multiple Analyst Sell Ratings - On 10/1/12, UBS cut its rating on Alcatel-Lucent from hold to sell and lowered the price target to $.78 per share. On 10/5/12 Goldman Sachs cut its rating on Alcatel-Lucent from hold to "conviction sell" and lowered its price target to $.80. Both analysts cite debt and revenue problems.
3) Poor Cash-Flow History And Dim Prospects - Ever since Alcatel merged with Lucent 6 years ago it has been free cash-flow negative. In addition to severe cost-cutting measures it needs to see an uptick in U.S. telecoms purchasing its gear especially with China slowing down and Europe in a financial crisis and spending slump. Unfortunately news like Verizon (NYSE:VZ) stating it actually spent 17% less in the first half of 2012 than it did in H1 2011 on infrastructure doesn't help. Also, In August, Credit Suisse slightly lowered AT&T (NYSE:T) 2012 capex outlook. This does not bode well for Alcatel-Lucent's prospects moving forward.
4) Wi-Lan (WIN.TO) Patent Litigation - To add to Alcatel-Lucent's woes Wi-Lan recently announced it was beginning litigation against Alcatel-Lucent for patent infringement in U.S. District Court - Southern Florida District. This lawsuit is another added expense for Alcatel-Lucent to defend itself or, if it loses, pay damages and/or additional licensing expenses. Alcatel-Lucent also recently paid $4.2M to settle a whistleblower lawsuit related to Iraqi 911 system testing.
I think Alcatel-Lucent is a "Zero" - one of those stocks where I see a number of troubling issues with very little upside reward. I will carefully invest in companies with a higher risk profile IF I think they provide the potential for a high return. In my opinion, Alcatel-Lucent does not provide the potential high return necessary to invest my hard-earned money in it.
In summary, if you are a PDL BioPharma bear or an Alcatel-Lucent bull, I hope this article gets you to think about the other side of your investment. I believe one must carefully and dispassionately analyze their investments from every angle.
Disclosure: I have no positions in any stocks mentioned, and no plans to initiate any positions within the next 72 hours. I wrote this article myself, and it expresses my own opinions. I am not receiving compensation for it (other than from Seeking Alpha). I have no business relationship with any company whose stock is mentioned in this article.
Additional disclosure: This article is informational and intended to spur thought and discussion. This article is not a substitute for your own extensive due diligence and does not qualify as investment advice. Do not buy or sell stocks based on this article. I do not short stocks nor do I invest in options.