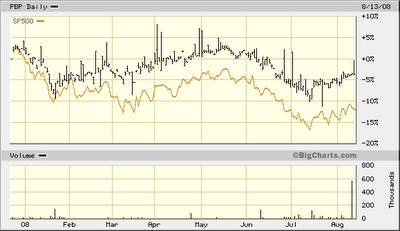 A quick Buy Write ETF (NYSEARCA:PBP) update: It launched right after the S&P 500 started rolling over into a bear market and I gotta say it seems like it is doing what PowerShares and the CBOE said it would do, at least in a down market.

BigCharts has data for the underlying BXM index going back to early 2002. From that point forward BXM is up what looks like 40% versus about 15% for SPX.

In 2003, the one year this decade that the US market was up a lot, BXM was up about 18% versus 26% for the S&P 500. The next time the market is up a lot BXM, and by extension PBP, would probably lag then as well but the long term result is compelling.

The volume thus far in PBP has not been so hot but maybe that will change.
Disclosure: I own PBP personally and in a few client accounts.