"All the art of living lies in a fine mingling of letting go and holding on." -- Havelock Ellis
In my most recent series of writings, I have been addressing my latest seasonal call, which I've termed the "Fall Catalyst of 2012." Consistent with the broader overarching theme I have been stressing all year regarding reflation, the Fall Catalyst is the idea of an acceleration into risk assets by money when headlines in the next three months read "Dow Hits New All Time Highs." And while we are close to such an event already, I am not convinced in the very near term this will happen given that various intermarket trends have shown deterioration in the last two weeks. I specifically addressed this on CNBC Thursday. As such, I believe the odds of a minor correction are rising, with a potential test of 13,000 in the Dow unless a meaningful improvement occurs in the coming weeks. This would be one way to "refresh the fear" before the Fall Catalyst happens.
I received a request from a Twitter follower to address the idea of gold correcting alongside stocks should internal deterioration be forewarning of a drop in risk-taking. Take a look below at the price ratio of the SPDR Gold Trust Shares ETF (NYSEARCA:GLD) relative to the S&P 500 (NYSEARCA:IVV). As a reminder, a rising price ratio means the numerator/GLD is outperforming (up more/down less) the denominator/IVV. A falling ratio means the opposite.
Click to enlarge image.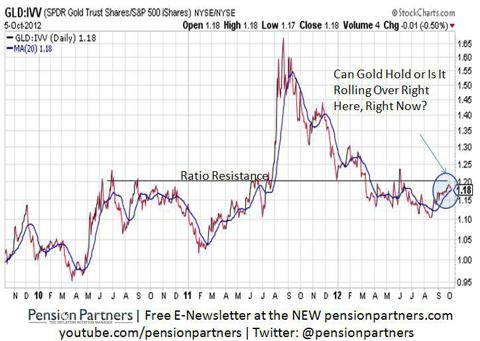 Gold and other metals starting outperforming equities in early August as rumblings of QE3 in the U.S. and a plan to save the euro from the ECB caused money to position more aggressively into commodities. I have drawn in a ratio resistance line that dates back to 2010. Note where we are now on the far right of the chart. It appears the potential exists for the ratio to fail to break its resistance of about 1.20 relative to the S&P 500, and could be in the process of rolling over despite what appears to otherwise be an early trend of leadership. This is a curious moment in the very short term given the "unlimited" money printing Bernanke and Draghi are embarking on.
Should intermarket trends not improve soon, it seems plausible that the outperformance gold experienced in recent weeks goes round-trip, declining in sympathy with stocks. Having said that, I do not suspect it will be a deep decline given the magnitude of underperformance gold has experienced since the Summer Crash of 2011 ended. For now, though, caution remains warranted until enough improvement returns. Our ATAC models used for managing our mutual fund and separate accounts remains defensively positioned until market internals turn more positive. Remember, just because we have unlimited money printing does not mean we can't go through periods of declining asset markets.
Disclosure: I have no positions in any stocks mentioned, and no plans to initiate any positions within the next 72 hours. I wrote this article myself, and it expresses my own opinions. I am not receiving compensation for it (other than from Seeking Alpha). I have no business relationship with any company whose stock is mentioned in this article.
Disclaimer: This writing is for informational purposes only and does not constitute an offer to sell, a solicitation to buy, or a recommendation regarding any securities transaction, or as an offer to provide advisory or other services by Pension Partners, LLC in any jurisdiction in which such offer, solicitation, purchase or sale would be unlawful under the securities laws of such jurisdiction. The information contained in this writing should not be construed as financial or investment advice on any subject matter. Pension Partners, LLC expressly disclaims all liability in respect to actions taken based on any or all of the information on this writing.