For investment horizons out a few months, technical ratings from services such as StockCharts and BarChart can be helpful. It's important to note that technical ratings don't speak about the long-term future.
While technical ratings often are labeled short-term, medium-term and long-term, those labels tend to apply to time frames in the broad vicinity of 1 month, 3 months and 6 months. Unfortunately, words like "long-term" have entirely different meanings for different investors, and certainly many fundamentally oriented investors, as opposed to momentum-oriented investors, would not consider 6 months to be long-term at all.
This technical look at the highest rated ETFs according to StockCharts, with associated BarChart ratings is a direct look at which of them are hot and which are not at this time.
In addition, for investors who prefer individual stocks, the same rankings give valuable insight into which sectors and industries are rated as strong and weak.
The trend of the sector and industry is a powerful force that fundamentally strong individual stocks have a really hard time overcoming if the trend is negative, and from which fundamentally weak stocks tend to get a bit of a free ride.
As the saying goes, "a rising tide raises all boats, and an ebbing tide lowers all boats."
Note: The ETF universe considered excludes inverse and ultra ETFs. Top ranked ETFs had StockCharts scores of >90 out of 100, and bottom ranked ETFs had scores of <10 out of 100. We selected the top 20 from each group by ranking them by the dollar trading volume on the most recent market day. The technical rating criteria for Stock Charts and BarChart are provided at the bottom of the article.
Figure 1: Top 20 ETFs By StockCharts Ranking
Top 20 StockCharts Technical Rating(>90)
Symbol
Name
$ Vol/Min
GDX
Gold Miners
1,787,921
SLV
Silver
1,175,244
EWW
Mexico
579,358
XHB
Homebuilders
519,134
XLV
Health Care
425,790
UNG
Natural Gas
335,261
EPI
India
310,415
IBB
Biotech
295,691
EWG
Germany
224,870
ITB
U.S. Home Construction
139,379
EWH
Hong Kong
121,178
KBE
Major Banks
94,935
IYZ
Telecomm
89,535
PCY
EM Sovereign Debt
53,770
PIN
India
50,716
PPLT
Physical Platinum
45,030
AMJ
Alerian MLP ETN
40,165
REM
Mortgage REITs
36,716
THD
Thailand
32,186
RWX
International Real Estate
30,198
We identified THD as attractive in a prior article about country funds that included capture ratio spreads as one of the evaluation criteria.
Figure 2: BarChart Buy, Sell, Hold For Top 20 ETFs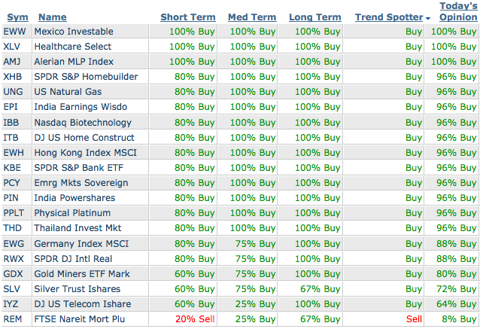 Figure 3: Bottom 20 ETFs By StockCharts Ranking
Bottom 20 StockCharts Technical Rating (<10)
Symbol
Category
$ Vol/Min
EWZ
Brazil
1,946,879
USO
Oil
618,380
XME
Metals & Mining
418,376
EWJ
Japan
324,582
OIH
Oil Services
301,696
SMH
Semiconductors
188,551
EZA
South Africa
93,938
FXA
Currency - Australian Dollar
85,408
UUP
US Dollar Index - Up
78,126
OIL
Oil
37,726
SOXX
Semiconductors
33,373
DBO
Oil
19,151
HDGE
Bear Hedge
15,952
KOL
Coal
9,733
EDIV
Emerging Mkt Dividends
9,218
JO
Coffee ETN
8,567
DXJ
Japan Dividends
8,566
SLX
Steel
8,219
IEZ
U.S. Oil Equipment & Services
7,476
XSD
Semiconductors
5,674
Figure 4: BarChart Buy, Sell, Hold For Bottom 20 ETFs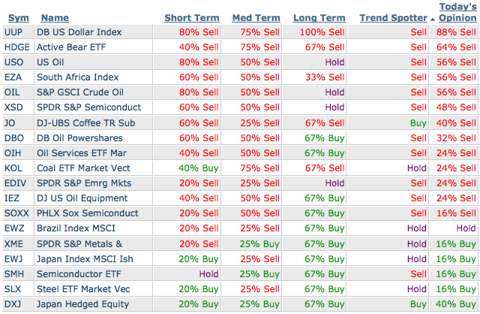 Figure 5: Some Additional Top ETFs
These few supplemental country funds didn't make the top 20 due to lower per minute trading volume, but they are interesting enough to be mentioned in a supplemental list.
Supplemental StockCharts Technical Rating(>90)
Symbol
Name
$ Vol/Min
EPHE
Philippines
17,330
EGPT
Egypt
3,417
ENZL
New Zealand
2,931
NORW
Norway
1,354
EIRL
Ireland
736
We identified EPHE as attractive in a prior article about country funds that included capture ratio spreads as one of the evaluation criteria.
Figure 6: BarChart Buy, Sell, Hold For Supplemental Top ETFs

Figure 7: StockCharts Rating Criteria
StockCharts evaluates each stock on these technical criteria and then rank them against members of their peer group.
Link to its description of its method.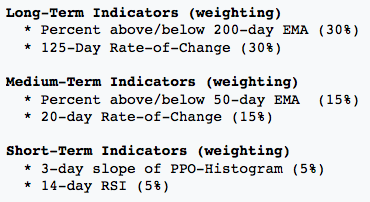 Figure 8: BarChart Rating Criteria
Unlike StockCharts, which provides relative ratings, BarChart provides an absolute rating. They equal weight each indicator in each of the short-term, medium-term and long-term categories, then offset the Buys by the Bells to get a net rating of Buy, Sell or Hold.
Link to its description of its method.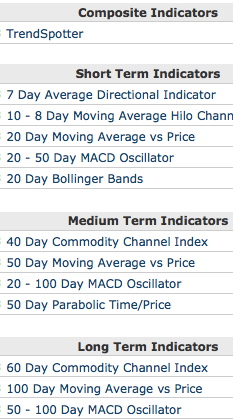 It describes TrendSpotter this way: "TrendSpotter is a computerized trend analysis system, developed by Barchart.com. The system uses a combination of wave theory, market momentum and volatility in an attempt to find a general trend for a specific market. TrendSpotter attempts to cut losers early and let winners run."
Disclosure: QVM has positions in IBB, AMJ, THD and EPHE as of the creation date of this article (October 7, 2012). We certify that except as cited herein, this is our work product. We received no compensation or other inducement from any party to produce this article, but are compensated retroactively by Seeking Alpha based on readership of this specific article.
General Disclaimer: This article provides opinions and information, but does not contain recommendations or personal investment advice to any specific person for any particular purpose. Do your own research or obtain suitable personal advice. You are responsible for your own investment decisions. This article is presented subject to our full disclaimer found on the QVM site available here.