The market has been going through an up and down period trying to find a hold in either direction. So far the bulls have established a strong uptrend since June 2012. Now, however, it seems the bulls are starting to lose their footing.
We are not looking to pick the direction of the market. We are here to point out that sometimes it is better to sell premium and sometimes it is better to buy premium. Right now volatility (VIX) is hanging at the lows. Now we know better than to just go out and buy things because they seem low. Volatility can run low for longer than we can predict.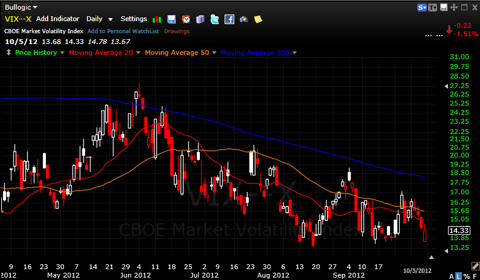 What makes it a good time to buy volatility is when the VIX options have low volatility. We can see the volatility in the VIX with VVIX.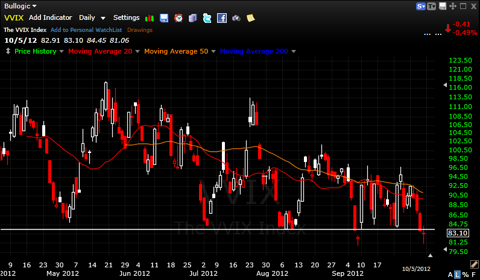 When VVIX runs in the lower 80s, like it is now, it usually symbolizes a good time to buy. Look to play the bounce in volatility with long VIX calls. Or, if you think the market will begin to decline, now is a good time to grab puts in the SPX.
Remember last time we ran this play we took a 54% gain in VIX calls over two days. Read about it here.
Disclosure: I have no positions in any stocks mentioned, but may initiate a long position in VIXX over the next 72 hours. I wrote this article myself, and it expresses my own opinions. I am not receiving compensation for it. I have no business relationship with any company whose stock is mentioned in this article.