According to the International Monetary Fund's Chief Economist Olivier Blanchard, the current financial and economic crisis is expected to last for a decade. According to the Mr. Blanchard -
"It's not yet a lost decade... But it will surely take at least a decade from the beginning of the crisis for the world economy to get back to decent shape....Japan is facing a very difficult fiscal adjustment too, one which will take decades to solve. China has probably taken care of its asset boom but has slower growth than before, but we do not forecast any really hard landing."
Clearly, the IMF chief is not very optimistic on global growth and this is reflected in their outlook for global GDP growth, which has been slashed from 3.5% and 3.9% for 2012 and 2013 respectively to 3.3% and 3.6%.
I have discussed in several of my earlier articles that I do expect economic growth in the developed world to remain sluggish for a prolonged period. I also expect 2013 growth to be below 3.6% as the current optimism, reflected in asset markets, wanes out.
This article looks into the implications for asset classes if the financial crisis really does last for a decade. As mentioned earlier, I do expect the crisis to last at least for a decade.
Implications for the United States
No Fiscal Cliff: I can say with a lot of conviction that the tax cuts will be extended and the spending cuts will be deferred as economic activity remains fragile. Policymakers will do whatever it takes to avoid an asset market slump and another recession. At most, the high income group might be taxed relatively higher. However, it might not have any meaningful impact on reducing deficits.
No Debt Ceiling: The debt ceiling issue will be back in another 3-4 months. Again, the result is expected to be the same as before after a series of discussions, debates and spending cut promises for the future. I believe that politicians should suggest debt with no ceiling. That will help avoid waste of precious time of policymakers in these debates and discussions.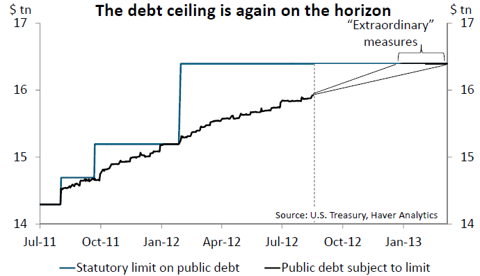 USD1 trillion of Annual Deficits: In the last four years, the U.S. has exceeded $1 trillion in annual deficits. I am of the opinion that deficits in the U.S. will continue to be over $1 trillion for another 4-5 years. As economic activity remains sluggish, tax receipts will not get a major boost. Further, expenses relating to programs for unemployment support will also remain at higher levels.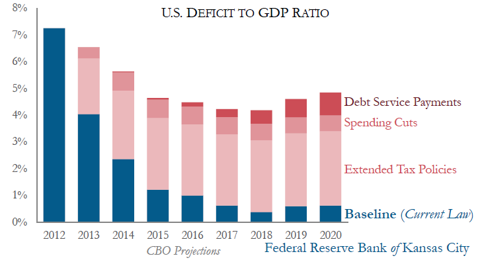 I have to mention here that one needs to ignore the current headline unemployment number of 7.8%. The unemployment rate has only declined due to the creation of part-time jobs. U6 rate remained the same at 14.7% reflecting the real job market scenario.
Implications for the Euro Zone
Debt will continue to surge: The ECB's OMT program might help in lowering bond yields for the PIIGS. However, there is no definite plan or strategy of the ECB or politicians to ensure sustainable improvement in the labor markets. Economic growth for PIIGS will remain sluggish with high levels of unemployment. Even Germany is witnessing relatively lower growth on the back of a global economic slowdown. Amidst all this, it is very likely that government debt will continue to surge for the Euro zone countries. Further, austerity measures will continue to be postponed as policymakers wait for relatively stable economic growth and job markets to implement austerity measures.
Downgrades will dampen investor sentiments: downgrades by credit rating agencies might be a regular feature over the next 3-5 years for the Euro zone. Not only sovereign debt, but also corporate sector debt downgrade is likely. Banks and financial institutions will continue to struggle and should be avoided for long-term.
The debt repayment schedule will continue to put pressure on sovereigns. The debt repayment as a percentage of GDP is significant for the PIIGS economy in the coming years. As government debt swells with no meaningful economic recovery, debt refinancing will be a key issue over the next few years. The ECB is most likely refinance the debt.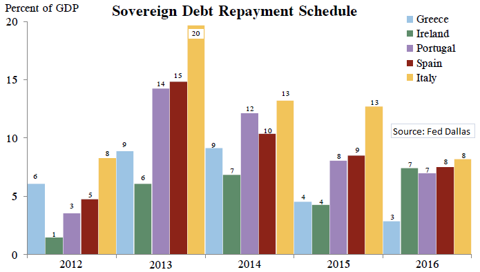 Eurozone exit fears remain. The possibility of Greece or other countries exiting the eurozone remains as Germany presses for austerity measures if the PIIGS are to be supported. I still believe that a potential Greece exit will be better than bad for the eurozone and the currency. However, if one exit results in few others exiting the eurozone, the existence of the currency itself might be at stake.
Advanced Economies Trapped in the Challenging Negative Feedback Cycle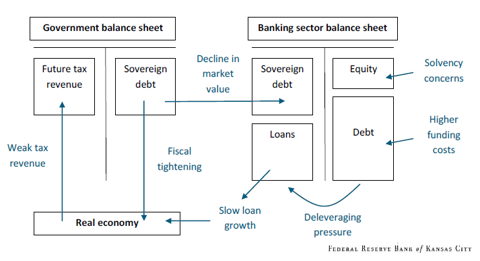 Implications for Asset Classes
Gold - The precious metal will continue to trend higher over the next decade. Huge deficits would mean more money creation and would be negative for the dollar in the long-term. At the same time, geopolitical tensions are also positive for the precious metal. With gold prices going up by only 3.2 times since the beginning of 1980 as compared to a 12.5x increase in total credit market debt and 17.0x increase in US government debt, the upside potential for the precious metal is significant.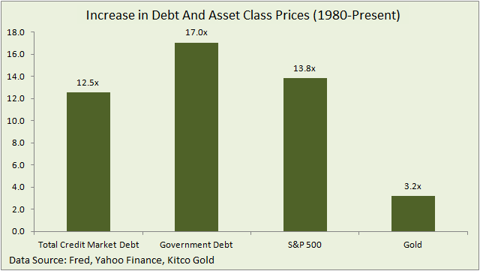 In line with this expectation, investors can consider exposure to physical gold on every correction. The gold ETF is also a good option for near to medium-term and investors can consider exposure to the SPDR Gold Shares (NYSEARCA:GLD) ETF. The investment seeks to replicate the performance, net of expenses, of the price of gold bullion.
Equities - The S&P 500 index is currently trading at near five-year highs with the global manufacturing sector in a recession. The point I am trying to make here is that liquidity is playing an important role in determining the direction of markets. Certainly, liquidity is not the only factor, but a critical factor. Corporate earnings have been robust and that has contributed to the rally. I am of the opinion that equities will continue to do well in the medium-term (3-5 years) in an environment of excessive liquidity. Index investing might be a good idea and investors can consider exposure to the SPDR S&P 500 (NYSEARCA:SPY) ETF, which seeks to provide investment results that, before expenses, generally correspond to the price and yield performance of the S&P 500 Index.
Treasuries - For the long-term, Treasuries would be a disaster as an investment with government debt expected to swell further. I also don't consider Treasuries as risk free assets. Having said this, there will be opportunities in the short-term to trade in Treasuries when market participants move from "Risk On" to "Risk Off" trade. Instead of investing in Treasuries for long-term, I would consider exposure to the Vanguard Long-Term Corporate Bond ETF (NASDAQ:VCLT). The ETF invests in long-term investment grade corporate bonds. The ETF has an expense ratio of 0.14%, with total fund assets of $1.2 billion as of August 2012. Also, as of August 2012, the ETF had 1.2% exposure to Aaa rated bonds, 7.2% exposure to Aa rated bonds, 46.8% exposure to A rated bonds, and 44.8% exposure to Baa rated bonds.
Emerging Market Equities - The central banks have some control over the amount of money they can inject into the financial system. However, they hardly have any control over where the excess liquidity will be allocated. As emerging markets witness relatively robust GDP growth, investors will remain interested in emerging market equities. Similar to my expectation for US equities, I expect emerging market equities to trend higher. I also expect emerging markets equities to outperform developed market equities over the long-term. The iShares MSCI Emerging Markets Index Fund (NYSEARCA:EEM) is a good option to invest in emerging markets. The ETF, with a low expense ratio of 0.67% seeks to provide investment results that correspond generally to the price and yield performance, before fees and expenses, of securities in emerging markets, as represented by the MSCI Emerging Markets Index.
Disclosure: I have no positions in any stocks mentioned, and no plans to initiate any positions within the next 72 hours. I wrote this article myself, and it expresses my own opinions. I am not receiving compensation for it (other than from Seeking Alpha). I have no business relationship with any company whose stock is mentioned in this article.