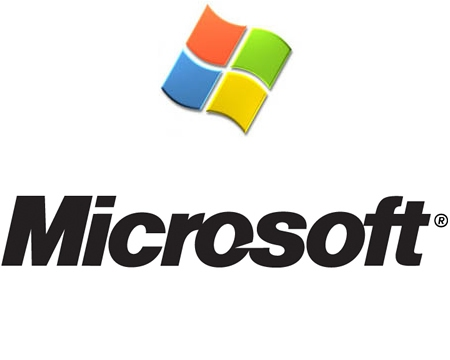 Microsoft (NASDAQ:MSFT) is a large-cap information technology (NYSE:IT) company founded in 1975 and headquartered in Redmond, WA. The company needs no introduction and creates products synonymous with personal computing. Microsoft's ubiquitous Windows operating system comprises more than 75% of revenues for the company. Windows 8 will be released soon and may be an upside catalyst for the stock. Microsoft has begun to develop an ecosystem of products in order to compete with Apple. While it remains to be seen if this will be successful, this effort is viewed as another potential upside catalyst, while the expectations of the market are quite low.
It is important to separate one's feelings for Microsoft as a company when considering whether to buy the stock. While many readers probably feel that Microsoft has failed to innovate as a company, it should interest them to learn that the company has more than quadrupled earnings since 2000, while the P/E has compressed from 80x during the internet bubble to less than 10x for the expected forward earnings of the company. In addition, Microsoft demonstrates unparalleled shareholder friendliness, with a dividend yield of over 3% and stock repurchases in equal amount. Microsoft has a monopolistic hold on the personal computing market, and that competitive position is more or less unopposed. As such, the company is viewed as being a unique opportunity with potentially good upside potential with very little downside risk.
Valuation
Microsoft has very attractive valuation at the present time and a wide margin of safety. Its TTM P/E is 14.9, however, the trailing P/E is artificially high due to costs from Microsoft's acquisition of Skype. The forward P/E is 9.5 and the PEG ratio is 1.15 with an EV/EBITDA of 6.54. Microsoft is very cheap relative to its peer group (Adobe Systems, F5 Networks, Oracle and Salesforce.com), which have an average forward P/E of approximately 17 versus Microsoft's forward P/E of less than 10. Microsoft has historically generated a wide spread between its weighted average cost of capital and return on invested capital. This indicates future investment will be a strong driver of shareholder value for the foreseeable future.
The data in Figure's 1 and 2 were reproduced with permission from Valuentum.com. Their discounted cash flow model gives a precise picture of the value of future cash flows that can be expected from prospective investments. It is very helpful in narrowing down potential stock picks before performing further due diligence.
Figure 1: Historical Return on Invested Capital for Microsoft.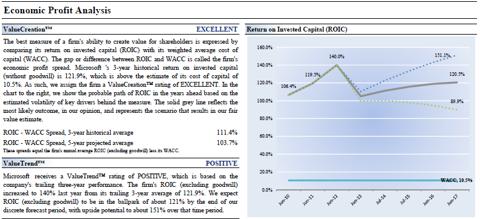 Even assuming relatively low growth for Microsoft, there is a wide margin of safety present for its current discounted cash flows. The model shown below assumes 2.2% growth over years 6-20 and 3% growth in perpetuity thereafter, and a 14.7% growth CAGR for the next five years, which is largely a return to the mean due to the temporarily depressed earnings as a result of acquisition costs. Consensus earnings expectations for the 2013 fiscal year are $3.01/share. This would imply a fair value per share for Microsoft of approximately 46 dollars per share - a discount of approximately 50% to the current market price. The current market price is discounting a much lower rate of growth than seems likely given Microsoft's history. Furthermore, earnings surprises over the past several years have been uniformly positive, while revenue growth has been steady.
Figure 2: Discounted Cash Flow and Margin of Safety Analysis of Microsoft.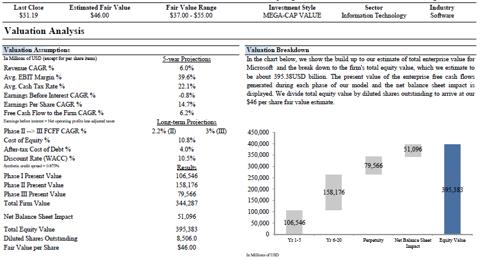 Adjusted Book Value
Calculation of an adjusted book value for Microsoft is an approximation of the reproduction cost of the company. When a company can be purchased for near or below its reproduction cost it represents an attractive purchase price. While Microsoft has never been available for purchase at below the adjusted reproduction cost of the company, how close you can come gives some evidence of whether the firm is cheap or expensive relative to the past.
The adjusted book value of Microsoft is calculated in the table below. The adjusted book value consists of two factors: first the assets of the company minus the liabilities and second the depreciated R&D spending of the company over the past 20 years (an 8% rate of depreciation was applied). It was not possible to include all years in the table, only years since 2010 are shown. A purchaser of Microsoft at the present date is paying a premium of 78% to the depreciated R&D spending of the company plus the assets it holds on its books. If this seems like a considerable premium it is worth noting that the premium is actually smaller than in the first quarter of 2009. Since 2009 the assets on Microsoft's balance sheet have expanded by approximately $27B, while the company has spent approximately $32B on research and development.
Table 1: Adjusted Book Value of Microsoft
| | | | | |
| --- | --- | --- | --- | --- |
| | Current FY | 2012 | 2011 | 2010 |
| Research & Development Expense | 7500 | 9811 | 9043 | 8714 |
| | | | | |
| Depreciated R&D Spending | 7500 | 9811 | 8319 | 7375 |
| | | | | |
| Total R&D Value | 74238 | 66738 | 56927 | 48608 |
| | | | | |
| Shareholder's Equity | 66363 | 66363 | 57083 | 46175 |
| | | | | |
| Adjusted Book Value | 140601 | 133101 | 114010 | 94783 |
| | | | | |
| MSFT Market Capitalization (1st Quarter) | 250766 | 270644 | 213336 | 256887 |
| | | | | |
| Premium to Adjusted Book Value | 78.3 | 103.3 | 87.1 | 171.0 |
Shareholder Friendliness and Dividend Growth Analysis
One remarkable feature of Microsoft's business model is how cash flow has been returned to shareholders over the past 15 years. Consider that Microsoft has generated $180B in net income since the 1998 fiscal year. In that time the company has paid $70.7B in dividends and repurchased $101.1B in company stock. Thus Microsoft has returned 95 cents on the dollar of net income directly to shareholders.
Microsoft is also an excellent dividend growth pick. Dividends have increased by 15% per annum for the past 5 years and the dividend is currently 3.1%. Let us consider the value of Microsoft stock strictly on the basis of dividends.
Consider the formula:
Value = Dividend/(R - Dividend Growth)
The value of the stock at a current dividend of $0.92 and growth of 7% with an expected rate of return of 10% shows the stock to be fairly valued. The nine-year sales and net income growth for Microsoft is 9.5%. The dividend has increased at an annualized 15% rate in the past 5 years, thus a 7% expected growth rate seems conservative, particularly considering that share count is decreasing due to repurchases as the dividends Microsoft pays year after year are applied to a smaller and smaller float.
Value = $0.92/(1.1 - 1.07)
Value = 30.67,
The chart below shows several key reasons that Microsoft is a buy. Earnings have steadily increased and have more than quadrupled since 2000. The ten-year trailing earnings of the company are near the bottom of their ten-year range, while the float of the company has steadily decreased over the past five years. The current pull-back to thirty dollars per share represents a strong buying opportunity.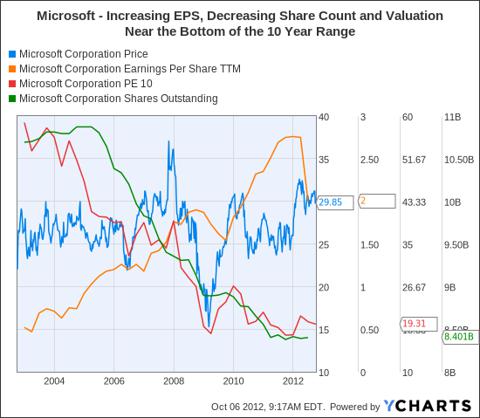 The Case for Microsoft - Why Continued Growth is Very Likely
Perhaps my readers can criticize this post for lack of originality. Microsoft has undergone a transformation from an exciting growth engine, to a dull old utility of a technology stock. Still, the stock market does not reward originality or punish dull thinking. Quite the opposite: it is most often the most boring of investments that create great value for their shareholders. In my view, Microsoft will continue to have a monopoly on the personal computing market and return value to shareholders. Little is expected of this stock; meaning that just about the only possible outcome is further upside.
It should also be noted that further along in a bull market it is strongly recommended to be overweight the largest cap stocks. Whenever the next bear market begins a stock like Microsoft will have less than average downside. Until that time, mega-cap stocks like Microsoft should have more than average upside.
Disclosure: I have no positions in any stocks mentioned, but may initiate a long position in MSFT over the next 72 hours. I wrote this article myself, and it expresses my own opinions. I am not receiving compensation for it (other than from Seeking Alpha). I have no business relationship with any company whose stock is mentioned in this article.
Additional disclosure: The above report should not be considered a solicitation to purchase any security. Always perform your own due diligence before taking a long position in any stock.