In September of 2007, PowerShares debuted their International Listed Private Equity Portfolio (PFP) in an inhospitable climate. As the "credit crunch" became the "credit crisis," private equity firms were some of the first financials to suffer. The anticipated IPOs of Blackstone (NYSE:BX) and Carlyle did little to ease growing discomfort with the sector. In 2008, as credit problems have snowballed, PFP has experienced a 20% drop in share price since inception.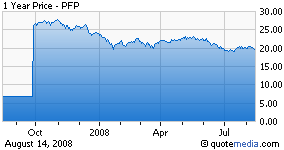 In recent weeks, however, PFP has begun creeping back up our momentum table, moving from the 65th spot on June 25 to the 54th spot on August 6. Despite the general malaise in private equity, PFP's trend has been upward, boosting the fund more than 4% in the last month—helping it outperform the benchmark MSCI EAFE index by 4.20% for the same period. With its emphasis on several methods of diversification, now may be the time to give PFP a second look.
PFP tracks the International Listed Private Equity Index and invests at least 80% of its total assets in publicly listed companies that invest in or lend capital to privately held companies. PFP's holdings hail from ten different countries, from South Korea to the U.K., and are selected based on reputation, valuation, management, financial data, historical performance and the need for diversification.
Out of all these criteria, PFP seems to make the most visible effort in the area of diversification. PowerShares estimates that the 42 companies that compose PFP have direct investments in more than 1,000 private global businesses. It may be helpful to think of PFP as a sort of "fund of funds" with broad global criteria. The quantity of investments alone will help investors mitigate some of the risk of any one private firm that suffers snags similar to those of Blackstone.
PFP emphasizes diversification in three other important areas: country allocation, equity allocation and equity size. With ten countries represented in the portfolio, the U.K. is the largest at 19.78%, while Australia and France round out the top three holdings at 18.55% and 16.40%, respectively. The size of the private equity firms is also diverse—PowerShares classifies 10.35% as large cap, 54.35% as mid cap and 31.73% as small cap. Of the 42 equities currently included in PFP, no single holding makes up more than 8%, with the top ten equities constituting less than 56% of the fund.
PFP is composed of ADRs, a factor that eliminates some of the risks involved in investment in international ETFs that stem from overnight exposure. At the same time, PFP's shareholders will be vulnerable to international news events and potential credit problems abroad. PFP has also been fairly thinly traded thus far, with a three-month average trading volume of 11,000 shares a day, making the fund perhaps more appropriate for investors who are not banking on intraday liquidity.
The U.K., Australia and France are standard international ETF allocations, and all three have a relatively high correlation with the potential for steady investment returns over time. The fund's inclusion of South Korea and the Netherlands, on the other hand, may help to pack a short-term punch for investors who are seeking to capture the returns of growing economies without saddling themselves with a label like "emerging markets."
The largest holding in PFP's index is 3i Group PLC (OTCPK:TGOPF), a British international equity firm with $12.3 billion in assets under management. 3i has tried to create a presence across a variety of emerging markets, with offices in China and India and with partnerships in Japan, Israel and the Gulf countries. In 2008, 3i successfully raised $1.2 billion for an India infrastructure fund. 3i's presence in a variety of growing economies helps further diversify PFP, potentially providing returns for fund holders even if U.S. private equity remains gloomy.
While the managers of PFP's holdings represent a diverse group, it is important to remain mindful of any overlap in the investments of companies that make up the index. With 62.50% of the fund in financials and 22.25% in industrials, investors will have to remain mindful of the general market trends that affect these sectors.
The broad definition of PFP's index composition—any foreign publicly traded company that invests in private firms—could help to increase the momentum and appeal of the index as credit fears ease. While setbacks in private equity have caused PFP's first months to be rocky, the diversification and scope of the index may position the fund, and a patient investor, to reap the returns of global growth.