Apple, Inc. (NASDAQ:AAPL) shares have been on the defensive lately due to a combination of converging factors: iPhone 5 supply shortages, reports of Foxconn quality control workers' strike and problems with Apple's Maps. After having recorded a new all time high of $705.07 on September 21, 2012, Apple shares have dropped by as much as 8.04% to close $652.59 on October 5, 2012.
Some analysts claim that such close below Apple's 50-day moving average of $656.69 could lead to further declines. For any company other than Apple, such factors could be viewed as having resulted in a perfect storm which may have lasting reputation and performance damage. However, in the case of Apple, we can find no less than 9 reasons why such factors add up to nothing but a mere passing cloud, with possible long term benefits, which will ultimately lead Apple shares to record new highs.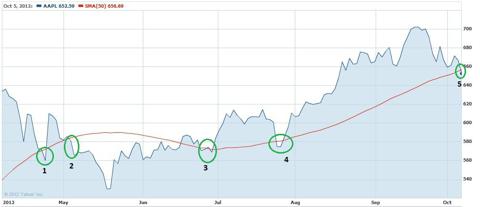 Apple Stock 6-month Chart with 50-Day moving average - Source: Yahoo Finance
1. Apple often defies Bearish Technical Indicators
There have been several instances in the past where Apple shares defied what some technicians would consider to be highly reliable technical indicators. One such example, discussed in our article of February 21, 2012, "3 indications Apple shares haven't peaked yet" occurred when Apple shares witnessed a bearish key reversal day on February 15, 2012; the stock closed at $497.67, below the previous day's low of $502, after having risen earlier in the day to $526.29, above the previous day's high of $509.56. Although many analysts indicated that such bearish key reversal day will be followed by additional losses, Apple shares closed at an all time high of $513.04 within one week on February 22, 2012.
Similarly, on July 25, 2012, Apple shares closed at $574.97, below the 50-day moving average of $580.55, and yet bounced back to $610.76 by July 31, 2012. There have been numerous other instances in the past where bearish technical indicators were triggered, with Apple shares yet reaching for new highs soon thereafter.
The above chart outlines five instances (depicted in green circles) during the past six months (including the most recent instance of October 5, 2012) where Apple shares closed below the 50-day moving average. It is worthy to note that in 3 out of four past instances (numbered 1, 3 and 4), Apple shares bounced higher within days. Only instance 2 of May 3, 2012 resulted in further declines, which were also erased within 6 weeks. Although the jury is still out on the most recent instance numbered 5, we believe it is highly likely that such losses would also be reversed, with Apple shares buoyed by the following additional eight factors.
2. Valuation
We believe Apple stock currently boasts one of the most attractive valuations in the technology sector. At its most recent closing price of $652.59 as of October 5, 2012, with analysts' earning expectations of $53.37 per share for the year ending September 2013, Apple's forward P/E ratio is 12.22. Excluding Apple's $117 billion in cash, its forward P/E ratio would be under 10 at 9.89. Meanwhile the S&P 500 trailing twelve months (NYSE:TTM) P/E ratio is 16.96 as of October 5, 2012, while the forward P/E ratio is 14.02.
Apple's return on equity is 44.32% and its operating margin is 35.62% . Meanwhile, its quarterly earnings growth (yoy) is 20.7%, with 5-year expected price/earnings to growth ratio (NYSE:PEG) of 0.62, whereby a PEG under 1 typically indicates that a stock's price is undervalued.
There are several technology stocks with lower forward P/E ratios than Apple. For example, Dell Inc. (DELL) currently boasts a forward P/E ratio of 5.4 with analysts' earning expectations of $1.79 for the year ending January 2014. However, Dell's 5-year expected PEG stands at 1.25, with negative quarterly earnings growth (yoy) of -17.8%. Currently, what sets Apple aside from other technology companies on a valuation basis is the consistent attractiveness of all the metrics examined.
Despite current jitters about Apple's Maps, it is unlikely such issue will affect iPhone 5 sales. With the pending release of the iPad mini, in addition to the recent depreciation of the dollar (to be discussed later), there is still a good likelihood that analysts' estimates for Apple's forward earnings will be revised yet higher, hence possibly causing the preceding valuation metrics to become even more attractive.
3. Expanding P/E ratios
The Chairman of the Federal Reserve Bank, Ben Bernanke, has clearly stated that the objective behind the latest quantitative easing initiative QE3 is to increase asset prices, including real estate and the stock market. As he has committed to maintaining quantitative easing indefinitely, with near zero interest rates until 2015, one would expect the forward S&P500 index P/E ratio of 14.02 to expand (while trailing twelve months P/E ratio for the S&P500 index stands at 16.5). As a matter of a fact, such forward P/E ratio has already expanded modestly from 12.9 following the first quantitative easing in 2008.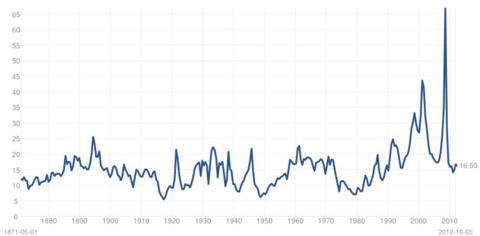 S&P 500 Index Historical P/E ratio - Source: www.multpl.com / Robert Shiller
For many companies revising their future earnings lower, an expansion of their P/E multiple will occur as we see limited drop in share prices following such revisions. Meanwhile, for companies maintaining earning guidance or raising it, an expanded P/E ratio will inevitably have to result from a rise in share prices.
To illustrate, let's examine Fedex (NYSE:FDX) shares. Although Fedex is not a technology stock, its recent revision to its expected future earnings and the resulting share price movement is a good example for the concept described in the previous paragraph. Analysts' earning estimates for Fedex for the year ending May 2014 were $8.32 per share as of 30 days go, while its share price closed at $85.66 (dividend adjusted) on such date, yielding a forward P/E ratio of 10.30 as of September 5, 2012. Since then, Fedex earning estimates have been revised down to $7.76 per share, while its share price closed at $86.47 on October 5, 2012, yielding an expanded forward P/E ratio of 11.14. Had such P/E ratio not expanded to 11.14 for Fedex during the past 30 days, Fedex shares would have to be at $79.90 in order to maintain their previous P/E multiple of 10.30.
We expect Apple's earning estimates for next year to be possibly revised higher due to the iPhone 5 and iPad mini. However, even if such estimates are maintained at current level, an expansion in P/E multiples will lead to higher share prices. As a matter of a fact, in case an across the board increase in P/E multiples materializes, whereby the S&P 500 index P/E ratio expands to 15 (7% higher than current levels), we would expect Apple's forward P/E multiple to increase to about 13.08, leading to an increase of $45.50 in the price of Apple shares. Interestingly, such expansion in P/E multiples also means that if analysts' forward earning estimates for Apple are revised lower by 3% ($1.60), Apple shares would still appreciate by $24.50. Meanwhile, if such estimates are revised higher by 3%, Apple shares would appreciate by $66.40.
4. U.S. Dollar depreciation

U.S. Dollar Index 3-months chart - Source: www.cnbc.com
A lower dollar causes Apple's U.S. Dollar denominated international sales to increase. As already stated in an article we published on September 24, 2012, "can the dollar boost Apple shares?" , Apple had announced at its earnings release for the last quarter that it expected to incur a reduction of $400 million net of hedges in its revenues for the current quarter as a result of dollar appreciation.
However, as evident in above chart, the U.S. dollar did not appreciate, but actually depreciated for the quarter ending in September 2012 by no less than 2.75% as of September 24, 2012. As per our previous article referenced above, according to our calculations, such dollar depreciation should actually result an increase of no less than $125 million net of hedges in Apple revenues, hence a difference of $525 Million in revenues (55.6 cents per share) vs. Apple's estimates ($125 million - (-$400 million)). Naturally, such number is also highly dependent on how Apple has actually conducted its currency hedging strategy.
5. iPhone 5
Apple's iPhone revenues of $16.24 billion for last quarter represented about 46.37% of Apple's total quarterly revenues of $35.02 billion. Hence it is very clear that the iPhone 5 will be a major driver behind Apple's future success potential.
Apple has sold about 115.2 million iPhones during the prior four calendar quarters ending June 2012 (with an additional 37.4 million for the preceding two quarters). It has been estimated by Craig Berger from FBR Capital that the iPhone 5 product cycle (which typically spans up to 18 months) will generate as much as 250 million unit sales and produce over $50 in profits per share. Such profit potential is not currently fully reflected in current earning estimates. We actually believe such estimates can possibly be exceeded.
Two major factors that will affect the success of the next product cycle will relate to removal of supply disruptions, as well as international sales expansion such as in China. The potential and implication of the Chinese market for Apple has been discussed in an article we published on March 27, 2012, "is there Apple without China?"
Current supply shortages will most likely prove to be a short term phenomenon as Apple diversifies into additional suppliers (to be discussed later), and as current suppliers improve output. Meanwhile, as per Canaccord Genuity's analyst T. Michael Walkley, Apple's launch of its iPhone 5 with 240 carriers in 100 countries by year's end (with a successful launch of the iPhone in China with all three major carriers prior to the Chinese new year) will further boost iPhone 5 sales.
Although there have been substantial concerns about problems relating to Apple Maps, we do not believe such issue will have a significant negative impact on iPhone 5 sales, as current demand remains robust. Meanwhile, the introduction of Apple Maps is in Apple's best interest in the long term as it provides Apple freedom from Google's (NASDAQ:GOOG) imposed limitations. As stated by Sterne Agee analyst Shaw Wu and reported by QuickGadgetNews:
People forget that (Google) Maps started out inferior to (Yahoo) Maps and MapQuest, he said. From our understanding, (Apple) had no choice but to create its personal Maps because (Google) wanted to keep turn-by-turn navigation distinctive to Android. We see this as short-term pain for lengthier-term gain.
Mapping software is very data and coding intensive, hence providing a substantial barrier to entry to new competitors. However, a company like Apple, with its massive scale, talent and resources, is well equipped for such task. Actual implementation of Apple Maps, despite its shortcomings, is probably the fastest way to improve the application, as it will accelerate data accumulation and code optimization. Most importantly, once such product overcomes its initial challenges, Apple also has the potential to improve it beyond the competition, and provide synergies with its own search tools, possibly leading to incremental search related revenues; in the long term, Apple's Maps could prove to be a viable threat to Google's dominance.
6. iPad mini
Apple's iPad revenues of $9.2 billion for last quarter represented about 26.27% of Apple's total quarterly revenues of $35.02 billion. Although this represents a lower percentage than the iPhone, it is still quite substantial and it is Apple's second highest revenue generating product behind the iPhone.
There are now reports that invitations for the newest iPad mini event will go out on October 10, 2012, for an event to be held on October 17, 2012. It is expected that will lead to a possible product release date of November 2, 2012.
We believe that current valuations for Apple shares do not reflect potential upside from the expected launch of the iPad mini. The magnitude of any impact for the iPad mini on Apple's earnings is yet to be determined, although current estimates forecast about $1 billion in profits, based on 20% margin and potential sales of about 20.7 million units.
It is unlikely that the iPad mini will cannibalize sales of iPad 3, as its smaller design is expected to actually compete with Amazon's (NASDAQ:AMZN) Kindle tablet. Amazon does not provide sales figures for its tablets, but it is estimated that it has so far sold about 7 Million Kindle Fire tablets.
Although the short term profit impact of the iPad mini may be limited, its ultimate impact in the long run can be substantial. The iPod currently contributes modestly to Apple's profitability, with the latest quarterly sales having dropped to 6.8 million units, but yet the launch of the iPod in 2001 has led to the revival of Apple, and provided required synergies to additional profit centers including iTunes, Mac computer systems and Apple retail, leading to the launch of the iPhone and iPad. The iPad mini will potentially provide further synergies to iTunes for boosting online book sales, as it may also introduce Apple products to clients who can only afford lower priced entry point for tablets, and may become loyal Apple customers for higher priced products in the years to come. In essence, it compliments Apple's ecosystem.
7. Margin retention
Apple's success has been highly driven by its healthy margins. For the quarter ending June 30, 2012, Apple reported gross margin of 42.8%. Such margin is predominantly driven by the iPhone. Apple has maintained such healthy iPhone margins by controlling the iPhone's bill of materials while also retaining a high selling price for the phone, with a $649 off-contract price tag for the basic 16GB iPhone 4S and iPhone 5.
| | | |
| --- | --- | --- |
| Year | Model | Bill of Material |
| 2007 | Original iPhone | $217.73 |
| 2008 | iPhone 3G | $166.31 |
| 2009 | iPhone 3GS | $170.80 |
| 2010 | iPhone 4 | $187.51 |
| 2011 | iPhone 4S | $188 |
| 2012 | iPhone 5 | $199 |
Source: iSupply 2011-2012 ; Conceivablytech.com/iSupply 2007-2010
At its latest earnings release for the quarter ending June 2012, Apple recorded iPhone revenues of $16.245 billion on 26.028 million units sold. That translates to an average of about $624 per phone. It should be noted that the above table does not include manufacturing costs (which typically are about $8 per unit), in addition to other costs such as licensing, royalties, etc...
From 2007 to 2012, Apple's book of materials have dropped from $217.73 to $199. In addition, although costs have increased from $188 for the iPhone 4S to $199 for the iPhone 5 for the basic 16 GB model, such costs have actually dropped for the 64GB model from $245 to $230. Apple's proven ability to maintain healthy margins on the iPhone will continue to bode well for Apple shares going into the future.
Although some analysts have forecast that the iPad mini will sink Apple's margins, we believe the potential lower margins associated with the iPad mini will not necessarily affect the margins associated with the iPhone. Hence, incremental potential revenues from the iPad mini are still a positive factor for Apple, despite the potential for causing Apple's overall average margin to drop.
8. Supplier diversification
Current supply shortages in the iPhone 5 have been blamed on supply limitations for in-cell screen technology. Although Apple's primary suppliers are LG Display Co. and Japan Display Inc., it has been reported that Apple has actually taken steps to diversify such dependence by investing in other companies' plants such as Sharp and Toshiba. It is important to note that Apple's 2011 supplier list already included as many as 156 suppliers, representing 97% of Apple's procurement expenditure.
Apple has actually accelerated its strategy for supplier diversification following its legal battle with Samsung. Given the massive popularity of Apple products, having sold a total of about 54 million units (including iPhone, iPad, iPod, and Mac systems) in the last quarter alone, it has become increasingly important for Apple to diversify suppliers in order to mitigate supply disruptions and secure competitive pricing for the parts used in its products. According to analyst John Park at Daishin Securities, and as reported in the Wall Street Journal:
Apple started to lessen its dependence on Samsung for components since the latter half of last year when the two were fighting to win the spot for the world's largest provider of smartphones. But Apple's move to diversify its component vendors likely accelerated since early this year when the Apple-Samsung patent litigation escalated.
Although short term supply limitation reports persist, the ultimate result of additional supplier diversification will be in Apple's best long term interest. One of Apple's key factors for success is the fact that historically it has maintained top notch execution, whereby such execution has been facilitated through supplier diversification. Nevertheless, it is also inevitable that upon the introduction of new technologies, such as in-cell screens, there will be short term limitations in supply of such new technology. Ultimately, such supply restriction eases as existing producers ramp up production and additional suppliers adopt the new technologies.
9. Status symbol
How many companies exist today where upon the release of a new product, crowds will line up for days for the privilege of having such product first? Not many... Yet, more than five years following the release of the first iPhone, loyal customers are still queuing up to buy the latest iPhone model.
Apple has become a status symbol and through financing and creative mobile phone calling plans, Apple products are within reach of millions. For such reason, current supply shortages for the iPhone 5 will only feed the desire to own such device and will further boost the status symbol associated with it.
Many skeptics will often point out the fact that it is unlikely that Apple can achieve much success in developing countries such as China and elsewhere due to lower incomes. Although it is true that incomes in China and most other developing countries are lower than the U.S., brand name desire is actually much stronger. To illustrate such brand name desire, and to lighten up this article as it nears its conclusion, consider the latest BMW model below: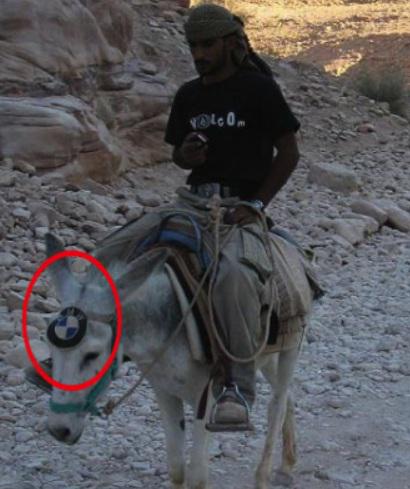 Source: Funny Aussie Signs
For the above photo, skeptics may point out that brand name desire may not result in brand name ownership. That may be true for the above rider who sufficed by planting a BMW logo on the forehead of his donkey. However, in the case of Apple, matters are different, as the Economist reported on July 28, 2012
Sales of smartphones (of all brands) in China are soaring: they rose by 288% in April, year-on-year, and for the first time outpaced the sales of dumbphones. Sanford C. Bernstein, an investment bank, estimates that 270m people in China can already afford Apple's products, and that each year another 57m will be able to. Many Chinese are desperate for its gadgets. This year a boy from Anhui, one of China's poorest provinces, reportedly sold one of his kidneys to buy an iPhone and iPad.
It is also important to note that market penetration in some markets in China is even greater than in the U.S., as the Economist also pointed out:
Ask about Apple inside China, however, and you hear little but praise. It is one of the most admired brands in the Middle Kingdom. A survey last year by researchers at Stanford University found that iPad penetration was greater at an elite high school in Beijing than at one in Palo Alto, California
Conclusion
In the intermediate and long term, there is a good possibility Apple shares will appreciate to new highs as a result of Apple's solid product line including the iPhone and iPad, attractive valuation metrics, consistent favorable margins, recent weakness of the dollar, potential for an expansion in P/E ratios, supplier diversification, inability of bearish technical indicators to hold ground for too long, and finally, the desirability and status associated with owning Apple products.
Given such factors, the recent drop in the price of Apple shares could prove to be a short term phenomenon. There is a possibility Apple shares may initially trade lower on Monday October 8, 2012, as technical traders initially sell due to the fact that Apple shares closed below the 50-day moving average on Friday, hence providing a good buying opportunity for investors who share our view.
Disclosure: I have no positions in any stocks mentioned, but may initiate a long position in AAPL over the next 72 hours. I wrote this article myself, and it expresses my own opinions. I am not receiving compensation for it (other than from Seeking Alpha). I have no business relationship with any company whose stock is mentioned in this article.