By: Brendan Gilmartin
JPMorgan Chase (JPM) is scheduled to report Q3 2012 earnings before the bell on Friday, October 12. The results are typically released at 7:00 a.m. EST with a conference call slated to follow at 8:30 a.m. JPMorgan Chase is the first of the major U.S. financial institutions to report quarterly results. Therefore, the numbers could have a significant impact in the trading of other names in the financial sector, as well as U.S. index futures and other broad market securities.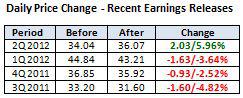 JPMorgan Chase is expected to earn $1.22 per share (range is $1.02 - $1.41) on revenue of $24.55 billion, a slight increase (0.70%) from the prior-year period. (Source: Yahoo! Finance).
At a recent $41.71, JPMorgan Chase is now trading at a mere 9.66x trailing earnings, well below the 5-year average (16.9x). The shares are also trading at a sharp discount to book value of $48.70 (as of 06/30/2012).
JPMorgan shares are up 30% from the June low and well above levels prior to disclosing a nearly $2 bln trading loss in a portfolio intended to hedge against risk back on May 10.
Recent News
10/02: JPMorgan Chase was sued in New York over Bear Stearns' role in the 2008 financial crisis. The unit, which was acquired by JPMorgan that year, is accused of misleading investors through the sale of mortgage bonds that had the high potential for default.
09/18: JPMorgan Chase declared a quarterly dividend of $0.30 per share on the common stock. The shares are now yielding 2.93%.
09/17: Citigroup reiterated a Buy rating and increased the price target on JPMorgan chase from $43 to $48, according to a post on Benzinga.com. The firm cited strength in mortgage banking and trading revenues, along with reduced risk from Europe. The Q3 EPS estimate was also raised from $1.38 to $1.41.
09/14: Standpoint Research cut JPMorgan from Buy to Hold, noting the shares were fairly valued, according to StreetInsider.com.
09/04: CLSA Analyst Mike Mayo suggested JPMorgan is among the best of the universal banks, but faces increased capital requirements, lower valuations, and suffers from greater complexities, according to Barron's.

Technical Review
JPMorgan Chase shares are up more than 30% since early June, pushing the shares to within earshot of the 52-week high of $46.49 (as of 3/27/2012). That would be the first level to watch in the event of a strong release. But in the wake of the recent advance, the shares appear a bit overextended, with the Relative Strength Index (RSI) near 70 -- a level signaling overbought conditions. Should results disappoint, look for initial support near $41.00, with downside risk to $39.00, followed by $37.00 -- just below the 200-Day SMA. (Chart courtesy of StockCharts.com)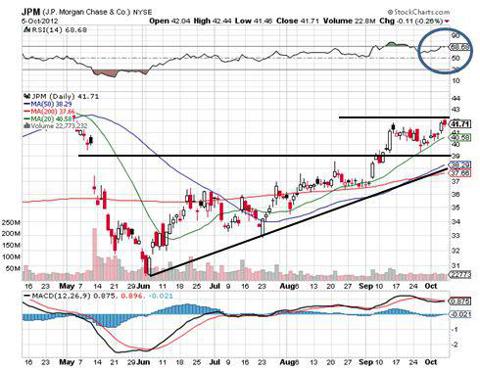 Summary
JPMorgan Chase shares are rallying in advance of its Q3 2012 earnings release on October 12, benefiting from increased lending activity, an uptick in the housing market, decreased pressure from Europe, a near 3% dividend yield, improved trading revenues, and attractive valuation, with the shares trading at a discount to book value. But with the shares up more than 30% in just four months, JPMorgan must deliver solid earnings and revenues in order to sustain the momentum. Anything less would be seen as a disappointment and potentially depress the shares and broader market index futures.
DISCLAIMER: By using this report, you acknowledge that Selerity, Inc. is in no way liable for losses or gains arising out of commentary, analysis, and or data in this report. Your investment decisions and recommendations are made entirely at your discretion. Selerity does not own securities in companies that they write about, is not an investment adviser, and the content contained herein is not an endorsement to buy or sell any securities. No content published as part of this report constitutes a recommendation that any particular investment, security, portfolio of securities, transaction or investment strategy is suitable for any specific person.
Disclosure: I have no positions in any stocks mentioned, and no plans to initiate any positions within the next 72 hours. I wrote this article myself, and it expresses my own opinions. I am not receiving compensation for it (other than from Seeking Alpha). I have no business relationship with any company whose stock is mentioned in this article.