By Ishtiaq Ahmed
Corning (NYSE:GLW) produces specialty glasses, ceramics, and related materials worldwide. The company was once known for its kitchenware and lab products. More recently, the company has been known for manufacturing glass substrates primarily for LCD displays. The company has facilities in Kentucky, Taiwan, Japan, and China. In Korea, the company develops, manufactures, and supplies glass substrates. Corning also makes optical fiber and cable as well as other telecommunications equipment, glass, and optical materials for a wide range of industries. More than half of Corning's sales are generated from Asia-Pacific, with almost a quarter from Taiwan.
Future Growth Prospects
Recently, the company has dominated the LCD glass market, earning enormous margins. However, the LCD market has almost reached its maturity and the company is faced with declining revenue growth in its core segment. Corning's business can be broken down into Display Technologies, LCD glass for flat-panel displays, telecommunications, and environmental technologies. Corning spends a significant amount of funds in research and development. It is due to the exceptional R&D efforts the firm was able to convert from kitchenware to fiber optics. The company developed fiber optics in 1970 and turned its focus to producing the backbone of the Internet boom.
When the Internet market slowed down, the fiber optics business became less important and the company shifted its focus to producing LCD display glass. The R&D department of the company has been able to give it a new direction and find new revenue generating products. At the moment the firm is manufacturing glass for smartphones, which is an industry with the massive growth potential. In addition, the R&D department is focused on developing a glass surface for the medical industry that kills bacteria and viruses, and developing photovoltaic glass for solar cells. There still remains growth in the environmental, telecom, and specialty segments.
Dividends
Corning pays $.36 dividend on an annual basis, which represents a 2.70% yield. The company recently announced a 20% increase in its quarterly dividends, and raised its quarterly dividends to $0.09 per share. The CEO said:
We believe our operating cash flow generation will continue, and combined with lower capital spending, give the company more financial flexibility. It has been a priority of our board of directors and mine to return a portion of our cash flow to our investors to enhance their total shareholder return. Raising the dividend allows us to do so.
Stock Performance
GLW has taken a beating during the past year and currently trades at around $13. The stock was trading close to $23 at the start of 2011, but it came down due to the declining revenues of the company. The stock has a 52-week range of $10.62 to $15.75. Corning has a market capitalization of $19.7 billion and beta of 1.71. The stock is up 12% in the last month.
Click to enlarge image.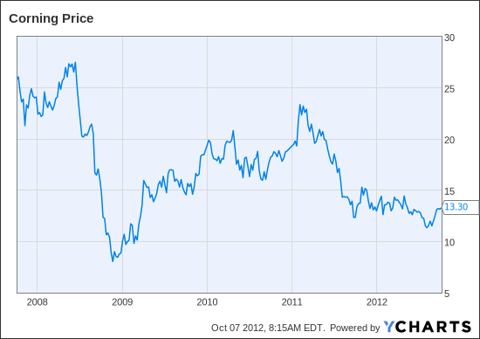 Competition
| | | | | |
| --- | --- | --- | --- | --- |
| | Corning | TEL | MMM | DOW |
| P/E | 8.90 | 9.60 | 13.30 | 9.8 |
| P/B | 0.90 | 1.90 | 4.00 | 1.80 |
| P/S | 2.70 | 1.00 | 2.30 | 0.6 |
| EPS Growth | -18.90% | -0.66% | 6.80% | -11.53% |
| Operating Margin | 18.80% | 11.44% | 21.30% | 5.36% |
| Net Margin | 28.60% | 7.92% | 14.60% | 3.84% |
| ROE TTM | 10.50% | 14.25% | 25.70% | 9.34% |
| Debt to Equity | 0.20 | 0.49 | 0.30 | 0.89 |
Source: Morningstar.com.
The main competitors for Corning are TE Connectivity (NYSE:TEL), 3M (NYSE:MMM), and Dow Chemical (DOW). It is evident from the table above that the stock is trading at a discount when compared to its competitors based on multiples. EPS growth indicates the sector as a whole is facing declining EPS as three of the four companies recorded negative EPS growth. Corning demonstrates strong profitability and the margins for GLW are impressive compared to its competitors. Only MMM shows better margins than Corning, but the stock is trading at a significant premium compared to Corning.
Summary
Corning is a technology leader in its market introducing large-sized glass substrates used in the production of larger LCDs for monitors and television. At present, the company is faced with declining revenues and deteriorating earnings. However, the company has proved in the past that it can find new revenue generating products and replace the older products. R&D is an integral part of Corning, and I expect the R&D department to come up with yet again a new product to take the company forward. In addition, the cash flows for the company remain strong indicated by an increase in the dividends. While there may be some problems in the short term, I believe the stock will do well in the long term.
Disclosure: I have no positions in any stocks mentioned, and no plans to initiate any positions within the next 72 hours.
Business relationship disclosure: EfsInvestment is a team of analysts. This article was written by Ishtiaq Ahmed, one of our writers. We did not receive compensation for this article (other than from Seeking Alpha), and we have no business relationship with any company whose stock is mentioned in this article.