In our last article on Sirius XM (NASDAQ:SIRI), we were bullish on the stock based on its impressive subscriber growth, debt refinancing, and share buyback opportunity after Liberty Media (LMCA) gained de jure control. We are reiterating our buy rating because healthy auto sales for the month of September point toward additional subscription growth. The valuation remains compelling, as the stock is setting new multiyear highs.
The share price appreciation (almost 5%) since the start of October can be attributed to more bullish analyses and ratings from analysts. Bank of America Merrill Lynch initiated coverage of SIRI with a buy rating and a price target of $3.75, which indicates 46% upside. Citi analyst John Bazinet also increased his price target for SIRI from $2.50 to $3.00 while maintaining his buy rating. He also upgraded Liberty Media to a "buy," as LMCA has spent $1.4 billion to increase its stake from 40% to $49.6% in Sirius XM and will control it by the end of this year. With 49.6% ownership by Liberty Media and the FCC inviting public comments or petitions regarding the de facto control application by Liberty, the process is one step closer to getting FCC approval.
Sirius and Auto Sales
The latest U.S. auto sales figures and the seasonally adjusted annual rate are encouraging and point toward further revenue growth for Sirius, which plans to have its radios installed in 70% of new vehicles sold in the United States (in addition to giving a free trial to purchasers of used cars with satellite radios). In September, the SAAR was 14.9 million units, which was the highest since March 2008, while U.S. sales rose 13%. The forecast for 2013, according to LMC automotive, is 15 million units for light vehicles. The graph below shows that SIRI's share price and revenues are correlated with U.S. auto sales:
Click to enlarge images.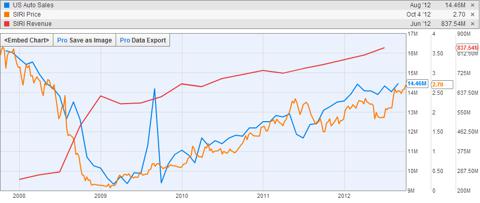 Financial Improvement Over the Years
Revenue for SIRI has grown from $922 million in 2007 to $3 billion in 2011. Analysts expect $3.77 billion in 2013. Diluted EPS have gone up from -$0.39 in 2007 to 0.07 in 2011. Analysts project $0.1/share in 2013. Operating cash flows have gone up as well from -$148 million in 2007 to $543 million in 2011. The operating cash flow (trailing 12 months) is $623 million. The debt position ($3 billion in long-term debt) is better than before, with the recent refinancing at lower interest rates.
These trends are likely to continue, and the share price will continue to go up. Share price appreciation will also be helped by Liberty purchasing shares and an expected share buyback.
Projections and Valuation
For SIRI, 87% of its revenues came from subscriptions in Q2. Subscriptions have gone up consistently year over year. The company currently has guided to 1.6 million net additions in subscribers that will take the current subscriber base of around 22 million to 23.5 million. If the company continues to add subscribers at the current pace, the 2014 subscriber base will be 27.1 million. A research report by Maxim Group puts the 2013 subscriber base at 25.12 million, and has a buy rating on SIRI with a price target of $3.35. In the table below, the figures in brown are the consensus analyst estimates, while the figures in bold black font are projections based on current growth rates.

The company's guidance for 2012 revenues is $3.4 billion. According to our estimates, at 2014's sales per share of $1.10 (considering 3.83 shares outstanding) and a P/S (trailing 12 months) of 3.25 times, the share price target comes out to be $3.58. If we assume 600 million shares are bought back for around $1.6 billion, the revenue per share comes out to be $1.30. The share price would be $4.20/share, using a multiple of 3.25 times.
The shares are up 50% year to date and have a consensus price target of $2.90. The forward P/E for SIRI is 27 times, while Cumulus Media (NASDAQ:CMLS) trades at a forward P/E of 11 times and a P/S of 0.49 times. The EV/EBITDA multiple for SIRI is 12 times as compared to CMLS at 10 times.
According to Schaeffer Research, the 50-day call/put volume ratio is 12.18, showing that calls are being favored by traders. This ratio can also point to the fact that short positions might also have been hedged. SIRI has a short ratio of almost six days.
Subscription growth looks set to continue in the coming years. The stock would benefit from share buybacks, the amount of which is still uncertain. To reiterate, we recommend buying SIRI as the valuations are still attractive.
Disclosure: I have no positions in any stocks mentioned, and no plans to initiate any positions within the next 72 hours.
Business relationship disclosure: The article has been written by Qineqt's Retail Analyst. Qineqt is not receiving compensation for it (other than from Seeking Alpha). Qineqt has no business relationship with any company whose stock is mentioned in this article.