At no point in time was it an impressive bullish effort last week, but when you add all the little victories together, what you get is a surprisingly-bullish move over the prior five trading days. It's an even bigger surprise considering it was last week when indecision was re-injected into the Presidential race - Romney had a strong debate performance, yet is still trailing behind Barack Obama in the polls.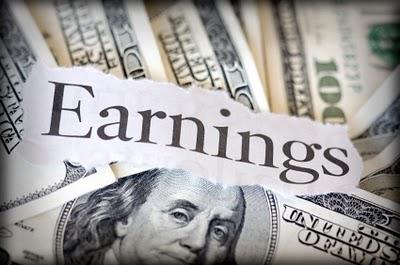 So, is that indecision going to catch up with the already-overbought market? Or, will investors again decide Obama is going to keep the lead through early November, and be re-elected? If so, that certainty about the election's outcome could possibly continue to drive stocks to new multi-year highs…and past some key technical resistance.
There are a lot of factors in play here - some short-term, and some long-term. Throw in the fact that Q3 earnings are around the corner (which we'll also dissect below), and the picture gets really messy. We'll slice and dice all of it in a moment, right after a quick review of the recent major economic numbers.
Economic Calendar
A big week last week, especially on the employment-data front. Whether or not you believe the drop in the unemployment rate - from 8.1% to 7.8% - is legitimate, that's the number we got. Still, the 'U6' number (which includes the folks who are unemployed and seeking a job as well as those who have stopped looking for a job) isn't improving, even if the superficial rate is.
Jobs are still being created though. ADP says 162,000 new payrolls were created in September, topping expectations of 133,000, but short of August's 189,000. That roughly jives with the government's number of 104,000 new private payrolls (114,000 counting government jobs). That was better than the 97,000 new jobs created in August, but worse than the forecasted 130,000 new payrolls for last month.
The numbers are positive - they're just not strong enough to keep up with the number of news jobs needed to accommodate the growing population. What's interesting is that the number of new and ongoing unemployment claims have been stagnant for months now…data which doesn't jive with the lowered unemployment rate.
On other fronts, factory orders fell 5.2% in August, mostly thanks to a plunge in transportation orders (jetliners, predominantly). Outside of transportation, factory orders actually grew by 0.7%.
Consumer credit is back to its oddly-strong growth rate again. The nation's total credit debt grew by $18.1 billion in August, handily topping the expected $5.0 billion increase. Student loans and auto continue to be the big movers for the number; between the two, loan balances were up $13.9 billion. Credit card balances only grew by $4.2 billion.
Economic Calendar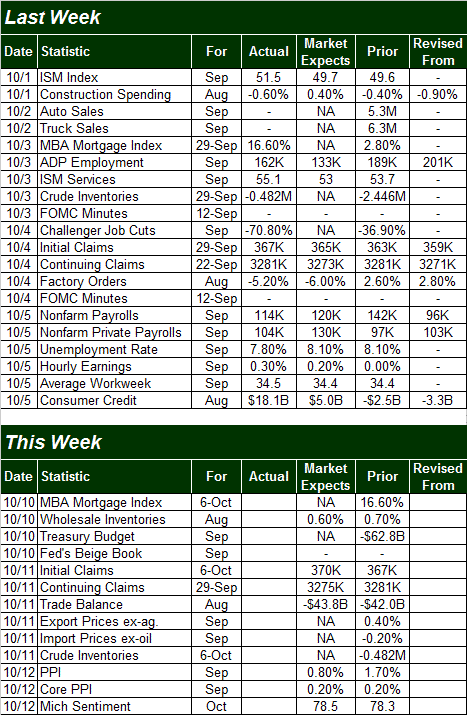 The coming week is going to be much lighter. In fact, the only items of real interest don't come out until Friday…the producer price inflation rate, and the first round of the Michigan Sentiment Index for October. PPI is expected to be up 0.8%, and up 0.2% on a core basis. That's pretty tame, and shouldn't be an excuse for higher prices on the consumer's end of things. As for the Michigan Sentiment score, the anticipated reading of 78.5 is just a tad above September's reading of 78.3. The data is still in a broad uptrend.
Stock Market
Again, we're going to start this week's technical outlook with a weekly chart of the S&P 500 (SPX) (NYSEARCA:SPY), since perspective is more important to the analysis than detail is.
The primary item to note here is that the S&P 500, even with last week's 20.26 point (1.4%) gain, has yet to hurdle the upper 26-week and 52-week Bollinger bands.
That doesn't mean it can't happen, and it doesn't mean it won't happen. Indeed, in 2010, the SPX made several continuous closes above the upper 52-week Bollinger band, and the 26-week Bollinger band didn't exactly spell doom for the market when it was tested earlier in this year. But, let's face it - with some indices at or near all-time highs and fears of another recession running rampant (and let's not even get into which Presidential candidate is worse for the stock market), are investors really thinking like long-term bulls now? Probably not. More likely, this brush with a couple of major technical ceilings has to have planted at least a few profit-taking seeds.
S&P 500 & VIX - Weekly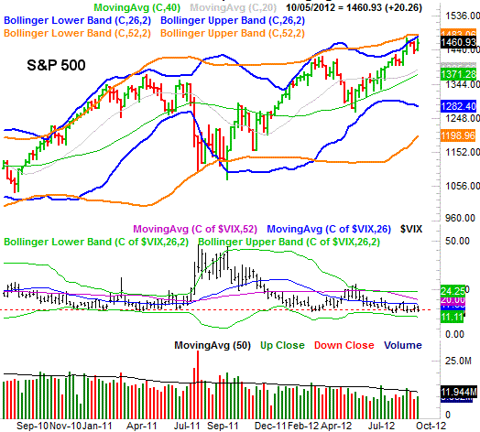 Bolstering the "end of the line" argument is the CBOE Volatility Index (VIX) (NYSEARCA:VXX). Granted, it's been at dangerously low levels since March, and it hasn't really been a problem yet [the April-June correction was wiped away pretty quickly]. But, we only have to look back to 2011 to see the kind of pullback we can suffer after the VIX lingers at low levels for too long. As a matter of fact, the floor the VIX is contending with now is pretty much the same one it was contending with in 2011. Is this the absolute low the VIX can sink to? It's sure looking that way, and if it is, the piper's going to have to be paid sometime.
As for the daily chart, the story doesn't change - it just gets more detailed.
Once again, the peel-back happened on Friday when the 20-day and 50-day Bollinger bands were brushed. As you can see, either one or both of those upper band lines have halted the short-term advances being made since May. Thing is, not once have they actually halted the bigger uptrend. Even if Friday's doji reversal bar at the upper Bollinger bands does go somewhere, there's plenty of support right around 1425, where the 50-day moving average line and the lower 20-day Bollinger band line are teaming up.
Point being, as unlikely as it should be, stocks (NYSEARCA:DIA) (NASDAQ:QQQ) (NYSEARCA:IWM) have yet to enter meltdown-mode. I f there's to be any significant amount of upside from here, however, the VIX's floor at 13.40 needs to fail first… and we just don't see that happening.
S&P 500 & VIX - Daily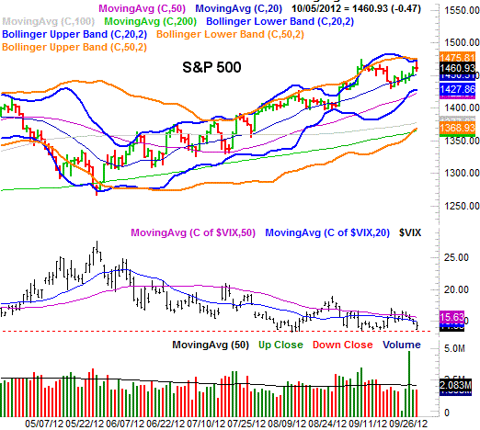 Q3 Earnings
Yes, it's already time for earnings season. Though the chatter has been pessimistic, and 40% of the S&P 500's companies have warned lower at some point before now, there's one thing to bear in mind - earnings tend to be better than usually presumed. The S&P 500 is on pace to earn $24.94 for the third quarter, which is a tad lower than Q3-2011's $25.29.
It's the first weaker year-over-year numbers we've seen since 2008, if the market doesn't top expectations. It's not necessarily the beginning of a recession, but all big trends start out as small ones. What's going to be of more interest from here is how Q3's results affect the projected numbers (through 2013). We'll keep tabs on it for you, though for the time being the pros are still looking for bigger-picture earnings growth.
SPX with Earnings and P/E Ratio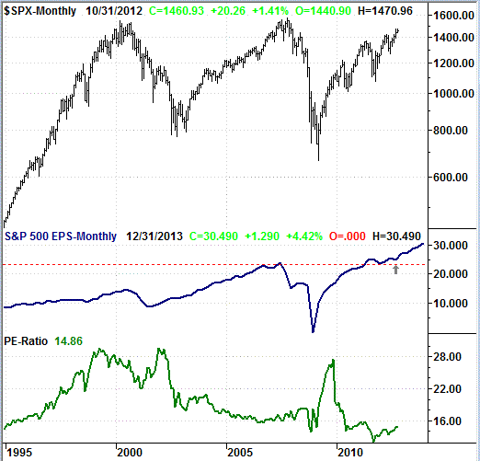 Disclosure: I have no positions in any stocks mentioned, and no plans to initiate any positions within the next 72 hours. I wrote this article myself, and it expresses my own opinions. I am not receiving compensation for it. I have no business relationship with any company whose stock is mentioned in this article.
Additional disclosure: BigTrends Rapid Options Income clients are in an open SPY Iron Condor Options Position.