On Monday we took a look at Fannie's (FNM) abysmal performance over the last five quarters, and today we'll take a look at Freddie Mac's (FRE). As you can imagine it's just more of the same:
First here is a look at the increase in their lending reserves since Q4 2006:
click to enlarge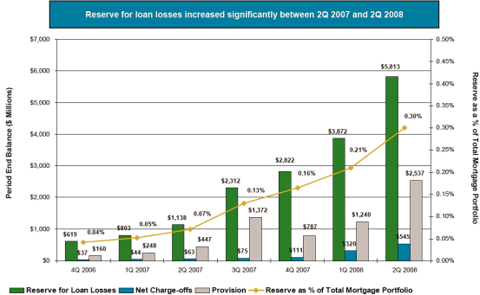 Graphic courtesy of Freddie Mac; Click image to see a larger version
Lending losses have increased 839% since Q4 2006
Net Charge-offs have increased  1,373% since Q4 2006
It's worth noting that over the same time period lending losses as a % of their overall mortgage portfolio have increased by about 500%.
Now let's look at the financials over the last six quarters:

Graphic courtesy of Freddie Mac; Click image to see a larger version
*The number in parenthesis is the performance over the last four quarters
Operating (Pre-Tax) Losses:

-8.4 Billion (8.7 Billion)

Tax Benefits:

4.4 Billion (4 Billion)

Net Losses:

5.8 Billion (5.4 Billion)
I just can't stress enough how spreading out these losses (and the risk to the economy) over multiple companies is an absolute must right now, if this had been handled properly years ago we could very well have a situation where some of our mortgages GSEs were profitable and the cost of potential bailouts, economic risks, etc., was greatly reduced. Instead of thinking solely in terms of injecting liquidity into the housing markets, Congress needs to think in terms of striking a conservative balance between mortgage market liquidity and risk.
View the FRE WikiChart on Wikinvest
You can read the Q2 "financial statements and core tables" here, and view the slides from the conference call here.
Sources
Freddie Mac: "Q2 2008 Financial Results" --   August 6, 2008.