Commodity Chart Of The Day
Daily S&P
(click image to enlarge)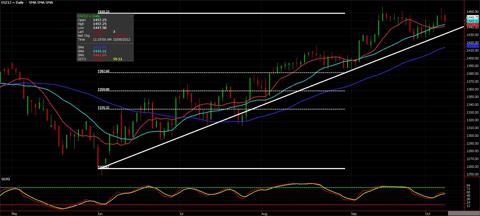 In the chart above, you can see the up-sloping trend line that has supported for the last four months. We've experienced a steady grind higher, with the S&P appreciating by nearly 17%. It appears prices are starting to consolidate and form an interim top, as seen from the chart action. Failure to make new highs, breaching their MAs, and a doji star on Friday -- a correction may be in the first inning.
I've advised clients with large stock positions to lighten up on the way up, or to establish hedges to protect from a correction moving forward. A settlement under the up-sloping trend line would be confirmation of more selling to follow, in my opinion. At a minimum in the coming weeks, I suspect we will see a 38.2% Fibonacci retracement, which would represent a 4.6% loss. If third quarter earnings disappoint, or more bad news comes out of Europe, or global economies continue to slow, do not rule out a trade 8-10% lower. I suspect there will be some sort of government intervention to prevent a major meltdown ahead of the election, but I would continue to be very defensive in the coming weeks.
Risk Disclaimer: The opinions contained herein are for general information only and not tailored to any specific investor's needs or investment goals. Any opinions expressed in this article are as of the date indicated. Trading futures, options, and Forex involves substantial risk of loss and is not suitable for all investors. Past performance is not necessarily indicative of future results.
Disclosure: I have no positions in any stocks mentioned, and no plans to initiate any positions within the next 72 hours. I wrote this article myself, and it expresses my own opinions. I am not receiving compensation for it. I have no business relationship with any company whose stock is mentioned in this article.