With high yield in vogue these days, Ares Capital (NASDAQ:ARCC) is worth a look even after a big gain this year. Back in August at the time of the Q2 earnings release, the company announced an increased dividend to $0.38 plus a bonus dividend of $0.05. Counting only the normal dividend, the stock currently yields 8.7%.
The company is a business development company (BDC) that operates as a leading specialty finance company that provides one-stop financing solutions to U.S. middle market companies and private equity sponsors. The company originates and invests in senior secured loans, mezzanine debt and, to a lesser extent, equity investments through its national direct origination platform.
Ares Capital competes against companies like American Capital, Ltd (NASDAQ:ACAS), KKR Financial Holdings LLC (KFN), and Main Street Capital Corp. (NYSE:MAIN). All of these stocks have had huge gains in the last year, yet all but American Capital provide still compelling dividends.
As written about last week, the market has become so obsessed with dividends that American Capital buying stock at a 40% discount to net asset value (NAV) is compelling.
Currently, the dividend paying Ares Capital trades at a premium to NAV while American Capital trades at a substantial discount. Is the premium worth it?
High Yielding Investments
The company in essence makes income by lending at rates in excess of 11% to companies needing financing and borrowing money whether long-term or short-term at an average rate of 5%. The net interest spread provides the income. As long as the cost of funding remains low and the investments continue to repay loans, the company can virtually print money, especially in an environment where competition for high yielding loans has been reduced.
CFO comment on the earnings call:
In our view, there's a very bright outlook for non-bank capital providers to small and medium-size businesses, like Ares Capital, particularly as CLO reinvestment periods expire over the next two years and more stringent bank regulations, such as Dodd Frank and Basel III, are implemented.
The company can almost be considered a junk bond investor, especially considering it obtains higher interest rates on debt than the SPDR Barclays Capital High Yield Bond ETF (NYSEARCA:JNK). The below table highlights the investments and weighted average yield on debt for Ares Capital:

BDC Defined
Investopedia defines a BDC as a company that is created to help grow small companies in the initial stages of their development. BDCs are very similar to venture capital funds. Many BDCs are set up much like closed-end investment funds and are actually public companies that are listed on the NYSE, AMEX and Nasdaq.
The most important note is the company has to return 90% of incomes to shareholders in order to avoid paying income taxes.
Net Asset Value
The NAV continues to remain relatively flat as the company pays out dividends inline with the growth of the company. As of the end of Q2, the NAV was $15.51 while the stock currently trades around $17.45 or 1.12 times the NAV. As a point, the NAV was $15.28 per share last year.
Per the chart below, the company trades in the middle of the listed competitors.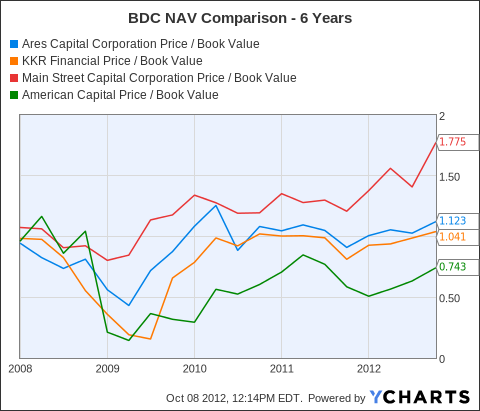 ARCC Price / Book Value data by YCharts
While Ares Capital doesn't trade at the highest multiples in the sector, any investor should look at a substantial increase in the multiple as a time to exit a position. The company was very clear on the conference call that dividend stability and not out right growth was the goal.
The company expects to slowly increase the core dividend while possibly providing another special dividend similar to the $0.05 paid during Q2.
Stock Price
Any investor investing over the last year can't complain too much. The stock has moved higher virtually every month in that time period to gain over 30%. The big difference in performance with American Capital is that the company saw less of a decline in the 2008-2009 financial collapse.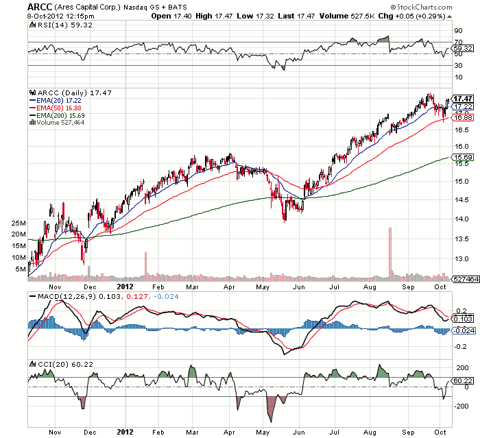 Conclusion
Ares Capital provides a very attractive dividend yield in a low rate environment. The sector should continue benefiting from a shift to non-bank financing due to the various regulations and risk reduction of most large financial institutions.
Any investor looking for dividend yield should still consider Ares Capital as an attractive investment. Investors looking for the best return in the sector can take advantage of the opportunity existing with American Capital trading substantially below NAV.
Disclosure: I have no positions in any stocks mentioned, and no plans to initiate any positions within the next 72 hours. I wrote this article myself, and it expresses my own opinions. I am not receiving compensation for it (other than from Seeking Alpha). I have no business relationship with any company whose stock is mentioned in this article.
Additional disclosure: Please consult your financial advisor before making any investment decisions.