It has been an ugly few months for the steel industry, as prices have dropped considerably on worries about a slowdown in China. The one stock I hold connected to the sector is Cliffs Natural Resources (NYSE:CLF). The stock has vastly underperformed the market over the last three months (see chart). However, it is having its best day in the market in three weeks today on an uptick in steel prices. The stock may have reached an inflection point and should be considered by aggressive, contrarian investors.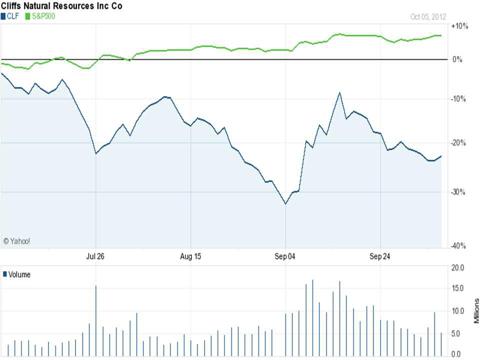 Possible catalysts for CLF:
Chinese steel prices increased 6% today, the biggest jump in a month on reduced inventories.
The stock should also benefit from China's $150B stimulus package that focuses on infrastructure.
India's decision to ban mining activities in Goa should support higher global iron ore prices.
QE3 should be good for the commodity complex including iron ore and met coal prices. The money printing going on in the major central banks should find its ways to hard assets and commodities.

Cliffs Natural Resources is the largest supplier of iron ore pellets to the North American steel industry and a significant producer of both high and low level volatility metallurgical coal
6 additional reasons CLF is a value pick at under $41:
The stock is selling at under 7 times forward earnings, about half its five year average (13.5)
CLF yields 6.5% and is selling at less than 4 times trailing annual operating cash flow.
The stock is considerably under where several insiders made purchases in May.
CLF is very cheap at just 87% of book value and just over 4X trailing earnings.
The 16 analysts that cover the stock have a $50.50 median price target on the stock.
CLF is selling at the bottom of its five year valuation range based on P/E, P/S, P/CF and P/B. The company has also grown revenues at an annual clip of 25% over the past five years.

Author's note: Given the high volatility of this stock, I highly recommend investors use options to hedge risk. Either a slightly out of the money bull put spread or buying the shares outright with a purchase of an out of money put option seem like two appropriate strategies.
Disclosure: I am long CLF. I wrote this article myself, and it expresses my own opinions. I am not receiving compensation for it (other than from Seeking Alpha). I have no business relationship with any company whose stock is mentioned in this article.