Estee Lauder Companies (NYSE:EL) reported solid fiscal fourth quarter earnings Thursday morning (see conference call transcript) and the stock is up strongly in volatile trading.
The cosmetics company reported a 36% jump in fourth quarter profit to $120 million (61 cents per share) from the prior year. This number beat Wall Street estimates, which had foreseen 56 cents per share. Revenue for the last fiscal quarter was $2.01 billion as compared to $1.76 billion a year ago.
EL also forecast that sales growth for the current quarter would be up 9 – 11% from the same quarter last year and that full year per share profit for this fiscal year would be from $2.57 - $2.72.
EL reiterated that per share profit for the current quarter would come in at 18 – 25 cents; Wall Street's consensus estimate for the current quarter is 25 cents, according to FactSet Research.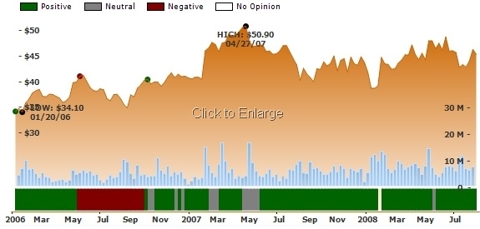 Needless to say, this was good news in a rather difficult retail environment. The company said that strong international growth helped offset a weak domestic environment. Estee Lauder owns such notable brands as: Clinique, Aramis, Aveda and its name-sake.
The upscale beauty-products company is putting more emphasis into mass marketing through a partnership between its entrepreneurial division, BeautyBank, and the Home Shopping Network (IACI), which sells products both via television and the internet. This should open up a new and potentially lucrative distribution channel, without the associated costs of EL's traditional sales channels.
Ockham Research has been bullish on Estee Lauder for some time. Today's 10+% run-up in the shares might temper our enthusiasm over the short-term. However, based on our analysis of EL's historic price-to-sales and price-to-cash earnings numbers, the stock could trade well into the sixties—a reasonable appreciation from its present price just under $50.
Estee Lauder is a well-run company with a stable of dominant brands. As emerging economies generate larger amounts of disposable income for their burgeoning middle class, international growth will continue to build on the company's noteworthy success in the U.S. and Europe. EL shares are worth a look for value-oriented and patient investors.
Disclosure: none