Last month, I wrote an article on Audiocodes (NASDAQ:AUDC) being priced as a call option. The timing of the piece was opportune as the shares more than doubled going from $1.45 to $3.20 in three weeks on significantly higher volume. I'm here to tell you that Audiocodes is a pure play on Microsoft's (NASDAQ:MSFT) Lync 2013 and its unified communications platform and as a result I see it as a potential buyout target.
Audiocodes had a recent PR announcement that its IP phones was going through Microsoft qualifications for compatibility with Lync Server 2010. Most investors would view this as a non-event type press release, but to me it screams out something much more pronounced namely that Audiocodes is now a takeover candidate for anyone that wants to align itself with Microsoft's self proclaimed next $1 billion plus software business - Lync. Here's the quote from Microsoft's Senior Director, Jyoti Black:
"We're pleased to welcome AudioCodes and their 300HD and 400HD IP phones to our phone interoperability program. Once AudioCodes IP phones are qualified, partners can benefit from simplifying purchase, training, and support by procuring phones, gateways, SBAs and E-SBCs from a single vendor."
In essence, Microsoft sees Audiocodes as a one stop shop for a business' complete voice system. Due to this press release, I believe that a lot of the stock action of late was attributable to Microsoft's full underlying commitment to Audiocodes. This commitment is not only for products to support Lync, but for training and consulting services, an area that could pull Audiocodes' growth up strongly in the quarters to come. I look to see further validation from Audiocodes with respect to its relationship with Microsoft in the months to come. As Audiocodes' and Microsoft's relationship unfolds, I expect investors and Audiocodes' partners will uncover Audiocodes' true value and earnings power in respect to Microsoft's unified communications game plan with Lync.
Make no mistake about it, the PC era is over. Dell Computer (NASDAQ:DELL) and Hewlett Packard (NYSE:HPQ) are looking for new ways to align themselves with MSFT's enterprise division in order to spur future growth. I believe that in doing so, one of these two could look to acquire Audiocodes in the next 6-9 months as Lync has already been accepted by enterprises for its feature rich offerings. Audiocodes has an IP technological advantage and an overall business depth to ensure that a Dell or a Hewlett Packard with Audiocodes on board would fortify their enterprise offerings for the Microsoft Lync 2013 launch coming in November.
These potential acquirers do not end the attractiveness of Audiocodes to the revamped box makers. The company has strong business partnerships with Alcatel-Lucent (ALU), Avaya and I believe, Juniper Networks (NYSE:JNPR). These three players could be serious contenders to acquire Audiocodes in order to strengthen their footing in the PBX market in the years to come. MSFT's Lync is a natural extension to this market and to the massive $4.8 billion contact call centers around the globe with its partner Genesys. Audiocodes would give any one of the three a technological depth unmatched in these markets.
I see Audiocodes being sold for no less than $7 - $8 in the immediate term (3 - 4 months). I also see a scenario where Microsoft converts new and existing Lync seats to voice at a much steeper rate than in the previous four quarters along with new evidence or details on Skype and how MSFT plans to leverage the asset they spent $8.5 billion on over a year ago. In this case, Audiocodes would be able to command a double digit price of $10 - $12 per share. The Hail Mary scenario is that Microsoft decides to leverage Skype and Lync to take control of enterprise's PBXs and then any price above $15 per share is possible.
Here's my breakdown:
$7 takeover scenario:
· Audiocodes delivers on its Q3 2012 results and guides slightly higher. In addition, MSFT makes some noise on its new Lync 2013 product and its Skype intentions.
· 2013 revenues estimate: $138 million.
· 2 - 2¼ x revenues is a conservative multiple on a business that generates 60% gross margins.
· $138 mil x 2 = $270 mil.
· $270/38.8 million outstanding shares = $7.00 per share.
. Book value: 2.50
. 3 - 3½ times book value is a conservative multiple = $8.00 per share
The acquirer can eliminate 70% of the SG&A expenses (~$40 million annually) equal to $27 million, which equates to $0.70 in profits.
I see this $7.00 price target only in a very short term scenario. A buyer would have to believe in the Lync growth cycle for 2013 and want to jump on AUDC's integration before the curve comes.
$10-$12 takeover scenario:
· Audiocodes delivers on 2 to 3 quarters of growth. MSFT attacks Lync's installed base for voice upgrades. The economy begins to grow and/or MSFT announces its Unified Communications game plan with Skype and Lync. I see this as the highest likelihood and in a time frame of 6-12 months.
· 2014 revenues would have to be $150 - $155 million.
· Multiple would increase to 3 x revenues.
· $150 mil x 3 = $450 mil.
· $450/38.8 million outstanding shares = $11.50 per share.
Again, the acquirer can eliminate 70% of the SG&A expenses equal to $27 million, or $0.70. This $0.70 in savings and $0.30 in earnings would give the acquirer $1.00 in profits.
I remind everyone that the company's CEO and founder, Shabtai Aldersberg (13% owner), is 60 years old. He is a former founder of DSP Group (NASDAQ:DSPG), which was a strong chipset player in the late 90s. In a recent interview he stated, and I believe, that someone will eventually kick the tires of the company in the next 12 months. Proof of this is in the pudding, the CEO has been very diligent in cutting expenses, buying back stock and retooling his management team for what seems to be an outright sale. I believe the company will institute another buyback if the shares continue to stay in the $3 per share range. The company seems to have convinced some buyer(s) that the company is ready to deliver solid results and/or the company has the assets to warrant an outright sale at much higher prices.
CHART: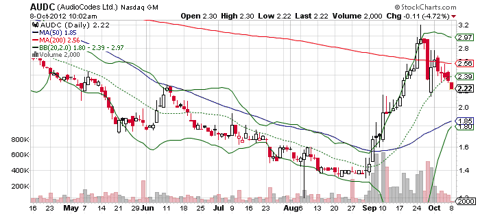 Looking at the daily chart you can see that Audiocodes clearly made a bottom back in September at $1.40. It then had a great run up to $3.20 on above average volume (confirmation of the move) and without a large short position (natural buying). In the past week it has seen a 50% retracement on lighter volume. It looks ready to make its next move higher and this time I believe it will go to $5 - $6 by early January 2013. I look for a 500,000 - 750,000 share trading day and a close above $3 to confirm the next leg north.
Along with the buyout scenarios both short and long term that I have laid out, Audiocodes reported its earnings date without negatively pre-announcing for the first time in four quarters. This is the single biggest indicator that any investor could ask for that the business model has strengthened and come into alignment for the play on Lync.
That is why I am adding to my position this month paying up to $3 per share. I believe that CEO, Shabtai Aldersberg, could attend some investor conferences in the US in November in order to deliver bullish news to investors. It will likely be ahead of Microsoft's launch of Lync 2013 which I believe will have a lot of the kinks from Lync 2010 worked out, and will prove to be more voice friendly. In anticipation of greater voice subscriptions on Lync, Audiocodes has come out with its new E-SBC, the Mediant 4000 which will quadruple the number of sessions from 1,000 to 4,000 (8,000 users) and will bring Audiocodes to a whole new customer base of large corporations.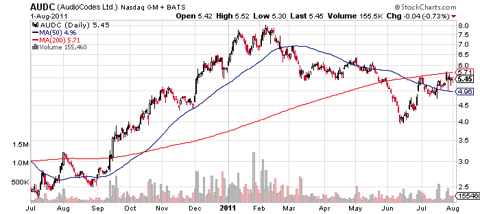 A reminder to all, from September 2010 to February 2011 Audiocodes went from $2.50 - $8.10 on Microsoft's Lync 2010 launch as you can see in the chart above. I would argue that Audiocodes in 2012, with a Microsoft Lync 2013 launch upcoming (Microsoft acquired Phonefactor last week which I believe will eventually be in future versions of Lync), has a better product offering, a smaller stock float and a leaner operating model all of which sets up for a potential easier run to $8 per share between now and February 2012. I believe that over the past month, the company has attracted some strong buy interest and I also believe that one of the names mentioned above will ultimately buy AUDC at a price much higher than it is today.
Disclosure: I am long AUDC. I wrote this article myself, and it expresses my own opinions. I am not receiving compensation for it. I have no business relationship with any company whose stock is mentioned in this article.