China's GDP growth does not translate into Chinese share performance as China's state-dominated and investment-led GDP growth policy continues squeezing the Chinese corporate sector's profitability, causing a decoupling in share price performance relative to China's GDP growth. This trend is exacerbated by declining manufacturing activity (see here and here) and poor corporate audit standards, which belie the 'China growth story' and conspire to create a classic value trap for investors in Chinese equities.
U.S. and European Indices
Have Consistently Outperformed the Shanghai Composite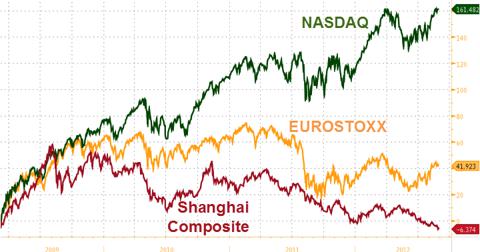 Despite the enduring European Union fiscal crisis, China's Shanghai Composite consistently underperforms both the U.S. and European markets as China's political economy, with its emphasis on non-economic investment-led growth, continues to marginalize the profitability of exchange-listed companies, rendering the country's stock markets unappealing to foreign investors. The government's investment policies act to constrain private equity investment since the domestic stock market fails to deliver an attractive exit option in terms of equity valuation. As a consequence, stakeholders in private enterprises are increasingly likely to seek a buyout from a Chinese state-owned enterprise or joint-venture partner in order to exit illiquid investments.
The SSE Composite Index does not capture exposure to China's national GDP growth. As noted above, the likely explanation is that as both the central government and local governments continue to allocate resources into investment in non-revenue generating fixed-asset infrastructure projects as an economic substitute for the lack of domestic consumption, and which projects do not cover the cost of funding, the country is propagating the destruction of economic value even as GDP increases. In China, GDP is calculated on the basis of funds expended, versus economic value produced (as in the West). The resulting overcapacity constrains investment by the private sector, as well as revenues. The continuation of directed investment by the state-owned corporate sector will generate GDP, but in the process will create ever-increasing overcapacity and thus diminishing return on investment. Ultimately, both state-owned and private sector corporate profits will achieve a negative value, even as the country maintains an 8% annual GDP growth mandate. Thus, Chinese equities fail to provide investors with economic returns which are commensurate with China's overall GDP growth, and so despite the U.S. and European road shows by Shanghai Stock exchange officials and fast-tracking approvals of Qualified Foreign Institutional Investor (QFII) applications, China's stock market will continue to disappoint.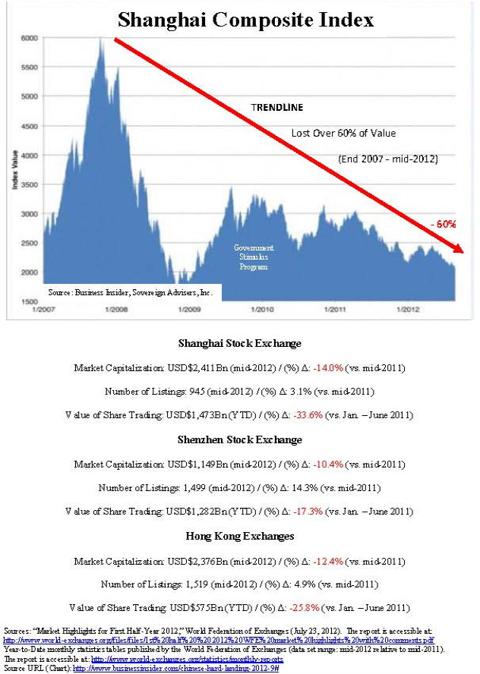 Hong Kong-listed Chinese companies have issued a record number of profit warnings during 2012, surpassing the peak reached during the height of the 2008-2009 financial crisis, and the rate of such warnings continues to increase. The fact that corporate profitability is shrinking even as China's GDP continues to increase (predominantly as a function of state-directed non-economic investment) further strengthens the evidence for a decoupling between corporate profitability and China's macroeconomic growth and thus confirms the thesis that China's stock market does not provide investors with the means to capture exposure to China's macroeconomic growth story.
Related Information
Sovereign Advisers, Inc. has researched a Special Report on the Future of the Chinese Economy, which addresses several developing trend-lines affecting the direction of China's economic outlook. Sections of the report include the following topics:
● Audit Standards
China's lack of a strict regime for corporate auditor standards has contributed to numerous instances of alleged and proven frauds involving overseas exchange-listed Chinese companies, including reports of a mainland China investment bank which allegedly specializes in counseling private Chinese companies in obtaining fraudulent listings on overseas stock exchanges. A litany of "reverse merger" and exchange-listed corporate frauds is exposed in the section of the report which addresses "Exchange-Listed Chinese Company Fraud."
● Frontier Hedge Funds: Emerging Perspectives on China
A dramatic shift in perspectives on China by leading hedge funds is underway, as characterized by David Einhorn's statement at the 2012 Ira Sohn Investment Conference in New York that "China is misunderstood and is not an investment opportunity." The various rationales underlying this trend are described in the section of the report entitled, "Global Macroeconomic Hedge Funds: Emerging Perspectives on China."
● Dependency on Fixed-Asset Investment
Massive stimulus program and recently announced second, even larger stimulus program. Unsustainable, as noted by Dr. Larry Lang, Chair of the finance department at the Chinese University of Hong Kong, who stated during a speech before an audience in Shenyang City in northern Liaoning Province on October 22, 2011 that the Chinese regime was in a serious economic crisis and on the brink of bankruptcy, stating "in China, every province is a Greece." The results associated with government stimulus-funded GDP 'growth' are described in the following two sections of the report entitled, "Non-Economic Fixed-Asset Investment" and "Satellite and Surface Images of the Vacant Ghost Cities of China."
● Shadow Banking System
The economic consequences attributable to expansion of the unsupervised and unregulated Chinese shadow banking system, including an unprecedented surge in local government debt and leveraged property speculation, are exposed in the section of the report entitled, "China's Shadow Banking System."
Click to access the Special Report on the Future of the Chinese Economy
Disclosure: I have no positions in any stocks mentioned, and no plans to initiate any positions within the next 72 hours. I wrote this article myself, and it expresses my own opinions. I am not receiving compensation for it. I have no business relationship with any company whose stock is mentioned in this article.