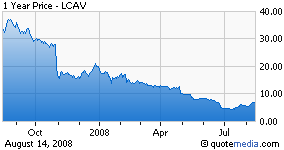 LCA Vision (NASDAQ:LCAV)  is Cheap, with a capital "C".
Look at these valuation stats: 29% earnings yield, 13% free cash yield, 5.2 enterprise value to earnings (EV/E), 1.0 EV/book, and 0.35 EV/sales. With these statistics, you would expect to find an underlying company in serious distress, and likely facing bankruptcy. But this isn't really the case. The company is in strong financial health, with 62 million in cash vs. just 24 million in debt.
Historically, the business has generated an impressive operating margin in the 15-19% range. Profitability was strong up until this year, and last quarter was the first quarterly loss (and a small one) in many years. In fact, if LCA Vision can return to levels of profitability and cash flow seen in the last 3 years, this stock could be as much as 75% undervalued.
The key question is, can the company return to those levels?
LCA Vision operates 77 LasikPlus vision correction centers in slightly over 50 markets in the United States. Laser vision correction is a reasonably good business. Vision correction centers are small, requiring minimal staff and equipment but driving high profits per procedure. It's not a particularly moat friendly business, however. There is strong competition both in similar national provider TLC Vision (TLCV) and lots of small opthalmology practices that offer the service (in fact, these small providers own over 60% of the market).
The overall laser vision market was flat for almost 2 years even before the current downturn - there is not a whole lot of organic growth to grab. The procedure is one-time, expensive, and completely discretionary. When finances are tight, it's easy for the vision impaired to stick with their eyeglasses or contacts. In short, a decent business but not a great one... not worthy of being named a MagicDiligence Top Buy.
The worst case scenario seems to be coming of age these days. Poor credit availability and general apprehension over the economy has led to purse tightening by consumers, cutting out these big ticket discretionary purchases. Procedure volume is down almost 40%. Adding to this is the fact that LCA's management has not been awfully impressive. Both the CFO and the chief marketing officer have left the company in the past 2 months. The company has lost market share due to raising procedure costs - bad timing there. The dividend was cut, and then eliminated in the past 6 months. Cash flow will likely be negative this year. Recent results have been awful, and the stock price certainly reflects these troubles.
Back to the question asked at the start: Can LCA Vision return to profitability levels seen in 2004-2007? I don't see why not, and that is what makes LCAV a good Magic Formula buy. There seems to be no obvious reason why laser vision demand will not return to normal once the economic outlook improves. At LCAV's current price, it doesn't even have to get back to those levels. And LCA-Vision has growth opportunities. With a presence in only 50 markets or so, there is plenty of room to expand in the U.S. TLC Vision is in even more dire straights than LCA, and if they go belly up, LCA should be able to gain serious market share.
I believe LCA Vision presents significant value at current levels. With a strong balance sheet, the company should be able to ride out this storm and then storm back as market conditions improve. This is a good Magic Formula buy, but not a Top Buy.
Disclosure: Steve owns LCAV