Want access to SolarCity before it debuts its IPO? Firsthand Technology Value Fund (NASDAQ:SVVC) will get you access to both SolarCity and Twitter while they are still private companies. This strategy would have worked well back before Facebook (NASDAQ:FB) went public. The fund tripled in the three months prior to Facebook going public. The stock price was $15 in January and ran up to $45 on the acquisition of Facebook shares. SolarCity should announce the date for its IPO soon. it's expected to be at the end of this year.
Firsthand Technology Value Fund's top 5 holdings as of the September 6th press release (holdings as of August 31st) are:
Facebook: 5% of the fund's assets are in Facebook shares.
SolarCity Corp: 3% of the fund's assets are in Solar City shares.
Intevac (NASDAQ:IVAC): 2% of the fund's assets are in Intevac shares.
Yelp (NYSE:YELP): 1% of the fund's assets are in Yelp shares.
Silicon Genesis Corp: 1% of the fund's assets are in Silicon Genesis shares.
It also holds 100,000 shares of Twitter, which would be less than 1% of the fund.
This fund invests in technology and cleantech companies. The top holding is Facebook, and this might scare some investors away, but it is only 5% of the fund so you are getting minor exposure to Facebook shares. Facebook has already dropped from its near $40 level to $20, so much further downside from here is not very likely. It has been trading right around $20 since August 1st.
SolarCity is the stock that I am most interested in. The company engages in the installation of solar panels and has many large companies that already have installations from SolarCity, including ebay (NASDAQ:EBAY), Wal-Mart (NYSE:WMT), and Toyota (NYSE:TM). Google also invested in SolarCity to make a $280 million fund, which is its largest green investment to date. With another $250 million fund from U.S. Bancorp, they plan to make solar energy accessible to everyone from residents to schools to the military.
Investing in solar companies has been a bad bet recently with the bankruptcy of Solyndra and the rapidly falling prices of solar panels. There is one bright spot though; the falling prices help out the solar panel installers. The panels still generate the same amount of electricity, but the cost per watt keeps falling - and has been halved in the last 10 years. The chart below shows the prices from 2001-2012.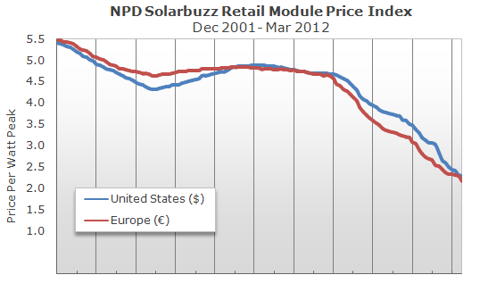 With the price of panels getting cheaper, SolarCity's revenue has also increased. The company reported $71 million in revenue through the first 6 months of 2012 after reporting just under $60 million for all of 2011. The company makes a majority of its money from selling the solar energy system, and it also makes money from leases. Also worth mentioning is that the top shareholder is Elon Musk, co-founder of PayPal, SpaceX and Tesla (NASDAQ:TSLA). He also is on the board at SolarCity; if there is one man that knows where the renewable energy market is heading, it is him.
The last point I am going to make for SolarCity is the cost of electricity. The rates from the utility company go up every year. The price of residential electricity from 2001 to 2012 has risen nearly 50%, from 8 cents per kilowatt-hour to 12 cents. This is according to the U.S. energy Information Administration. With a solar installation, the owner can lock in a price so that they do not pay the rapid increases from the utility companies. The real question is how much money will a resident, a business owner, a school, or the government waste by not buying and installing solar panels.
Disclosure: I am long SVVC. I wrote this article myself, and it expresses my own opinions. I am not receiving compensation for it (other than from Seeking Alpha). I have no business relationship with any company whose stock is mentioned in this article.