When I first started writing about BioScrip Inc. (NASDAQ:BIOS) I received some encouragement from a variety of shareholders, including both individual and institutional investors who had been disappointed in management's continued incompetence.  I also attracted the attention of private specialty pharmacy operators and former employees, which further supported the notion that the Company's management team and Board are unfit to run BIOS. 
I was surprised, however, to find a few smaller investors suggest that my comments ended up driving BIOS down even further. Aside from the laughable notion that my comments could move this stock, the main issue is that BIOS has some valuable assets that are being obscured by management's multi-year history of blunders which have eroded any level of management credibility and the Q2 08 conference call further supported this notion.
Shares in BIOS are up over 100% since the release of Q2 08 earnings.  In isolation that sounds great, but this needs to be taken in context, and management mistakes earlier in the year resulted in a major haircut with BIOS losing over 70% since 2008 began.  Despite the over 100% gain since Q2 08, BIOS is still down 40% for the year and pathetically, down 64% since the Company went public in mid 1996.  Nonetheless, the market is forward looking and despite Chart I, maybe things are different this time.  If BIOS went up by over 100% since Q2 08, the Company has probably turned the corner, right?
CHART I: BIOS HISTORICAL PERFORMANCE
Due to the plethora of earnings in recent weeks I held off on commenting on BIOS.  In addition, I wanted to wait for BIOS to release its 10-Q rather than just focus on the 8-K earnings release because the Q breaks out segment performance.  I was also hoping to have an earning call transcript to reference but surprisingly, BIOS has not released one either through websites like Seeking Alpha or through Thomson Street Events.  I found that odd because BIOS has a Q4 Earnings Call Transcript on Seeking Alpha and Q1 08 is available via Thomson Street Events.  Despite the lack of a transcribed call, the replay is available on the BIOS website and I will reference some of the discussion.
To start the Q2 08 conference call, investors were alerted to the fact that BIOS management hired Insight Communications, a healthcare-focused investor relations ("IR") firm.  This seems like a waste of investor capital because BIOS is a well-known company in the healthcare industry.  Investor apathy stems from management and a Board that had produced returns leading to what can be seen in Chart I above.  Nonetheless, if we shareholders now employ an IR firm, hopefully they can see to it that future conference calls are transcribed.  In either case, the IR firm has its work cut out for it and reviewing BIOS Q2 results and some "highlights" from the conference call will illustrate why.
As previously stated, I wanted to wait until the 10-Q was released because BIOS breaks out segment performance.  The key driver for BIOS, or at least what's been marketed to investors as the key driver, has been Specialty Services.  This is the segment that CEO Richard Friedman is focused on while PBM, as illustrated in Table I, has been a secondary focus as the Company has lost a variety of contracts in recent years.  However, when I reviewed Q2 segment performance, I found more of the same. 
As in Q1, BIOS grew Specialty Service revenues at a pretty high rate against the comparable historical period.  However, despite a 25% increase in revenues, the Specialty Services segment still couldn't make a profit.  As in previous years and quarters, the secondary PBM segment, which BIOS has placed less emphasis on, continues to increase its profitability and subsidize Specialty Services.  Simply stated, BIOS could lose over $1B in revenues from its Specialty Services business and would be 23% more profitable as of LTM Q2 08.
TABLE I: BIOS SEGMENT DATA - click to enlarge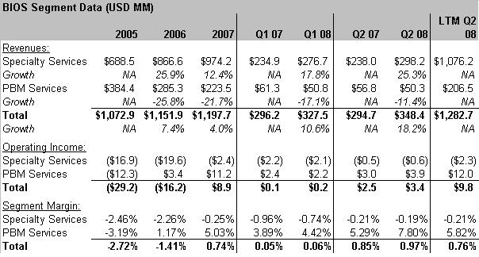 Table I does not provide a picture of a model that makes a lot of sense, yet according to Friedman's comments on the Q2 08 conference call, the "model is solid." This is a model where a business segment that has been losing revenues at a clip of 20% per year is making all of the money for the firm. This is also a model where management loses business such as the lost contract with Aetna in Q2 only to say that the revenues will be offset by profitability from exiting the unprofitable CAP program which was initially billed as a profitable program.
So despite Friedman's claim that BIOS has a solid operating model, the proof would suggest otherwise. Nonetheless, maybe it is different this time, but one concern investors like me have is how does the model "work" for investors? 
During the Q2 call I asked Friedman where he felt BIOS could be in a few years in terms of top line growth, gross profit margins, and operating margins and received no substantial response.  I wasn't looking for a specific data point but a range would be helpful, a 1% operating margin, the 2.7% margins achieved in 2003, anything?  Other investors including Bill Nasgovitz of Heartland Advisors which, according to the latest 13G, owns about 16% of BIOS also expressed exasperation with the lack of any substantial figures or benchmarks management was shooting for.  The skeptic in me says management won't adopt any benchmarks because it knows its own execution history and committing to specific benchmarks puts its current wealth transfer program at risk.
The only data point Friedman provided is that gross profit margins are expected to be in the low 10% range and operating profits will be driven by tight SG&A controls.  The problem with this is that it seems that BIOS loses some contracts every year as it will lose the Aetna contract after 2008, and then additional growth, as seen with the significant growth in Specialty Services revenues, generates no profit.  In Q2, Specialty Services revenues grew by $60MM or 25% QvQ but operating income was basically flat at a net loss of $555k!  So basically all of this revenue growth that is being targeted is making no impact on the core profitability of BIOS.
BIOS is actually not a bad company, and when I initially wrote about it, the stock was trading at a valuation where you know what you're getting into, but if a few things work out, you can get lucky.  However, Friedman and the Board have clearly proven inept at running the Company and investors should not get overly excited about one good quarter.  As long as current management and the Board are in place, BIOS will always be constrained in terms of achieving a fair valuation.  This is because management and the Board have no credibility and is why the IR firm will be a waste of shareholder capital. 
Institutional investors will want to know tangible targets in terms of revenue growth and margins and management continues to be unwilling to provide any range of figures.  In addition, management has a long operating history to study, which would be more than enough to scare off most investors.  If anything, adding more attention to BIOS would be a bad thing for BIOS management, though a plus for investors.
BIOS investors have three ways to achieve value for their shares.  The first is to hope for a string of two or three good consecutive quarters.  Hope is really the right word because management has misfired so many times that an investor can't tell whether the stock will lose 70% or be up 100%. 
The other ways are to fire management and the Board and replace them with competent, skilled management.  It's very hard to believe that current management is best suited to run BIOS. Between the failed merger of MIM and Chronimed to the CAP debacle to the lag in updating drug pricing/reimbursement to match drug acquisition costs, it's solely by a lack of investor interest and a negligent Board that this company has not experienced management turnover. 
There are other executives that could run BIOS better and provide a real set of benchmarks to be rewarded against rather than the current compensation scheme where compensation is awarded simply for showing up to work.  Installing a new management team and Board would result in a slower turnaround but potentially generate the largest absolute valuation if successful.
The third way of generating value for BIOS is by selling the Company.  An acquirer would receive specialty pharmacies and specialty services, which are high growth segments and a PBM segment while being able to eliminate a variety of costs.  Eliminating these redundant costs is what could make a deal at higher prices very accretive to certain buyers. 
A fine example of hypocrisy was when Friedman introduced the new IR firm BIOS hired and informed shareholders that this IR firm would be responsible in helping enhance shareholder value.  However, at the end of the conference call I asked Friedman whether BIOS had been approached by a strategic or financial buyer given the potential value of BIOS to others and Friedman would not comment on that and the call ended.
It's quite obvious that by not commenting, Friedman did comment and BIOS has been approached by other buyers.  Given that the Company's infusion business has started to do well, the growing focus on specialty pharma, and the recent merger announcements in the industry, it's possible that M&A in this space is heating up and BIOS may have been approached over the past 12-18 months. 
The hypocrisy is that while Friedman will expend shareholder capital to hire an IR firm to drive shareholder value, he and the Board will not disclose buyout overtures that would do more for shareholder value than any IR firm.  It's even more frustrating when looking at insider purchases and finding that since 2005, there have been just four open market purchases by insiders.  The fact that Board members like Charlotte Collins and Stuart Samuels, who have purchased a whopping 300 and 8,000 shares, respectively, are involved in determining whether shareholders have a right to know if BIOS is receiving buyout interest is ridiculous.  Shareholder value obviously takes a backseat to management's excessive compensation and Board members' annual retainers of $40,000 or more.
Nonetheless, after the Q2 "no comment" I wanted to conduct some more research on the Company's peer group and have since been reaching out to BIOS's peers to get a better understanding of how competitors view BIOS. Also, after conducting additional research on BIOS's peers, I found that it doesn't take a clever person to ascertain which companies are most likely to have approached BIOS given certain similarities that some share in terms of operating models and product/service crossovers.  Now the only trick is trying to get potential suitors to show their hands.
DISCLOSURE: AUTHOR MANAGES A HEDGE FUND THAT IS LONG BIOS.