Who do you think is the world leader in solar energy installations and in raising the bar when it comes to being competitive? Would you guess First Solar (Nasdaq:FSLR) or perhaps Suntech Power (NYSE:STP)?
I guessed wrong myself, and I found that the answer is Sharp (OTCPK:SHCAY) Solar. Like you, I didn't realize how committed they are to being the world leader in solar energy solutions.
How do I know that Sharp is so committed to putting renewable energy solutions, such as solar energy, anywhere and everywhere? Because they say so emphatically. Check out Sharp's vision of a solar powered world in this video: http://sharp.smnr.us/#multimedia
Sharp Solar's vision for a clean, solar-powered world started with their solar cells in a lighthouse over 40 years ago. From wineries to solar-powered space satellites, this innovative company is the leader in providing solar-powered energy around the world.
Their motto is, "Change Your Power, Change Your Planet" and they sound like they are determined to back up those words with solar-energy products that will continue to be the industry standard for some time to come.
"Sharp Solar Systems:The Economical and Ecological Choice" says their web site at http://solar.sharpusa.com/solar/home/0,2462,,00.html . This is what they claim about their residential solar systems:
"Sharp residential solar systems give families the ability to generate their own electricity from the inexhaustible energy of the sun - with no harmful emissions.

They're cost-effective, quiet, attractive, safe, and reliable, with only minimal maintenance required over their long operational life. They're the right choice for your home and the right choice for the environment. It's no wonder why so many homeowners are making the move to Sharp Solar."
From an investor's perspective, the trouble with Sharp is that they are difficult to invest in, if not impossible for many.
No wonder many are turning to ETFs like Claymore/MAC Global Solar Energy (NYSE:TAN), whose largest holding (almost 10%) is none other than First Solar Energy (Nasdaq:FSLR).
It also contains some other well-known companies like LDK Solar (NYSE:LDK), Suntech Power (NYSE:STP) and Sunpower (Nasdaq:SPWR). TAN would be a more careful way to enter the world of solar energy investing.
But are the solar energy stocks a good value at these prices? It is a hard question to answer (FSLR sells at a PE ratio of 93). Reuters recently explored this question in an article we would highly recommend. You can find it at the link below:
www.reuters.com/article/marketsNews/idINN1436828220080814?rpc=44
Before you buy any solar energy stock or fund, read this article carefully, thoughtfully, and also do a great deal of "due diligence" to try to determine the risk-versus-the-reward of it all.
For those interested in TAN, take a gander at the 6 month chart below, which you might find instructive.
click to enlarge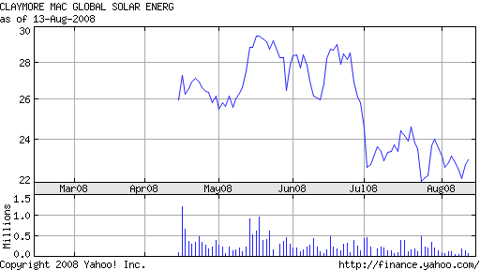 All I can say about solar energy stocks right now is, "Buyer beware!"
Disclosure: None