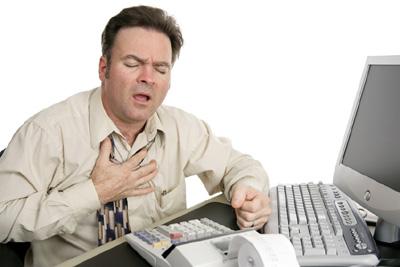 I like to be prepared, and I also like leaving very little to chance. For that reason, I thought that I had everything under control for an upcoming short trip to London and Paris.
The last time I had taken a European vacation, my assets were still managed by my broker and I had no Internet access and essentially no electronic access at all during an extended trip abroad. That was June 2007. What could go wrong?
You can look up what the market did during that period. To put it mildly, I was surprised upon returning to the States. What you can't look up is that my broker, with whom I had a great 25 year relationship, passed away very suddenly and unexpectedly shortly thereafter.
For the trip this week, what I hadn't counted upon was, had my wife not been in the hotel room with me on Sunday morning, a possibly fatal heart attack. Knowing my reluctance to access medical care, had I been able to do so, I probably would have thought that the ability to do so was proof enough that doing so was unnecessary.
That logic is flawless.
Amazingly, within about two hours or so, the British National Health System had placed a stent in what is jokingly, perversely and correctly referred to as the "widow maker," an important artery in the heart. Seventy-two hours later, I was discharged and watching the Buckingham Palace changing of the Guard. The cost for extending life, at least in London, was far less that my annual trading commissions. The same can't be said for the United States, however. Given recent profitable investments in the Healthcare sector, including United Healthcare (NYSE:UNH) and Eli Lilly (NYSE:LLY), my feelings are mixed in that regard. Of course, people are important, but profits are important, too.
Unfortunately for the investing strategy that I use, many stocks in the sector such as Merck (NYSE:MRK) and Pfizer (NYSE:PFE), don't lend them selves terribly well to short-term covered call writing and offer no meaningful opportunity to exploit inefficiencies in pricing or human nature in attempts to capture both option premium and dividends.
As the upcoming Presidential election is to a large degree a referendum on universal healthcare, and given that the one-year return of 37.9% leads all other sectors, I'm not certain that healthcare is where I want to be parking assets for much longer, regardless of who wins the election. Whether the sector goes up or down after the election, there will be no shortage of adages and conventional wisdom to explain the movement.
One thing that I learned many years ago was that you have to separate your personal life from your business life. As much as I wanted to find a reason to select Abbott Labs (NYSE:ABT) as one of the Double Dip Dividend picks this week, I just couldn't justify the risk-reward profile. Instead, I'll just revel in the fact that one of their stents is keeping that "widow maker" unrequited.
What was strange, however, was three days of absolute solitude and nearly virtual seclusion from information. By Monday, my wife had gotten a cell phone and laptop to me, and I was able to eventually connect to the Internet on an exceedingly slow connection via the phone, as there was no patient or public Internet access in the hospital.
For a news and data junkie, that was as crushing a pain as the physical kind had been 27 hours prior.
What I found as everyone told me to relax and not to worry, was that knowing what's going on in the world and knowing what's transpiring in the markets is relaxing. For some reason, even if the news is negative, I find that less stressful than not knowing the news. Trying to trade in a vacuum is stressful. But then again, trying to understand how the market reacts to news in real time is stressful, as well.
So my trading was very subdued this week, and a slow Internet connection didn't help with execution or delivery of trading alerts to subscribers. That was probably more stressful than the realization that I suddenly found myself suffering from mortality.
Normally, as I look back on the week of trading and then forward to the coming week, I like to think in terms of the swirling winds. This week, I've decided not to go through the pile of New York Times that had collected in the hotel room and, instead, approach the coming week as I will approach life. Reborn and unimpressed by the past.
However, both you and I know that won't last for more than a couple of hours. What I do know about this coming week is that earnings season begins on Tuesday, even though it feels to me as if the previous one has barely gotten started. As a result, this week, as with life in general, I'm prepared to tread slowly and reevaluate the landscape with a different perspective and with fewer stocks than usual on the radar scope.
As always, this week categorizes stocks as being either Traditional, Momentum or Double Dip Dividend (see details).
If you read my book, Option to Profit, you'll recall the chapter "Old Reliables" -- the stocks I go back to over and over, if possible. You may also refer to that as a "broken record." I try not to be as obnoxious as the guy in the "Channeling Stocks" commercial.
Phillips 66 (NYSE:PSX) is a new addition to that list. Although this is the third week in a row that I looked at it as a possible purchase, I haven't owned shares since assignment to close out the September 2012 cycle, which not coincidentally, was right at Friday's closing price. As far as spin-offs go, Phillips has outperformed its parent and one of my original "Old Reliables", Conoco Phillips (NYSE:COP), by a long shot since the spin off.
(click image to enlarge)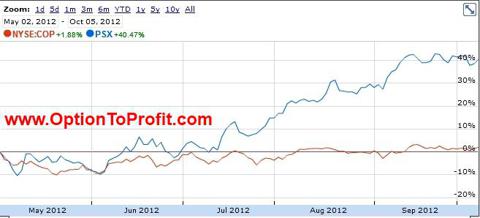 Microsoft (NASDAQ:MSFT) fits into that category as well -- though lately, far more suggested as a purchase than an actual purchase. Given the recent tight trading range, in hindsight, it would have been a continuing good decision to have followed the suggestions, but I did so only three times over the past four months, and never for longer than a week's holding period.
Aetna (NYSE:AET) also happens to go ex-dividend this week, and is part of an already strong healthcare sector, but not part of the broken record pattern. The fact that it's near its short-term high is a little troubling for a new investment, but for a very quick trade, especially using a weekly call option sale, it may be appealing enough to go with the crowd for just a few days.
Both of the Momentum selections for this week were choices that could easily have been bought last week, as long as personal distractions weren't so vexing.
Both YUM Brands (NYSE:YUM) and Freeport McMoRan (NYSE:FCX) also happen to be going ex-dividend this week. The big and very big caveat, however is that YUM Brands reports earnings after the market close on Tuesday, while it goes ex-dividend the next day. That means that in order to capture the dividend, you would be taking earnings-related risk. Given that YUM is very often one of those companies whose share price over-responds to all kinds of Chinese economy-related theories, it may end up being best to stay away. However, if YUM trades weakly on Tuesday in advance of the report, I'd be more inclined to pick up shares going into the close, but certainly using an in the money strike price.
Traditional Stocks: Aetna, Microsoft, Phillips 66
Momentum Stocks: Freeport McMoRan, YUM Brands
Double Dip Dividend: Aetna (ex-div 10/9), Freeport McMoRan (ex-div 10/11), YUM Brands (ex-div 10/10)
Remember, these are just guidelines for the coming week. Adjust accordingly with market movement, and you'll have the makings of a healthy income stream for the week with reduced risk.
Disclosure: I have no positions in any stocks mentioned, but may initiate a long position in AET, PSX, MSFT, YUM, FCX over the next 72 hours. I wrote this article myself, and it expresses my own opinions. I am not receiving compensation for it (other than from Seeking Alpha). I have no business relationship with any company whose stock is mentioned in this article.