Yes, earnings season is upon us. We get to see how companies are really doing, not counting on central banks to print more money, or governments to throw more stimulus at us to get markets to rally. We're looking at revenues, earnings, forecasts, and true company health. For those that have read my articles over time, you know that each quarter I do a segment called "stocks to be careful with going into earnings." Originally, the segment was focused on stocks to not be long through earnings. The segment has evolved, adding stocks to not be short through earnings, along with possible trades for these names when they report. I also will include stocks to just plain avoid at certain times. But there is one important point, or disclaimer, I must make. Just because I say be careful with a stock going into earnings, doesn't necessarily mean that longs (and shorts potentially as well) should exit their positions before earnings. It simply means that there are certain items you need to think about before deciding on what position to hold (or not) going into the report.
Apple (NASDAQ:AAPL) - Thursday, October 25th - after market close:
Apple has been on the list a couple of times in the past, and because of the iPhone 5 launch, it has to be on this list this time around. Now, I'm not calling for Apple to miss estimates today or say you should sell out of your position. I am saying is that you need to think about a few things.
First, do you think the Maps problem and supply issues are enough for some consumers to hold back iPhone 5 purchases for a short period of time? Remember, the new phone was only on sale for a little more than a week. Some consumers might have heard that the iPhone was sold out at some locations and if they waited until the first week of October to buy it, that means they didn't buy it in Q4. Gene Munster, one of the biggest Apple analysts out there, recently cut his Q4 iPhone sales estimates on supply concerns, not demand concerns. Munster is cutting his estimates from 27.2 million to 25 million units sold. If Apple does come in at 25 million, I think they do miss estimates at that point.
The second issue is analyst estimates, overall. Before the iPhone 5 launch, the average analyst estimate for Apple's Q4 called for about $34.9 billion in revenues and EPS of $8.40. Remember, Apple guided to $34 billion in revenues and $7.65 when it reported Q3. But since Apple announced the iPhone would go on sale during September and since the phone launched, estimates have gone straight up. They currently stand at $36.31 billion and $8.89. If they get to $37 billion (or more) and a bit over $9.00 going into earnings, you might want to take a step back. We've seen a couple of quarters recently where Apple has beaten its own guidance, but missed analyst estimates that were just too high.
The third issue is price. What is Apple trading going into the earnings report? This is connected to the second issue. If estimates keep rising, and we get a pre-earnings rally back to the $705 high or even higher, you might want to wait and see how earnings are. Conversely, if we get a few more negative analyst reports going in, estimates come down, and we drop to $625 going into earnings, then shorts might want to be scared. Just two quarters ago, we got plenty of doubts going into the Apple quarter. How did that work out?
Netflix (NASDAQ:NFLX) - Tuesday, October 23rd - after close:
Netflix usually makes this list, and for good reason. This company is known for surprises, and in recent history, they haven't been good ones. Since Netflix decided to basically kill off its very profitable US DVD segment and start rapid international expansion, revenue growth has slowed, profits have plunged, and the stock has lost more than 75% of its value from its all-time high.
Netflix has had a history in recent times of giving so-so subscriber guidance, using all sorts of excuses. In Q2, they blamed seasonality. In Q3, they said that the Olympics would hurt the business. However, when they've actually reported, things have been better than expectations. But the problem is investors haven't focused on the past quarter, more so on future quarters.
The following table shows the past four reported quarters for Netflix. In each quarter, they blew out analyst expectations for earnings. However, in three of the four quarters, the stock has dropped the next day, and those three drops have averaged 24.6%.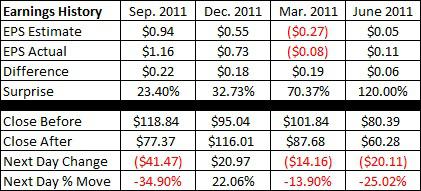 So there are a number of questions for both Q3 and Q4. First, how much did the Olympics impact results? Second, how much are costs coming down, as Netflix has cut some content deals recently, including losing Epix exclusivity. Third, how do they forecast international subscriber growth in Q4 with the addition of new markets in Scandinavia. Finally, do they actually admit competition is increasing, as a number of other names have or will be entering this space in Q4. I addressed some of these issues in my latest Netflix article.
There are just to many questions with Netflix, and for that reason, I am advising not having an equity position in the name through earnings. If you want to speculate in either direction for earnings, I would use options to limit your possible downside. A big move will come, and you don't want to be on the wrong side of it.
Molycorp (MCP) - date not yet announced:
Molycorp is a company that engages in rare earth mineral production. You might remember that rare earth mineral stocks were very popular in late 2010 and early 2011. Molycorp shares soared as everyone saw their growth potential as nearly unlimited.
However, Molycorp now trades for a fraction of those early highs, as the company has had trouble meeting those outstretched growth targets. Revenue and earnings estimates keep getting cut, and after every earnings report, they seem to get cut some more. Molycorp made a large ambitious acquisition of Neo Materials Technologies, and they've had to add a large amount of debt to finance this deal and fund operations. Just in the past 90 days, earnings estimates for 2012 and 2013 (combined) have come down from $5.10 to $1.33.
The interesting thing here is Molycorp's post-earnings trading. As you can see from the following table, it has not been good over the past six quarters. The first performance row shows how the stock has done in the day following their earnings report. The second performance row shows how the stock has done in the five trading days post-earnings (including the day after).

Only once in the past six quarters has the stock been up the day after earnings, and in the next four days, it dropped 11.5%, and finished down for the total five days. Now, could this be the one quarter where things turn around? Sure. But if Molycorp isn't at a 52-week low going into earnings, one might suspect that the shorts have the advantage here. This has not been a pretty trade for longs after earnings.
Amazon (NASDAQ:AMZN): date not yet announced:
I have to put Amazon on the list again because everyone was shocked after last quarter. Despite the fact that Amazon guided to an operating loss for the quarter, meaning the company could announce a net loss, shares have continued to reach new highs. Everyone is waiting for the quarter where Amazon finally tops out, and some would tell you that this is the one.
Here's a few things to consider. Amazon launched the new Kindle Fire in September, so that's most likely the reason for the weak earnings guidance, as expenses will pile up. But it's not a good sign when a company is increasing revenues at nearly 30% and can't even keep earnings flat. Also, Amazon guided to a revenue midpoint of $13.6 billion, and analysts are currently forecasting $13.92 billion. Does that leave some room for Amazon to miss? It sure could. Amazon guided to a midpoint of a $200 million operating loss, and analysts are currently predicting an 8 cent loss overall.
The possible 3rd quarter loss is important, but what about the fourth quarter? Analysts are currently expecting 31% revenue growth for the quarter. Don't forget, the sales tax issue is increasing (Amazon now must collect sales tax in California), so that could play an issue this holiday season. But the real issue here is earnings. Analysts currently forecast a rise in Amazon 4th quarter earnings, to $0.53 from last year's $0.38. That would be the first time since Q4 of 2010 that earnings rose over the prior year's period. If guidance from analysts prove to be too high, Amazon could certainly fall post-earnings. But we've seen lately that those drops don't last long, so if you are short through earnings and you make a quick profit, you might want to take the money and run.
Deckers Outdoor (NASDAQ:DECK) - date not yet announced:
If you read my articles, you know that I cover Deckers extensively. Deckers has had a huge fall recently as a couple of bearish analyst notes have sent the stock down about 30%. Questions have risen that ask whether or not the UGG brand has become a fad, which would be a problem given the company's reliance on this one product line (it represented 87% of revenues in 2011).
There are two forces at work here that will probably make the post-earnings move a fairly sizable one. Kind of like Netflix, this means that options are the best way to go if you want to trade this one. First, we've seen three straight quarterly warnings from Deckers, and analysts are now expecting another warning for 4th quarter results (current expectations are a bit below where Deckers guided to at its second quarter results). Should Deckers warn again, and the warning be more than analysts are currently expecting, this stock will probably fall to $25.
The second issue at work is that the company is still fairly profitable and generating a fair deal of cash. That has allowed the company to buy back a fair amount of shares recently, and they announced a new $200 million buyback program on the last quarterly report. With the stock's recent fall, Deckers could be buying up a bunch of shares at low prices, which would benefit future EPS. Given that more than 1/3 of the float was shorted as of mid-September, if Deckers reports that conditions are better than expected, this stock will shoot back up. The valuation is low, but only if they can meet expectations. A short squeeze could easily push this name back to $50.
Final Thoughts:
Remember, just because a stock is on this list doesn't mean you need to avoid it or sell it before earnings if you are long (or cover if you are short). This list just examines some issues to think about with these names if you are interested in holding a position through earnings.
Investors might not think 1 million iPhones is that much when Apple is expected to sell 25-30 million in the quarter, but that's about $640 million in revenues and 30 cents in earnings. That could be the difference between beating and missing expectations. Likewise, Netflix could easily beat for Q3 and see its stock fall after earnings.
As always, the data and recommendations provided in this article are as of the time published. Before any of these names report, there could be significant news and/or price swings that change the opinion going into earnings. Always do your own due diligence on a name if you are looking to hold a position through earnings. There is a lot of money to be made on earnings trades, but you can also lose a lot as well. Sometimes, the goal is not to make money, but to not lose money.
Disclosure: I have no positions in any stocks mentioned, but may initiate a long position in AAPL over the next 72 hours. I wrote this article myself, and it expresses my own opinions. I am not receiving compensation for it (other than from Seeking Alpha). I have no business relationship with any company whose stock is mentioned in this article.
Additional disclosure: Author also may initiate a short position in NFLX over the next 72 hours.