Much noise has been recently made about a divergence in price between the Transports and Industrials. Dow Theorists like Richard Russell suggest that there is a Dow Theory sell signal in place. Should that really be the case? In looking at the charts of the iShares Down Jones Transportation Average (BATS:IYT), you can see that the Transports actually made all-time highs in 2011, which the Industrials did not do: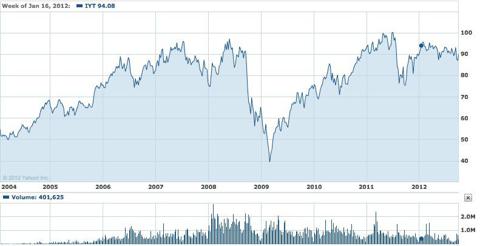 So the move over the past year in all likelihood has been one of consolidation and higher lows (i.e., recent lows higher than low in September 2011 which was higher than low in June 2010). The weekly chart of IYT suggests that there could be an outsized move in transports coming up imminently as it breaks out of this consolidation phase: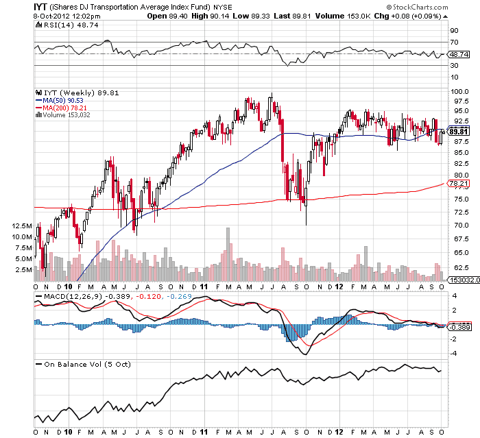 Look at OBV in the chart above. The chart looks to me like it is putting in a significant bottom right now and is poised to move much higher and bring the overall market with it to new highs.
The fundamental theory around weakening transports is a slowing economy and lower demand coming from coal, since a lot of the rail companies transport coal. Coal stocks are in the dumps because of, in large part, lower natural gas prices.
Back in 2009 there was a significant switch from coal to nat gas as the price of natural gas dropped below the price of coal. Add to this the fact that there are emerging EPA air quality regulations impacting coal-fired power plants, forcing them to be retrofitted or else be retired, and you have a recipe for major headwinds for coal.
However, in case no one has noticed, natural gas has recently risen to as high as $3.5 MMBtu from lows below $1.90 last spring. Weak demand and massive production cuts have sharply lowered the price of coal to the point where most utilities will be piling back into coal at around $3.50 MMBtu natural gas.
While there will most certainly be a shift from natural gas to coal as natural gas prices rise, I have also laid out my own thesis that the shale gas plays, which are supposedly providing unlimited supplies of natural gas for the next 100 years, aren't nearly as economically viable as the natural gas industry would like you to believe (see "The Natural Gas Ponzi Scheme"). And if this is the case then one could make an argument for a major bull run in the prices of natural gas, higher than anyone is expecting.
The general sentiment is that natural gas has major headwinds above $3.5 MMBtu. But let's play devil's advocate and consider the possibility that the natural gas industry is artificially inflating reserve figures and artificially lowering the cost of extraction of their shale gas assets. If this is the case then one could make the argument that natural gas could return to highs seen in 2006, the same level by the way that natural gas trades at across the world.
Should natural gas continue to move up, it is only a matter of time before the demand for coal skyrockets because it is cheaper. Coal companies could do a complete 180 from their downward spiral and transportation companies could get a major boost from this increased demand. In an industry that is highly cyclical and sees rapid transitions from boom to bust, the possibility of a turnaround being imminent is highly likely.
Add to this that the US economy continues to gradually improve, with Friday's jobs report being the latest in a series of economic reports over the past three years that suggest a gradually improving economy.
If the transports are looking bullish, then what is the play?
If it is the case that the transports are lagging yet have catalysts in rising natural gas prices and a gradually improving economy, I want to be in transports. And I would like to focus on companies that have a smaller market capitalization and are therefore likely to significantly out perform as a result of either rising coal demand or a steadily improving economy.
The two best companies I have found in this sector are FreightCar America (NASDAQ:RAIL) and YRC Worldwide (NASDAQ:YRCW).
RAIL manufactures railroad freight cars including coal cars, bulk commodity cars, intermodal cars, and motor vehicle cars, amongst others, used by railroads, shippers and financial institutions. It is a direct beneficiary of rising coal demand and an improving economy. It currently trades at around 10 times earnings and has over 50% of its market cap in cash. They recently re-instituted a dividend policy and have a 1.3% dividend yield.
YRCW is a speculating trucking company, having narrowly avoided bankruptcy a few times over the past three years. With a new management team in placing, expectations of a profit in 2013 after years of big losses, and with insiders buying up shares recently, this might be one of the better speculations in the market should the economy continue to gradually improve.
YRCW is setting up a bullish flag on its most recent pullback/consolidation and OBV and Stochastics are giving a buy signal. In addition the Relative Strength Index (RSI) is confirming the uptrend that started six weeks ago is going to continue. See chart below from 10/5/12.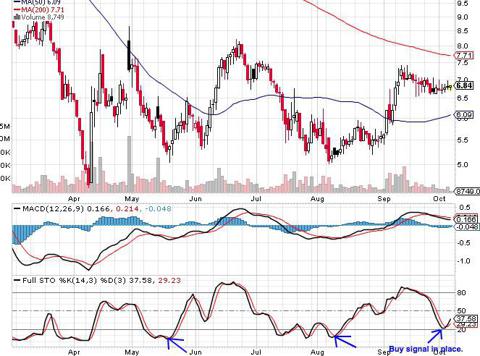 The best part: investors have completely written the company off. Fundamentally it is the cheapest stock in the entire sector on a price to sales ratio and it is undergoing a significant turnaround. Insiders have been buying the stock recently, and it just turned its first operating profit in over four years in q2. This has the recipe for very large gains over the coming months.
Conclusion:
I still recommend that people ignore the media and permabears. The market looks poised to go higher much to their chagrin. Sentiment-wise, does this have the feel of a top similar to the 2000 or 2007 tops? Does it feel like everyone is all-in on stocks? I think we can agree the vast majority of the public doesn't believe it will continue, which is why it will. The charts are suggesting this too. And the best way to play it is through the transports, an industry currently hated.
Disclosure: I am long YRCW. I wrote this article myself, and it expresses my own opinions. I am not receiving compensation for it (other than from Seeking Alpha). I have no business relationship with any company whose stock is mentioned in this article.