"It's far better to buy a wonderful company at a fair price than a fair company at a wonderful price."
Warren Buffett's quote aptly describes the opportunity provided by the slight undervaluation of Johnson & Johnson (NYSE:JNJ). JNJ is one of the most respected and profitable companies in the world, with a history dating back about 125 years. Unfortunately JNJ's recent history has been riddled with product recalls that have damaged some of its key brands reputations, in addition to hurting profits. Management changes have now taken place and the company is taking steps to improve returns moving forward. Because of JNJ's diverse product assortment and dominant sales and distribution footprint, the company should reap substantial rewards as populations across the globe continue to age, increasing the need for JNJ's products.
JNJ has three primary business segments: Consumer, Pharmaceutical and Medical Devices and Diagnostics. This diversity insulates the company from short-term headwinds in any one product line, and it broadens the potential avenues for internal investments, which can be determined by whichever opportunity offers the highest returns on capital. Medical device and pharmaceutical companies have been challenged by governments doing everything in their power to curtail price increases on key products, in an effort to reign in healthcare spending. While these pricing pressures will continue to hurt short-term profitability, the long-term trends of longer lifespans and developing economies with a need for better healthcare should provide favorable trade winds for JNJ. Scale advantages in distribution and sales allow JNJ to develop and acquire key technologies, and leverage them throughout the world in an unparalleled way.
Recently JNJ closed its $21.3 billion acquisition of Swiss-American orthopedic device maker Synthes Inc. (here)
The company paid a reasonable 20 times earnings for a company that when combined with JNJ's Depuy unit will offer the most extensive orthopaedics portfolio in the industry. Synthes' product assortment is particularly strong in the areas of trauma, spine, cranio-maxillofacial and power tools. Because Depuy and Synthes are selling to the same hospitals and medical clinics, JNJ should be able to attain some synergies through streamlining the sales force and marketing. Depuy and Synthes products are in a real sweet spot as people are living longer, staying active till later in life, and obesity continues to be one of the biggest social and health problems particularly in the United States.
JNJ has consistently invested heavily on R&D. Over the last 10 years the company has averaged spending over 11% of sales on R&D, and the efforts have paid off as new products introduced within the past five years accounted for approximately 25% of 2011 sales. Most of the R&D budget has been allocated to the pharmaceutical division.

Source JNJ 10-K here
JNJ has an extremely robust pharmaceutical pipeline that isn't burdened with a huge patent cliff like many of its competitors. Currently pharmaceuticals account for about 35% of company revenues, with medical devices and diagnostics accounting for about 40%, and the remainder being derived from consumer products. The Synthes acquisition will significantly add to medical devices and diagnostics sales, as the company posted about $4 billion in revenue last year.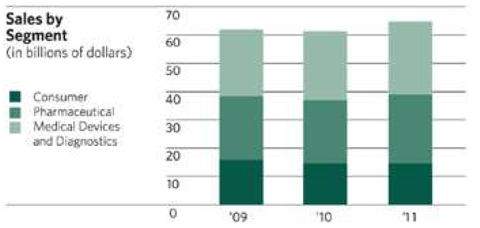 Source JNJ 10-K
The majority of JNJ's sales are international so the recently strengthened U.S. dollar has been a negative for the company's earnings. While this might add some uncertainty to short-term earnings figures, over time it is difficult to imagine the U.S. dollar not declining, meaning that JNJ's long-term earnings would benefit.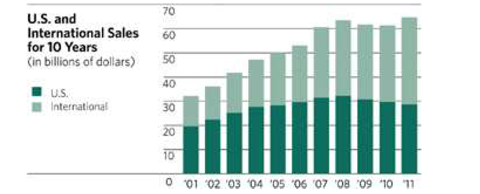 Source JNJ 10-K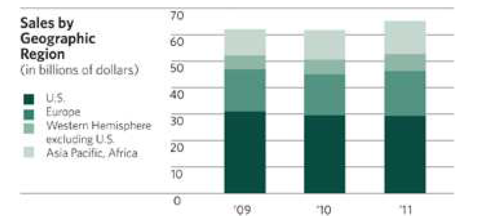 Source JNJ 10-K
As the middle class grows in emerging markets, the desire for better healthcare increases and due to JNJ's broad assortment of products and global presence, the company should be a major beneficiary of this trend.
The company expects full-year 2012 operations earnings per share of $5.25-$5.32 excluding the impact of special items, currencies, and now including the accretive impact of the Synthes acquisition. JNJ is a free cash flow machine having averaged about $13 billion per annum over the last 4 years. This has allowed the company to continuously increase its dividend and invest in the business. The company's debt to equity ratio is only about 20%, and I believe the company would be wise to take advantage of incredibly cheap long-term interest rates to buy back stock. It seems very likely that JNJ would be able to obtain a lower interest rate than the current dividend yield of 3.4%, and with a forward earnings yield of about 8%, JNJ's shares trade below their intrinsic value. While I appreciate the ample dividend yield, I believe JNJ has missed opportunities to buy back its own stock more aggressively when the stock has traded in the $50s and low $60s over the last couple of years. Paying 20 times earnings for Synthes and not buying its own stock when it was trading around 10 times forward earnings does not seem like great capital allocation, and the product recalls have been extremely alarming. JNJ should be able to get back to its 20% returns on invested capital once the short-term issues are resolved, highlighting the company's consistent ability to earn well in excess of its cost of capital.
For long-term investors today's entry price is reasonable, but a slight pullback to the low to mid-$60s would certainly enhance the margin of safety. I believe JNJ can earn roughly $6-$6.25 a share by 2014 and the stock deserves a multiple of about 14 given its durable competitive advantages and its position in growth markets. Investors get paid nicely for waiting and one strategy that might make sense is using a covered call strategy. By buying the stock at $69.21 and selling the January 2014 $75 calls there are two things that can happen assuming the investor holds until expiration.
1) If JNJ closes below $75 at expiration the investor will get the 3.5% dividend, the 2% of premium from selling the call, and will keep the JNJ stock and any gains or losses on it.
2) If JNJ closes above $75 at expiration the investor will get the 3.5% dividend, the 2% of premium from the call, and the 8.3% gain from $69.21 to $75. This would result in a total return of 13.8% in just over a year, and the investment would settle in cash after the option is exercised.
I'd suggest sitting tight for right now in hopes of a better entry point as the demand for high-yielding securities has really taken away the margin of safety for quality stocks such as JNJ, but it is certainly a company worth keeping an eye on as any reasonable dips would offer a compelling buying opportunity.
Disclosure: I am long JNJ. I wrote this article myself, and it expresses my own opinions. I am not receiving compensation for it (other than from Seeking Alpha). I have no business relationship with any company whose stock is mentioned in this article.