Savient Pharmaceuticals (NASDAQ:SVNT) has experienced a dramatic recovery since early August. We believe that the investment thesis for SVNT has now changed. While SVNT was rallying this summer due to the contrarian trade against the Tang Capital lawsuit, the thesis going forward has to do with whether or not SVNT can sustain its revenue growth and expand its market into the European Union. Investors should act accordingly.
A Textbook Special Situation Trade
The Tang lawsuit contrarian trade that led to almost 400% gains over the summer was an easy call which we first pointed out to our private mailing list members on July 8th. We did not write about SVNT on Seeking Alpha at the time due to the site's policy regarding articles on stocks trading under $1 per share but Savient was a textbook special situation trade.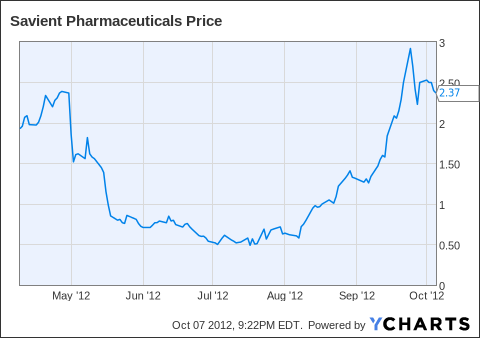 The chart above shows SVNT's stock price for the past 6 months. While SVNT has had its challenges with the commercial launch of their gout drug Krsytexxa, the stock was trading at $2.40 in late April. On May 1st, Tang Capital, who holds some 38% of SVNT's long term debt, announced a lawsuit claiming corporate mismanagement and seeking to have the company declared insolvent. SVNT's stock price crashed to below $1 hitting a low of 49 cents on July 17th.
The company had 2 years' worth of cash on hand at the time of the Tang lawsuit, making the insolvency claim rather doubtful. Furthermore, investors who took the time to examine the situation would have noticed that, despite a legal challenge, the judge in the case allowed SVNT to restructure their outstanding debt in early May. This was the first indication that the lawsuit was likely to go SVNT's way.
Here is what we wrote to our private mailing list members on July 8th after initial due diligence of just a couple of hours:
I like to look at the improbable bet. SVNT is a 63 cent stock having 2 years worth of cash on hand. They have some difficulties with a lawsuit from Tang capital - but the judge let their recent financing deal go through despite Tang's request for an injunction - seems like the legal troubles are overblown.
The problem they face is that they have a tiny sales force of 60 ppl. When they got FDA approval in 2010 the stock was $20. It dropped to $12 in one day on 10/25/2010 because they announced that they could not find a buyer for the company.

Their strategy was to get acquired after FDA approval. (bad strategy)

They filed for EU approval in May 2011 - should be receiving it anytime now. Seems like their business has issues in executing the commercialization of the drug. But 63 cents is not the right price for a company with an approved drug (for gout) that is about to receive EU approval and is exploring label expansion to treat kidney related diseases.

Seems like this will be back up over $1 soon.
(Anyone following our Seeking Alpha articles about Amarin Corporation PLC (NASDAQ:AMRN) will note that we've cited the SVNT example a couple of times in referring to a potential downside to buyout speculation regarding Vascepa's go-forward strategy. We are consistent in our publicly and privately voiced opinions on stocks and company strategies.)
On July 9th SVNT announced a reorganization that included, among other things, changing CEO's and reducing their workforce by 35%, moves designed to save $56 million by 2013 compared to the 2012 Q1 spend ratio.
In late July, the company announced that the judge had thrown out the bulk of Tang's claims in the lawsuit saying that the plaintiffs had no standing to bring the suit in the first place.
The Judge's July 27th decision in the lawsuit contained a real gem of an insight (which again we told our list members about). In discussing the fact that Tang had not participated in the May notes exchange transaction, the Judge wrote:
The Exchange Transaction ultimately closed in May 2012. Tang was among the Note holders offered the opportunity to participate in the exchange, but declined for reasons that the parties dispute.
There was a footnote at the end of that sentence which read as follows:
Tang asserts that it declined to participate because it felt that the Exchange Transaction was unfair to the Note holders who were not given the chance to participate. The Defendants argue
that Tang's true reason for not participating was that Savient rejected Tang's request that its Notes be converted to equity in the Company.
In other words, Tang Capital approached SVNT and asked to have their notes converted to equity before they ever brought suit. You can read through the judge's entire opinion here (pdf).
The news of the lawsuit being dismissed did not immediately move SVNT's stock price because, by then, the stock was facing a Nasdaq notice of delisting/failure to meet a listing rule due to the stock price being below $1.
SVNT started recovering around August 8th, the day of SVNT's Q2 quarterly conference call. When earnings were released, the company had shown 30% quarter over quarter revenue growth (helped by a 12% price increase during the quarter). When asked about the Nasdaq delisting notice SVNT's general counsel, Phillip Yachmetz, said:
As you saw with the 8-K, we did receive a delisting - potentially delisting letter from NASDAQ. We have 180 days to resolve that. Yesterday we received a second letter from them pertaining to our market capitalization side. So it's a separate 180 day period pertaining to that listing requirement. We are confident that prior to the 180 day period we will be able to cure the issue.
That last sentence, about being confident that they would be able to cure the issue was a brilliant exercise in jawboning - something Ben Bernanke could learn from. Following the conference call, the stock price went parabolic, shooting quickly above $1 and charging above $2 within 4 weeks.
What's Next
Traders, who just look at the chart may be drawing a bull pennant or bull flag based on the rise from early August, through the peak at around $2.92 and then the subsequent decline to a recent closing price of $2.37. The problem with this interpretation is that the investment thesis going forward is completely different than the one from July. The "buy SVNT it's rallying" trade became overdone when the stock price first went above $2.40. Savient's stock price has now fully recovered from the panic selling and indiscriminate shorting induced by the Tang lawsuit and has begun rising higher than it was in late April.
Going forward, SVNT has an EU approval decision pending by year's end. The next EU Committee for Medicinal products for Human Use (CHMP) meeting is scheduled for October 15th - 18th. It is unclear exactly when the CHMP will be taking Krystexxa up for consideration, but October 19th is a date to watch for possible news from the EU. This is also the last trading day before October options expiration therefore expect volatility in the stock to remain high. Most people expect Krystexxa to eventually receive EU approval, so the upside from the approval itself may be fairly limited; however, should Krystexxa receive EU approval, speculation about a possible EU partnership will drive the stock price until further news of their go-forward plan for Europe emerges. (In past conference calls management has hinted that talks are underway with more than one potential partner for the EU.)
SVNT's next quarterly earning release on or around November 8th is another key catalyst. During Q2, SVNT raised the price of their drug by 12%. During Q3, they raised the price another 15%. This means that the quarter over quarter revenue growth needs to come in at more than 20% to show an actual increase in market penetration. Should the company show such increased revenue, the stock price will continue higher because it indicates that the company may be on the path to profitability. However, if the Q over Q sales growth comes in less than 20%, expect the stock price to fall as this would indicate that revenues are not growing due to wider use of the drug but only because of price increases from the same number of patients. SVNT clearly has some pricing flexibility and they were perhaps a bit too timid in initial pricing of the product, but it is a positive sign that they are now exploring the drug's pricing elasticity.
Investors long SVNT should carefully assess their positions ahead of the catalysts mentioned above. These future catalysts are not as clear cut as the Tang lawsuit contrarian trade. Should SVNT receive EU approval this month and then fail to deliver the expected quarter over quarter revenue growth, the upside from an EU approval will be short lived. On the other hand, should both the EU approval decision and the earnings numbers prove positive, the stock has potential to settle into a new trading range above $3. A third possibility is that there is no EU decision this month, which would mean that the earnings release will be a truly binary event for the stock.
Investors who bought the stock under the thesis that the lawsuit was going to go in the company's favor should already have taken some, if not all, profits off the table. To continue to participate in any potential upside, holding a small portion of the original position using "the house's money", or exchanging shares for long-dated $2.00 or $2.50 strike call options is a prudent strategy.
Investors on the sidelines should recognize that SVNT is at a critical juncture. A trade entered now is a speculation on the Q3 earnings delivering strong quarter over quarter sales growth.
Due to the difficulties of marketing Krystexxa and the company's past problems growing revenue, we offer no longer term outlook for SVNT at the present time. The company's recent changes suggest that they are on the right path in terms of reducing expenses while increasing revenues. A re-assessment of the longer term outlook will be in order once the quarter over quarter sales growth numbers are confirmed.
Disclosure: I am long SVNT, AMRN. I wrote this article myself, and it expresses my own opinions. I am not receiving compensation for it (other than from Seeking Alpha). I have no business relationship with any company whose stock is mentioned in this article.
Additional disclosure: As suggested in the article, the authors have largely booked their gains on SVNT and continue to hold options positions for future catalyst events. This article was written by Red Acre's managing director for equities: Rajesh Patel, Ph.D.