Many income investors turn to utility stocks and their dividends for a steady stream of cash. Some younger conservative investors seek to reinvest a growing dividend to enhance their portfolios over time. Current yield is traditionally a major consideration and in today's world of near non-existent interest rates, for some investors, utilities have become a more attractive alternative to a bond position.
Within the utility sector, regulated electric companies usually offer the highest yields, while water and natural gas firms typically offer the lowest.
Those seeking higher utility yields generally look in the 5.50% range and higher. However, with above-average yield usually comes above-average industry risk, and an important factor is to identify those above-average risks. Two of the larger capitalization firms offering dividends above 5.50% are Exelon (NYSE:EXC) and National Grid (NYSE:NGG). As a comparison, the S&P broad-based large-cap utility ETF (NYSEARCA:XLU) offers a 3.94% current yield.
There have been several financial commentators who start their National Grid company review with a comment of its mouthwatering "7.3%" current yield. However, this is very misleading and incorrect. As a British firm, it is usual to offer semi-annual dividends rather than the US preference of quarterly dividends. In addition, foreign firms will more closely tie semi-annual dividends with profits. This means foreign dividends may be "lumpier" than what US income/utility investors are accustomed to.
The following is a look back at previous NGG dividends per share payments:
May 30, 2012 - $2.017
Nov 30, 2011 - $1.097
June 11, 2011 - $1.901
Dec 1, 2010 - $1.024
June 2, 2010 - $1.774
Dec 2, 2009 - $1.148
June 3, 2009 - $1.744
It becomes obvious NGG offers unequal semi-annual dividends with the 1st payment of the year being almost double the previous year-end payment. If the last payment of 2012 increases by 6%, which is about the same as recent increases, it should amount to $1.16 and would bring 2012 dividends paid to $3.18. Based on a price of $56, NGG offers a yield of 5.6% and is a far cry from the mathematically incorrect 7.3% yield and a $4.04 phantom dividend.
With a yield of 5.6%, NGG can go toe-to-toe with EXC's 5.9% yield.
Exelon is a major producer of nuclear-power electricity and operates regulated utilities in the hubs of Chicago, Philadelphia, and Baltimore. I authored an article on EXC a few weeks back, and will stand with that analysis and background information. The article is found here.
National Grid is a regulated gas and electric utility mainly focused on transmission and distribution in the Northeast US and the UK. Domiciled in England, NGG's regulated assets include $14.2 billion in the US and $35.7 billion in the UK, for total regulated assets of almost $50 billion. As of March 2012, the company was generating annualized operating profits of $5.6 billion.
The UK Transmission segment operates assets in the UK, Scotland and Wales along with cable network connections to Northern Europe. The UK Gas Distribution segment operates four networks of gas distribution pipelines, totaling 82,000 miles and covering the needs of 10 million people. The US Regulated segment owns gas and electric assets in Massachusetts, Rhode Island, Upstate New York, and Long Island. Combined, NGG's US Regulated segment serves 3.5 million electrical and 3.5 million gas customers.
Map of US Electric Service Area from NGG investor presentations: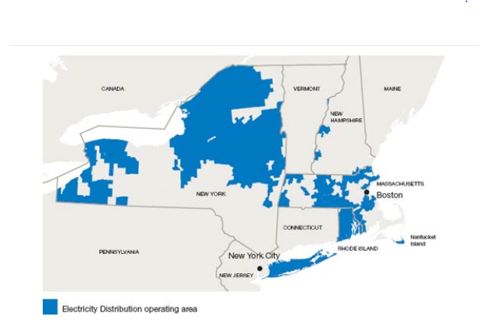 Map of US and UK Gas Service Area from NGG investor presentations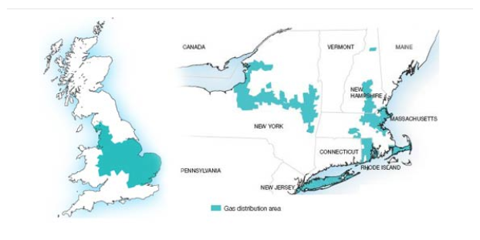 Map of Transmission Service Area from NGG investor presentation: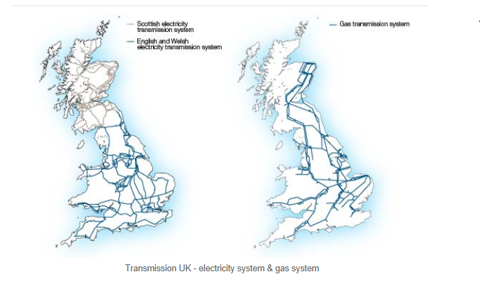 National Grid's ADR is sponsored by BNY Mellon and has a 1:5 conversion ratio, i.e. one US traded ADR equals 5 shares traded on the London Exchange. Cash dividends are paid in British Pound Sterling (GBP). Both the ADR share price and dividends paid to US investors are influenced by changes in the GBP to the US Dollar exchange rate. In the current international race to debase currencies, if the US Dollar were to drop by 5% against the GBP, the USD cash dividend received would increase by 5% due to the currency conversion. Investors could expect share prices would adjust upwards, also reflecting the weaker USD exchange rate. However, if the USD strengthens by a similar amount, the cash dividend and ADR price would be expected to fall correspondingly. For investors who believe the US Dollar will be lower over time, their yield on invested capital should improve even without the benefit of actual dividend growth. This currency exposure may or may not fit an income investor's risk and investment goal profile.
Using a heavy focus on regulated assets, National Grid business model offers steady and consistent returns, albeit at relatively low rates and lends itself to stability in dividends.
NGG's fiscal year-end is March. Earnings per ADR have been stuck in the $4.50 to $4.95 range since 2007, with FYMarch 2012 clocking in at $4.57. Earnings estimates call for eps to drop in FY13 to between $4.19 and $4.37 and in FY14 to between $4.19 and $4.50. While not a barnburner of earnings excitement, it is sufficient to support a $3.16 dividend with a 75% payout ratio and to allow for some dividend growth.
Over the next few years, NGG's major capital expansion will focus on its regulated UK Transmission business. Domestic UK electricity production is expected to increase with new alternative sources along with a new nuclear facility. In addition, expansion of undersea cable connections with Northern Europe will add to potential exports when domestic production exceeds domestic demand. The bulk of NGG's proposed cap ex budget of $30 billion from 2012 to 2015 will be in these projects. US earnings are expected to get a boost in 2013 from about $200 million in annual cost savings from its recent acquisition of Keyspan. In addition, the company has filed rate increase requests in several of their service regions.
An area of concern is the debt levels of NGG with a long-term debt to equity ratio at 2.22. NGG is more leveraged than the typical US regulated electric utility. While Return on Equity is an impressive trailing twelve months of 22.3% and a 5-yr average of 27.1%, due to its heavy debt load, Return on Invested Capital declines to 6.95% and 8.45%, respectively. These are more typical returns for the industry.
EXC's and NGG's business profile are somewhat different. EXC has more exposure and risk to the merchant power market while NGG's fortunes are closely tied to the whims of regulators. NGG has currency risk where EXC does not. Both companies are in earnings slumps, with EXC experiencing a greater downturn which may translate to a better potential rebound in share price as business improves. Payout ratios are about equal at between 75% and 80%.
As natural gas pricing moves above the recent 10-yr lows, this strength should positively impact merchant power pricing. If this year and next are trough years for power pricing, EXC should see higher earnings in 2014 and beyond. However, with reduced operating cash flows over the short-term, higher than anticipated debt levels or cuts in its cap ex budget could be expected to maintain EXC's dividend.
Both EXC and NGG have mixed customer satisfaction results. According the JD Powers Electric Utility Customer Satisfaction survey, the three regulated subsidiaries of EXC scored as follow: PECO, 2nd highest in its category; BGE, Average; ComEd, Last. For NGG, National Grid scored Average; Mass Electric, Average; LIPA, Last. The correlation between customer satisfaction and profitability is explained in a previous article. Overall, EXC is in the third quartile and NGG is just barely in the bottom quartile.
Comparing Exelon's fundamentals with National Grid's fundamentals would produce the following table:
| | | |
| --- | --- | --- |
| As of 10/5/12 | EXC | NGG |
| Share Price | $35.91 | $56.30 |
| Dividend TTM | $2.10 | $3.11 |
| Current Yield | 5.84% | 5.52% |
| Average 5-yr Yield | 3.70% | 5.80% |
| 5-yr Divy Growth Rate | 5.50% | 6.50% |
| 2011 Reported EPS | $4.16 | $4.57 |
| 2012 Consensus EPS | $2.74 | $4.28 |
| 2013 Consensus EPS | $2.63 | $4.34 |
| 2012 Consensus Payout Ratio | 76.9% | 72.6% |
| ROE TTM | 9.3% | 22.3% |
| 5-yr Average ROE | 22.1% | 27.1% |
| Long-term Debt to Equity | 0.8% | 2.2% |
| ROIC TTM | 5.2% | 6.9% |
| 5-yr Average ROIC | 12.3% | 8.4% |
| 2012 PE Ratio | 13.10 | 13.15 |
| 2013 PE Ratio | 13.65 | 12.97 |
| Long-Term EPS Growth Rate | 6.0% | 2.0% |
| % of Revenues Regulated | 55.0% | 95.0% |
| Total Return 1-yr | -6.8% | 21.9% |
| +/- Sub-sector Return | -18.3% | 3.1% |
| Total Return 3-yr | -4.3% | 13.2% |
| +/- Sub-sector Return | -10.4% | -3.1% |
| Total Return 5-yr | -9.6% | -0.9% |
| +/- Sub-sector Return | -7.3% | -7.1% |
| Total Return 10-yr | 8.4% | 8.0% |
| +/- Sub-sector Return | -2.7% | -3.7% |
Sources: Morningstar.com, Reuters.com, Finance.Yahoo.com - EXC sub-sector Diversified Utilities, NGG sub-sector Regulated Utilities
5-yr Price Chart comparing EXC, NGG, and XLU: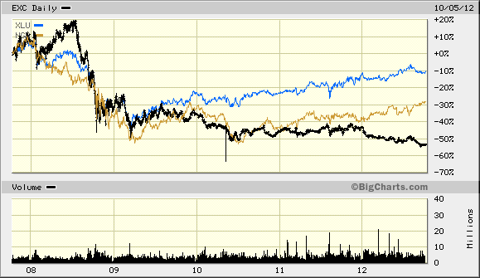 Both EXC and NGG cover their dividend with current earnings. EXC may provide better capital gains potential due to its non-regulated merchant power exposure, but NGG may provide less operational risk due to its higher regulated footprint. Historically, EXC has produced higher ROIC which could translate into the potential for improved dividend growth over time. Over the past 10 years, both have provided investors with an 8.0% to 8.4% annual total return and both have slightly underperformed their respective sub-sector competitors. NGG offers a currency risk/benefit that EXC does not.
Investors seeking safer income, subject to currency fluctuations, may choose NGG. Investors willing to take on more operational risk may choose EXC.
Author Note: GBP to USD$ exchange rate used is GBP1.61:$1. Please review important disclaimer in author's profile.
Disclosure: I am long EXC. I wrote this article myself, and it expresses my own opinions. I am not receiving compensation for it (other than from Seeking Alpha). I have no business relationship with any company whose stock is mentioned in this article.