A crash in natural gas prices has upended many industries over the past few years. For example, the fundamental theory around weakening transports is lower demand coming from coal, since a lot of the rail companies transport coal. Coal stocks are in the dumps because of, in large part, lower natural gas prices.
Back in 2009 there was a significant switch from coal to nat gas as the price of natural gas dropped below the price of coal. Add to this the fact that there are emerging EPA air quality regulations impacting coal-fired power plants, forcing them to be retrofitted or else be retired, and you have a recipe for major headwinds for coal.
However, in case no one has noticed, natural gas has recently risen to as high as $3.5 MMBtu from lows below $1.90 last spring. Weak demand and massive production cuts have sharply lowered the price of coal to the point where most utilities will be piling back into coal at around $3.50 MMBtu natural gas.
While there will most certainly be a shift from natural gas to coal as natural gas prices rise, I have also laid out my own thesis that the shale gas plays, which are supposedly providing unlimited supplies of natural gas for the next 100 years, aren't nearly as economically viable as the natural gas industry would like you to believe (see "The Natural Gas Ponzi Scheme").
If this is the case then one could make an argument for a major bull run in the price of natural gas, higher than anyone is expecting. The general sentiment is that natural gas has major headwinds above $3.5 MMBtu. But let's play devil's advocate and consider the possibility that the natural gas industry is artificially inflating reserve figures and artificially lowering the cost of extraction of their shale gas assets. If this is the case then one could make the argument that natural gas could return to highs seen in 2006, the same level by the way that natural gas trades at across the world.
Should natural gas continue to move up, it is only a matter of time before the demand for coal skyrockets because it is cheaper. Coal companies could do a complete 180 from their downward spiral and transportation companies could get a major boost from this increased demand. In an industry that is highly cyclical and sees rapid transitions from boom to bust, the possibility of a turnaround being imminent is highly likely.
Let's look at the consensus surrounding coal:
1.) The majority of investors/traders have already assumed the worst should Obama get re-elected: the coal industry will die off. (Energy analysts say coals woes have more to do with cheap nat gas than policies from Washington).
2.) As nat gas prices have risen almost 100% from the bottom in the spring, the thinking was that coal stocks would have risen as well. They have done just the opposite actually. Anyone in that trade is gone.
Since the bottom in natural gas, Alpha Natural Resources (ANR) is down 60%, Peabody (NYSE:BTU) is down 25%, Arch Coal (ACI) is down over 30%, and Walter Energy (NYSE:WLT) is down 50%. Yikes! How many investors that were buying these as a way to play a rebound in natural gas prices are still in?
However, let's look at what has happened over the past year which is laying the groundwork for a massive rally in coal stocks:
(1) Shale gas economics have been called into question which could support much higher nat gas prices.
(2) Coal producers have drastically cut back production.
(3) Electricity demand has returned to normal just in time for winter season.
(4) Demand from India, China and other emerging countries continues to expand.
So what's the play?
Based on price to book value and price to sales here are the relative valuations of the above mentioned coal companies:
Price to Book:
ANR - 0.30
ACI - 0.48
BTU - 1.05
WLT - 0.95
Price to Sales:
ANR - 0.21
ACI - 0.35
BTU - 0.76
WLT - 0.78
I typically prefer more risk and potential upside when investing in turnarounds. Based on the longer term charts, ANR and James River Coal (JRCC) (not mentioned above) look excellent.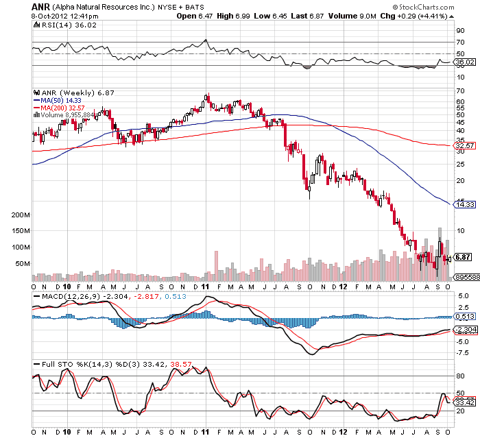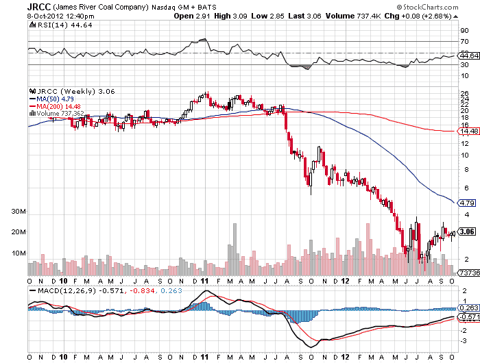 Based on the above metrics and what looks like a substantial bottom put into place in natural gas, I would highly recommend going long ANR or ACI. If you want to truly speculate then JRCC is another stock to consider. Either way, I would recommend getting long coal stocks.
Disclosure: I have no positions in any stocks mentioned, and no plans to initiate any positions within the next 72 hours. I wrote this article myself, and it expresses my own opinions. I am not receiving compensation for it (other than from Seeking Alpha). I have no business relationship with any company whose stock is mentioned in this article.