Shares of Windstream Corp. (NASDAQ:WIN) have declined 8.4% over the past 12 months, primarily owing to the lackluster Q1 2012 earnings. At $10.17 per share, the stock trades at the midpoint of its 52-week range between $9.00 and $10.27. Windstream stock is favored by many investors in the telecom sector due to its lofty 10% dividend yield. However, I remain neutral on the stock based on the following reasons:
1. The stock valuations do not seem expensive relative to the firm's financial performance (see table below). Analysts, on average, predict Windstream's revenue and EBITDA to rise by two-year CAGRs of 20.1% and 14.1% over the current and next fiscal years, respectively. The estimates are significantly higher than the average of 3.9% and 7.7%, respectively, for a peer group consisting of competitors such as Verizon Communications (NYSE:VZ), AT&T (NYSE:T), and Sprint Nextel (NYSE:S). However, the firm's EPS growth estimate is lower than the peer average and its EBITDA margin is forecast to shrink by 4.3%, compared to the peer average expansion of 1.6%. On the profitability side, Windstream outperforms its peer group in all of the margin and capital return measures.
It should be noted that the company has the highest LTM ROE ratio in the group. In addition, Windstream assumes an above-average debt level as reflected by the company's high debt-to-capitalization and debt-to-EBITDA ratios. In terms of liquidity, Windstream has a higher LTM free cash flow margin. However, the firm's high leverage has resulted in a below-average interest coverage ratio. Both the firm's current and quick ratios are marginally below the peer averages, reflecting a mediocre balance sheet.
Click to enlarge images.

Overall, Windstream's robust profitability and strong revenue and EBITDA growth prospects should justify a slight valuation premium (i.e., 5% to 10%). I do not expect the stock to trade at a significant premium given that Windstream is still highly leveraged and the company is a relatively smaller player in the U.S. telecom sector compared to other major telecom services providers (such as Verizon and AT&T). Nonetheless, the current stock valuations at 7.3 times LTM EV/EBITDA, 34.7 times LTM P/E, and 17.4 times EV/FCF represent an average valuation discount of 14.4% to the peer average EV/EBITDA, P/E, and EV/FCF multiples. This suggests a somewhat cheap stock price.
2. Windstream's management appears to have a lot of confidence in the company as the chairman, CEO, and directors have been accumulating shares since late 2011 at a price range between $9 and $12. That implies the current market price at $10.17 may not be expensive.
3. The current dividend level seems to be fragile due to Windstream's tight financial resource. According to the chart shown below, Windstream's annual dividend payment was safely covered by the company's ample free cash flow in early years. However, since 2010 the company's free cash flow has deteriorated to almost the same level as the dividend payment. In addition, Windstream's EBITDA to free cash flow conversion rate has also declined substantially from 64% in FY 2003 to only 28% in FY 2011 (see chart below). Moreover, according to the company's debt maturity schedule (see chart below), Windstream will have significant amount of debt mature between FY 2013 and FY 2015, which will further reduce the free cash flow available for dividends.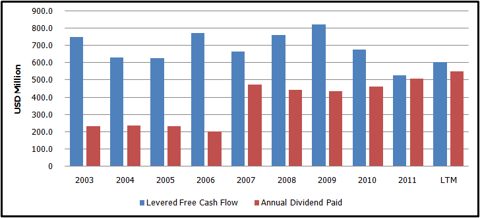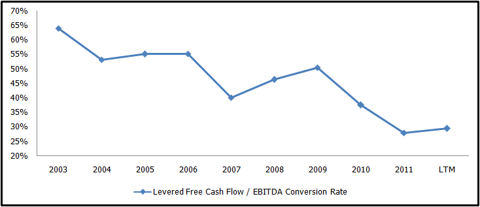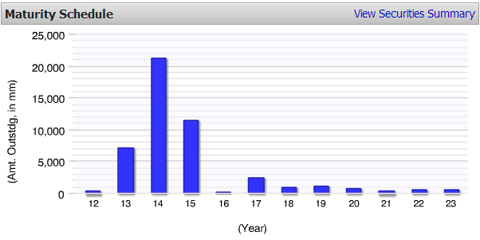 The bottom line is that, despite the decent valuation and 10% dividend yield, Windstream shares do not represent a quality investment with sufficient margin of safety. I believe the stock price may be vulnerable to a potential dividend cut and, as such, I put a hold rating on the shares.
The comparable analysis table was created by the author; all other charts are sourced from Capital IQ and all financial data is sourced from Morningstar and Capital IQ.
Disclosure: I am long VZ. I wrote this article myself, and it expresses my own opinions. I am not receiving compensation for it (other than from Seeking Alpha). I have no business relationship with any company whose stock is mentioned in this article.