Banking in the U.S. is overshadowed by the four biggest companies: Bank of America Corporation (NYSE:BAC), Citigroup Corp. (NYSE:C), JPMorgan Chase (NYSE:JPM), and Wells Fargo (NYSE:WFC). This group of diversified financial giants was all battered by the 2007-2008 financial implosion. Some have recovered, while others are still dragging toward good health. Which of the big four banks are the best buy right now?
I looked at the group holistically and individually. First, let us look at their share price performance this year:
(click images to enlarge)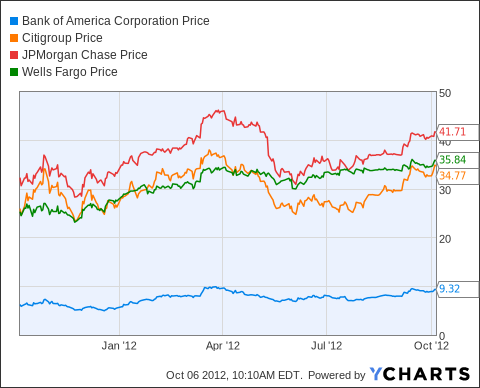 JPMorgan Chase and Citigroup have had a lot more movement, following the broad market. Additionally, Bank of America and JPMorgan have gone their own way. Bank of America is generally up, but on an extremely slow, steady rate, while JPMorgan is up steadily at a stronger rate.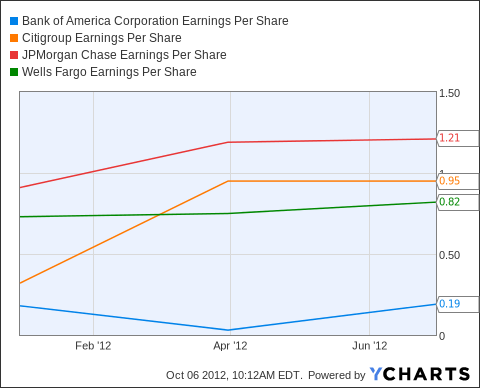 BAC Earnings Per Share data by YCharts
Wells Fargo's earnings per share, as well as Bank of America's, have been relatively flat during the last 12 months. JPMorgan is up slightly, while Citigroup has enjoyed a big upswing.
Looking at liquidity, let us look at the current ratios for these companies: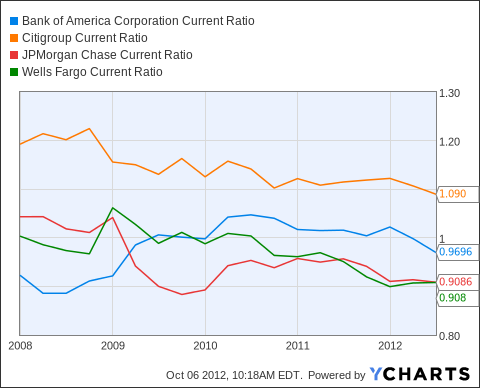 BAC Current Ratio data by YCharts
Current ratios above 1 are good. None of the companies here is shockingly great, and only Citigroup is anywhere near comfortable. All the others are a bit below the 1.0 level, indicating their ability to meet short-term liabilities could get squeezed. Worse, all of their ratios are tightening 2011-2012 year-over-year.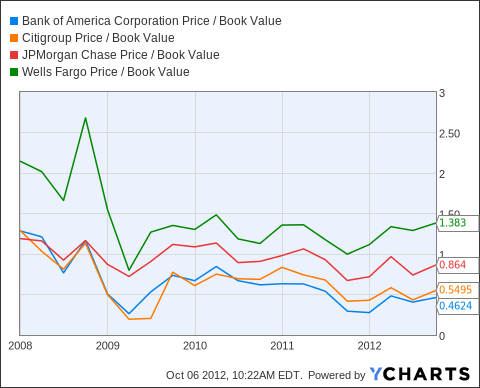 BAC Price / Book Value data by YCharts
Book value is much cheerier. All are selling for small multiples to book value. In fact, with the lone exception of Wells Fargo, all the banks are selling at a deep discount to their book value, with Bank of America trading at less than half book value. The trend is that the ratio is rising for all of the banks for 2012. In fact, these banks all are selling at deep discounts to almost any historical measurement of book value.
Of course, part of these low values comes from investors' lingering suspicions of the quality of the underlying assets. Do "toxic mortgages" still lie within the claimed assets? In fact, a case can be readily made that current accounting rules allow banks to over-report their assets. In reality, after five rears of writedowns, almost all of the legacy issues should have long been written out of the books. At this point, I feel the tendency for the big banks is to under report assets, then to over report them.
BANK OF AMERICA
Bank of America is still wallowing in the after effects of its financial meltdown acquisitions of Countrywide Mortgage and Merrill Lynch. The company has been in consolidation mode since 2009, writing down toxic assets and dealing with over $40 billion in costs. There are still worries here, especially questions about future forced buybacks of guaranteed loans and potential share dilution.
However, the company has weathered the storm and in 2012, Bank of America has returned to a small profitability. A tiny $0.01 quarterly dividend has been instituted for a razor-thin yield of 0.43%, and the financial accounts are slowly solidifying. However, there is still a great deal of investor distrust over Bank of America due to the legacy issues and a lingering tendency to disbelieve any asset valuations.
It will probably take much more time before the market begins to realize the value of the company -- years rather than months. Still, for long-term investors, Bank of America is a screaming buy right now.
CITIGROUP
Like Bank of America, Citigroup is still dealing with the after effects of 2007-2008. Revenues are still flat or slightly decreasing, although cost reductions are helping the company maintain some profitability. Like Bank of America, the company pays a $0.01 quarterly dividend for an even smaller yield of just 0.12%.
In some ways, Citigroup is in a more attractive place, without the same level of legacy issues as Bank of America has. The problem still is that revenue has decreased for three straight years as part of the consolidation, and it is tough to see at what point the constant whittling will result in a healthy, earnings growing company.
But then it is selling at such a ridiculously low book value, long-term investors should be happy to buy.
JPMORGAN CHASE
Morgan's legacy issues seemed under control, but no sooner does everything look good then new issues develop over the LIBOR Scandal and legal problems over the company's purchase of Bear Stearns. Financially, the company looks great -- with healthy, although inconsistent, revenues -- while ratios of performing to underperforming/nonperforming loans are sharply up.
Still, with new legal issues erupting, this looks like a bad time to open any new positions. Personally, I am putting it on my watch list and will monitor the situation. If the price goes down more, or the problems surrounding LIBOR and Bear Stearns fizzle out, it might become time to take advantage.
WELLS FARGO
Of the four companies in this screen, Wells Fargo looks the healthiest by far. It has no real remaining legacy issues to worry about. It is also a strong mortgage lender, and if you believe the housing market has hit bottom, Wells Fargo is well-positioned to produce rising revenues as the market begins to finally recover. It has been the best performing bank stock of all large banks since the financial meltdown.
Wells Fargo is also buoyed by that investor extraordinaire, Warren Buffett, and his Berkshire Hathaway (NYSE:BRK.A) holding company has made a big investment in company shares. Even if its book value per share is much higher than the other big banks, it is simply a reflection of the company's stronger position and performance, while it is still undervalued by most historical measures. For conservative investors looking for a safe investment and decent, long-term returns, Wells Fargo is an excellent choice.
BOTTOM LINE
Low valuations make financial stocks a great value right now, although legal questions currently swirling around JPMorgan should warn away investors for the moment. Conservative investors should buy Wells Fargo for its current strength, low downside and improving future positioning in mortgages. Long-term investors with an excellent appetite for some risk will do well with both Citigroup and Bank of America.
Disclosure: I have no positions in any stocks mentioned, and no plans to initiate any positions within the next 72 hours. I wrote this article myself, and it expresses my own opinions. I am not receiving compensation for it (other than from Seeking Alpha). I have no business relationship with any company whose stock is mentioned in this article.