By Sabina Bhatia
Given the current recessionary environment, it is fair to look for bargain retailers that give us more value for our precious dollars. Hence, we thought to look at Dunkin' Brands (NASDAQ:DNKN) to investigate if it could provide a great investment bargain. Here we discuss the lack of near-term catalysts for the stock and its rich valuation.
Valuation
Dunkin' is trading at $30.82 vs. its 52-week range of $23.24-$37.02. It has a P/E multiple of 24 times its 2012 consensus of $1.26 and a trailing 12 months EBITDA multiple of 17 times. Its peer group consists of Starbucks (NASDAQ:SBUX) and McDonald's (NYSE:MCD), which are trading at EV/EBITDA multiples of 15 times and 10 times, respectively. Clearly, Dunkin' is trading at a rich valuation to its coffee counterparts.
In addition to its rich valuation, the company has no significant positive catalysts to drive any upside for the stock. Additionally, the stock has had a nice run since its IPO in July 2011, moving up about 90%.
Click to enlarge images.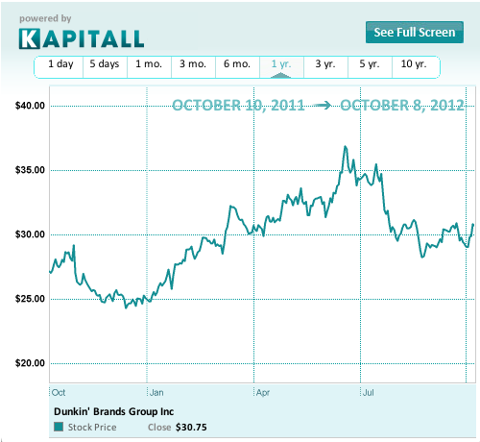 For those looking at other names in the space, we encourage you to check out our report on Starbucks here.
Valuation Analysis
Although there are several catalysts that could impact the fundamentals in the long run, we don't see any near-term catalysts that will have a significant impact on the stock. To be fair, here are some of the catalysts going forward:
1. Dunkin' started selling the new K-Cups for use in Keurig brewing machines exclusively at Baskin-Robbins stores in California. The stock didn't do much with the news. So while this was a positive catalyst, it wasn't significant enough to provide any upside,
2. Dunkin' has been disciplined with cutting costs, as it did when one of its drive-thru's had a cost of over $600,000. This achievement has been priced into the stock with no new immediate plans to cut costs.
3. Management has stated that the majority of 2013 will be focused on the growth in core and developed markets. This is good news, but once again not a short-term significant catalyst for the stock.
4. Even today, in comparison to Starbucks, Dunkin' seems to have a less diversified market base. Competition from Starbucks is tough as Starbucks expands into international markets, while Dunkin' is still struggling to expand its base in the U.S.
Conclusion
There are other names to explore when we look at the coffee and doughnut space. Dunkin' needs some significant catalysts to get our attention. According to the most recent 13F filings, the top five holders of Dunkin' stock are Fidelity Investments (17%), Jennison Associates (12%), Wellington Management (10.5%), Morgan Stanley Investment Management (7.6%), and Lone Pine Capital (6.7%).
The chart below compares share performance over the past year. The letter "E"s mark earnings reports.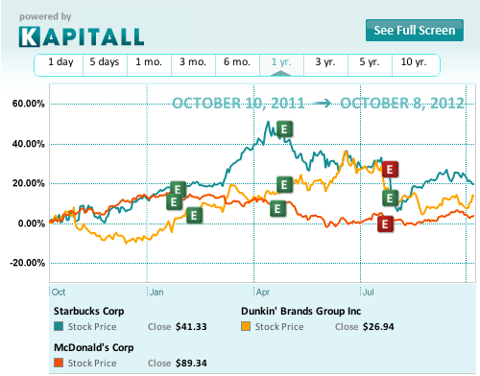 Disclosure: I have no positions in any stocks mentioned, and no plans to initiate any positions within the next 72 hours. I wrote this article myself, and it expresses my own opinions. I am not receiving compensation for it. I have no business relationship with any company whose stock is mentioned in this article.