Real Estate Investment Trusts (REITs) have recovered after what was a brutal recession in 2008. REITs cut expenses and most reduced dividends. The Dow Jones Equity REIT Index peaked over 360 at the start of 2007 and then plunged to 85 in less than 2 years. Their stocks bounced back bringing the index back to 262.
Dow Jones Equity REIT Index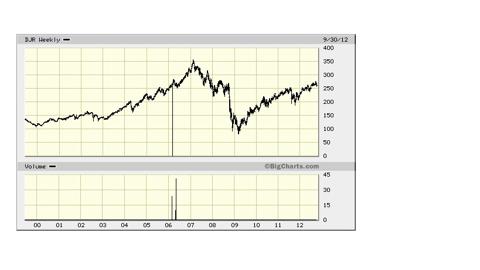 REITs are known for being yield securities although the rise in stock prices over the last decade has brought some yields to ordinary levels under 4%. But others still offer high yields today. In addition, REITs issue tax statements for the dividends separating taxable versus nontaxable dividends. Below are REITs with high yields and a portion of dividends was not taxable last year.
| | | | | |
| --- | --- | --- | --- | --- |
| | Price | Dividend | Yield | Taxable |
| Omega Healthcare Investors (NYSE:OHI) | $23.08 | $1.68 | 7.3% | 64% |
| Senior Housing Properties (NYSE:SNH) | $22.01 | $1.52 | 6.9% | 65% |
| Entertainment Properties (NYSE:EPR) | $45.20 | $3.00 | 6.6% | 72% |
| Campus Crest Communities (NYSE:CCG) | $10.57 | $0.64 | 6.1% | 15% |
| Sun Communities (NYSE:SUI) | $43.71 | $2.52 | 5.8% | 25% |
| Highwoods Properties ((NYSE:HIW) | $32.64 | $1.70 | 5.2% | 68% |
| HCP, Inc. (NYSE:HCP) | $45.51 | $2.00 | 4.4% | 48% |
(1) Omega Healthcare Investors provides financing and capital to the long-term healthcare industry with a focus on skilled nursing facilities located in the US. The company has mortgages on 432 skilled nursing facilities, assisted living facilities and other specialty hospitals located in 35 states, operated by 51 third-party healthcare operating companies.
(2) Senior Housing Properties is a REIT owning 369 properties in 38 states and Washington, DC. There are 249 senior living communities with almost 30,000 living units, 2 rehabilitation hospitals, 108 properties leased to medical providers with 7.6 million square feet and 10 wellness centers.
(3) EPR is a REIT that invests in megaplex movie theatres and adjacent retail, public charter schools, and recreational and specialty investments. The portfolio includes over 160 locations across 34 states with over 200 tenants.
(4) Campus Crest Communities is an owner and manager of high-quality student housing properties located close to campuses in 33 student housing properties containing approximately 6,300 apartment units and 17,000 beds.
(5) SUI leases parcels of land for placement of manufactured homes and recreational vehicles. Additionally, it sells and leases homes to residents in its communities primarily in the Midwestern, southern, and southeastern US. It owns 159 properties, including 141 manufactured housing communities, 8 RV communities and 10 properties.
(6) HIW owns or has interests in 338 in-service office, industrial and retail properties with 35 million square feet and owns 581 acres of development land. Properties are located in Florida, Georgia, Missouri, North Carolina, Pennsylvania, South Carolina, Tennessee and Virginia.
(7) HCP is an integrated REIT that invests primarily in the healthcare industry in the US. Assets are diversified among 5 distinct sectors: senior housing, post-acute/skilled nursing, life science, medical office and hospitals.
REIT valuations are based primarily on yields and these stocks have high yields, worth of attention in a low yield environment. In addition, REITs issue 1099 forms advising how much dividend income is taxable versus not taxable (it's possible that a small percentage may be taxed at capital gains rates). The non-taxable percentage can be significant. However percentages vary from one year to next and those changes can be large. But I have found on my REIT investments and looking at these stocks, most changes have not been large.
The above yields are above 5% except for HCP. It's included because it has increased annual dividends since 1985, making it a Dividend Aristocrat. Adding to the value of high yields, a portion of dividends is not taxed, raising the after tax yield.
Tax changes are coming in 2013 and nobody can forecast how they will affect dividend income. But companies with track records of paying dividends will keep paying dividends. For those who rely on dividends for income, these REITS can be helpful with the potential for a modest amount of capital appreciation. If investors give more recognition to these high yields, they will bid up stock prices and accept lower yields.
There are 2 ways to increase wealth, dividends and capital appreciation. These companies have records of modest annual dividend increases which indicate future increases will probably not be large. But investors who can afford to let dividends reinvest will receive more substantial increases. Capital appreciation is also possible for these high yield stocks. Best of all is to look at a 1099 and see not all dividend income is taxable.
Disclosure: I am long EPR. I wrote this article myself, and it expresses my own opinions. I am not receiving compensation for it (other than from Seeking Alpha). I have no business relationship with any company whose stock is mentioned in this article.