Have you noticed lately how many microsites (sites designated for a specific type of content) are dedicated to cell phones? Manufacturers are getting the "bug" and creating interactive microsites to market their hot new phones. Some of the biggest cell phone releases of late have been tied with the hyped summer movies: namely Iron Man and Batman: The Dark Knight. (Don't worry, no spoilers here!)
Microsites are certainly not a new thing in the cell phone marketing world, but by linking them to a big-name movie, did LG and Nokia (NYSE:NOK) get more bang for their microsite buck?
LG got its hands on Iron Man; in the beginning scenes of the movie, you'll see an LG VX9400 prominently featured in the hands of Tony Stark. Their microsite, insidethesuit.com, incorporates images from the movie – visitors look at 3 of LG's latest new phones and check out mobile content from inside the Iron Man suit.
Nokia, meanwhile, synced up with Batman and the release of The Dark Knight for the debut of their "batphone" – Nokia 6205 – The Dark Knight Edition. Their movie-based microsite, fightforgothamcity.com, allows the user to choose a side (Batman or The Joker), then navigate through the streets of Gotham City looking at the new "batphone" and all of the Batman-themed mobile content and games designed for Nokia phones.
I got to thinking about how these microsites actually work for the OEMs who use them.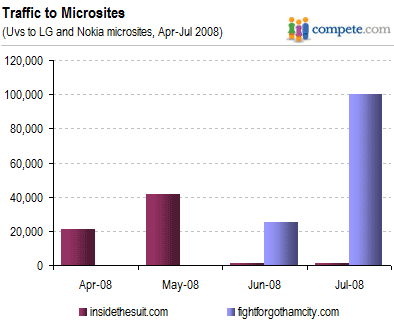 I took a look at the unique visitor traffic to each site over the past few months. Traffic started to show up for insidethesuit.com in April, and peaked during May, the month that Iron Man was released. Meanwhile, fightforgothamcity.com started seeing traffic in June, when the site when up, corresponding to The Dark Knight premiere. However it peaks in July probably because the movie was released closer to the end of June. I'm curious to see in the coming months whether fightforgothamcity.com will also lose almost all of its traffic after a two month run.
I also took a look at the time users spend (on average) on each microsite, compared to when the movie opened.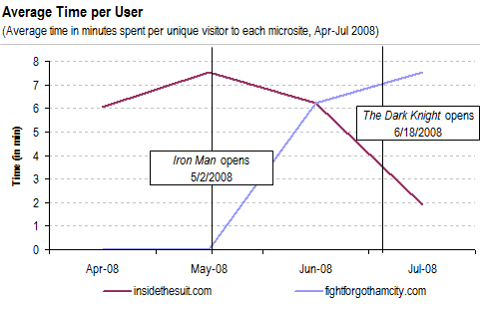 As expected, hype seems to play a role in driving people to spend time on these sites. The peak in time spent on site occurs right around the opening weekend when advertising, reviews, and buzz is greatest. A couple of interesting points:
The time spent on fightforgothamcity.com actually went up in July after the release of the movie.
In the case of insidethesuit.com, the average time spent per user is relatively steady in June, even though the count of unique visitors drops to almost zero. But that average time spent drops off in July, as the hype around Iron Man waned. It will be interesting to see if the same thing happens on fightforgothamcity.com in August.
Is a movie-themed microsite the way to go from now on? To figure that out, you really need to compare these two campaigns with other, more traditional microsites we've seen in the past year. I took a look at two others, each centered on a phone that was popular when it launched: palmcentro.com and samsungjuke.com. I decided to look at the percentage of total OEM traffic that each microsite saw in a given month to see if the insidethesuit.com and fightforgothamcity.com were successful in getting more traffic to their microsites than a more traditional microsite.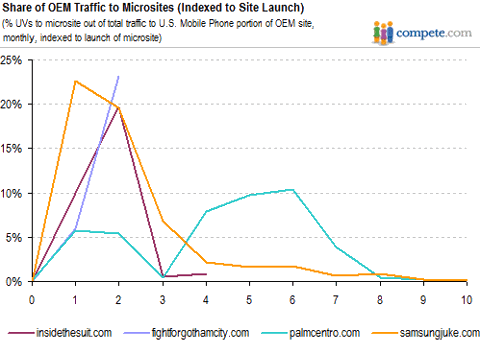 Though both movie-based microsites saw a better share of their respective OEM's traffic than palmcentro.com, neither insidethesuit.com nor fightforgothamcity.com did any better than samsungjuke.com at attracting traffic to their respective sites. Samsungjuke.com actually did better than insidethesuit.com at the peak of its traffic. It seems the movie link has no significant effect on the traffic to a microsite.
Curious if the movie link has any effect on microsites, I took a look at the average time spent per visitor to palmcentro.com and samsungjuke.com.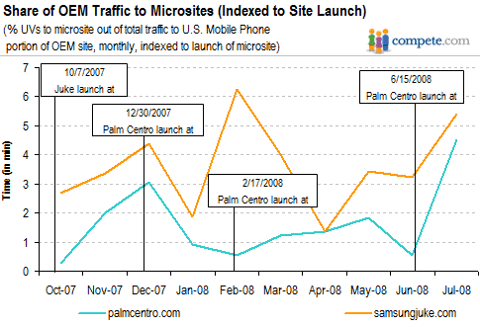 It's clear that this is where palmcentro.com and samsungjuke.com differ from insidethesuit.com and fightforgothamcity.com. On both palmcentro.com and samsungjuke.com, the launch of the phone sometimes has an effect on the engagement of its visitors, but this effect is short-lived at best. The movie-based sites saw much more sustained engagement, showing that the movie-based content is keeping visitors at the site for longer, and thus giving LG and Nokia a longer timeframe in which to expose visitors to their brand and product. So if engagement is what OEMs are looking for by designing these microsites, it appears they should start thinking about campaigns for the summer 2009 movie premiers. Popcorn anyone?