Gold ETF products tracking the price of gold finished the week with gains of less than one half of a percent. The largest physical gold ETF, the SPDR Gold Trust (NYSEARCA:GLD), gained .42%. Here's a snapshot of the physical gold ETF performance grid from GoldETFS.biz. The ETFs are sorted by one-week performance.
(click images to enlarge)

While the ETF Securities Asian Gold Trust's (NYSEARCA:AGOL) performance stands out in the graphic above, it is important to note that its minimal asset size and trading volume can lead to short-term returns that deviate materially from the peer group.
Gold Slows Down
Gold ascended in the middle of August as investors' anticipation of a global central bank stimulus action began to build. The European Central Bank (ECB) and the U.S. Federal Reserve turned that anticipation into reality, sending gold ETF shares soaring through mid-September. Since then, the QE3 honeymoon has begun to wear off, and gold ETF shares have began to trade in a range. Here's a six-month annotated chart of the SPDR Gold Trust showing the QE3 rocket shot and then the recent slowdown. The chart was composed using Stockcharts.com.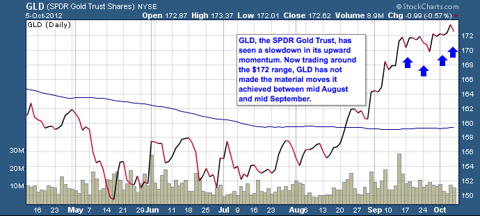 The ascent of gold ETF shares has slowed recently.
A year-to-date view of all physically backed gold products shows that the peer group has gained slightly over 13%. Leading the pack is the ETF with the lowest expense ratio, the iShares Gold Trust (NYSEARCA:IAU). Interestingly, AGOL is the worst performing gold ETF of the group. Also, note the strong performance of the Swiss Gold Trust (NYSEARCA:SGOL) Here's the YTD snapshot from the GoldETFs.biz performance grid.

Going forward, gold prices will be primarily influenced by economic data points from around the world (see Five Gold ETF Catalysts Worth Watching). A great example of this concept in action was the release of the jobs report in the United States late last week. It was considered encouraging for the state of the economy, and thus, gold ETF products traded down for the day.
Gold Wild Cards
Besides economic data, a few wild cards do exist that gold ETF investors should at least be aware of. Chief among them would be a military conflict involving Iran, or a major surprise out of Europe regarding debt issues. Each one of these potential developments would have a significant impact on gold prices. For now however, the more likely performance drivers will be economic data points and their related interpretation by the markets.
Disclosure: I have no positions in any stocks mentioned, and no plans to initiate any positions within the next 72 hours. I wrote this article myself, and it expresses my own opinions. I am not receiving compensation for it. I have no business relationship with any company whose stock is mentioned in this article.
Additional disclosure: Christian Magoon publishes the gold ETF focused site, GoldETFs.biz.