Quite a few, like shopping at Costco Wholesale Corporation (NASDAQ:COST) for convenience and cost savings. One of the largest retailers in the world, Costco offers tremendous value to its customers. This article presents some of the basics of the stock and evaluates if the stock is offering value to its investors right here right now. Let us get into the details.
Current Dividend and Yield: The current dividend of $1.10 per gives Costco a yield of just about 1%, clearly lagging behind other players like Wal-Mart (NYSE:WMT) and Target Corp (NYSE:TGT).
Dividend Growth Rate: The five-year moving average dividend growth rate is at 14%. Five years is usually used as the "basic" minimum for a company to be considered in the dividend growth category. So, it makes sense to update the dividend growth rate as well, as new data becomes available.
Payout Ratio: The payout ratio is at a lowly 30% based on current earnings per share of $3.58. With an expected earnings growth of close to 13% over the next 5 years, the low payout gives the management a lot of room for future dividend increases.
Dividend Extrapolation: The table below uses the aggressive 14% increase just to see what investors can expect even if the company keeps up the dividend growth momentum. Not many companies have managed double digit increases for so many years though.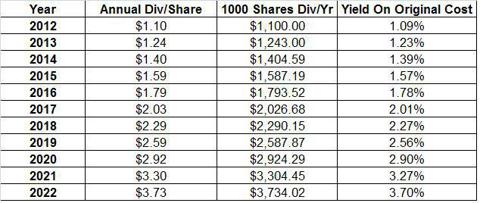 (Source: Table created by the author with latest dividend data from Finance.Yahoo.com)
Cash on hand: As the chart shows below, Costco's cash on hand has been ramping up at an aggressive rate.

(Source: YCharts.com)
Comparison: No doubt, Costco is still seen mainly as a growth stock. But the little dividend it pays puts in the same category as say Yum! Brands (NYSE:YUM) and Starbucks (NASDAQ:SBUX). Sure, these three stocks operate in different industries but they fall under the same category when it comes to their stock classification - reasonably growing companies that are slowly becoming dividend players as well. However, Yum for example trades at 20 times earnings with an expected earnings growth of 14%. And its dividend growth is going at a higher pace than Costco's.
Starbucks similarly is trading at a PE 27, with expected earnings growth at close to 19%. So put it in a nutshell, Costco's PEG is at a very high 2.05 when compared to other stocks that are in its own industry, like Wal-mart and Target as well as companies in other industries, like Yum and Starbucks that fall under the same stock classification.
Valuation and Conclusion: With an expected earnings growth of close to 13%, Costco is trading at a significant premium with a PE of about 30. Though the dividend growth rate has been good, the yield is very low to consider this stock from the income perspective either. If you are in for the very long haul, the stock will most likely do well after significant pullbacks. But if you are planning to start a position now, please do wait it out. There are better alternatives available out there. (See the comparison section.)
Disclosure: I have no positions in any stocks mentioned, and no plans to initiate any positions within the next 72 hours. I wrote this article myself, and it expresses my own opinions. I am not receiving compensation for it (other than from Seeking Alpha). I have no business relationship with any company whose stock is mentioned in this article.