The International Monetary Fund has issued a guide to Islamic bonds (sukuk), aimed primarily at sovereign debt managers, but helpful to anyone interested in learning more about this growing sector of the credit market.
The sukuk market has expanded dramatically over the recent past and continues to generate strong interest by new issuers in Muslim and non-Muslim countries alike, the IMF says in Islamic Bond Issuance—What Sovereign Debt Managers Need to Know.
Given the existing intensity of investor interest in shari'ah-compliant assets, the potential of sukuk is likely to strengthen, especially given increasing opportunities from financial innovation.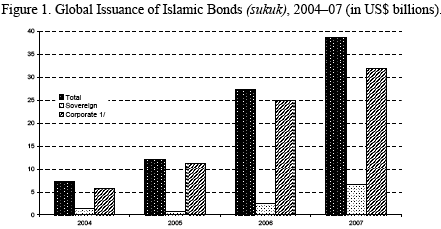 While the continuous growth of overall sukuk issuance is expected to be somewhat depressed in response to the fallout of the U.S. sub-prime markets crisis and the legal uncertainty surrounding the recent AAOIFI ruling on sukuk, especially sovereign sukuk are likely to gain popularity as more governments in both Muslim and non-Muslim countries explore options to diversify their traditional debt portfolios.
The latest examples of this trend are efforts in the U.K., Japan and Thailand to establish a sukuk issuance program and Indonesia's bill on Islamic debt financing (April 2008), which will enable the government to fund large parts of its budget deficit by issuing sukuk.
That said, some critical constraints arising from continued legal uncertainty and regulatory divergences that still need to be overcome.
As issuers weigh the costs and benefits of sukuk issuance in a broad policy context, continued efforts will be required to overcome a series of economic, legal and regulatory issues. In this regard, the lessons learned of both seasoned and newer issuers provide valuable guidance going forward. The positive market response to current standard setting aimed at curbing concerns about contract enforceability caused by diverse interpretations of shari'ah principles is encouraging but future growth of global sukuk issuance will depend on how easily these new structures are accepted and understood.