Earlier this year, Warren Buffett's Berkshire Hathaway (NYSE:BRK.A) (NYSE:BRK.B) announced that it purchased 27 million shares of Phillips 66 (NYSE:PSX). Phillips 66 is a downstream energy company with Refining & Marketing, Midstream, and Chemicals businesses. The company has 15 refineries with a net crude oil capacity of 2.2 million barrels per day, 10,000 branded marketing outlets, 15,000 miles of pipeline systems, and 7.2 billion cubic feet per day of natural gas processing capacity.
Warren Buffett likes to start positions in companies when they are undervalued. Phillips 66 is still undervalued with a trailing PE ratio of 5.9, a forward PE of 8.13, and a price to book ratio of 1.52. Also worth noting is the company's low price to sales ratio of 0.16. This is an attractive low valuation that should prove to be a good entry point in the stock for the long-term.
The company announced last week that it is boosting its dividend by 25%. Phillips 66 now pays $1 per share (quarterly payments of 25 cents per share) yielding 2.2%. The company made a commitment to increase dividends annually, contingent upon the board of director's approval.
Mr. Buffett also looks for companies with a strong moat around the business. Phillips 66 has the economies of scale and technical capability to compete effectively in the global marketplace. It is one of largest domestic producers of NGL and is a leading refiner with significant marketing and transportation assets. It is also one of the world's top producers of petrochemicals. The high barrier to entry for such businesses keeps the moat wide for Phillips 66.
The company is also geographically diverse, allowing it to participate in market opportunities in every U.S. geographic region. It also has operations in Europe and Asia.
Phillips 66 brings in the cash with a trailing twelve month operating cash flow of $4.5 billion and free cash flow of $3.4 billion. The company had earnings growth of 13.7% for Q2 2012.
While many businesses have lowered earnings expectations for this year and next year, Phillips 66 has raised theirs. Original EPS estimates for 2012 of $5.11 have been increased to $6.64. Next year's original EPS estimate of $4.78 has been increased to $5.65. These positive earnings revisions typically lead to earnings beats which leads to higher stock prices. The company is expected to grow earnings annually at 6% for the next five years.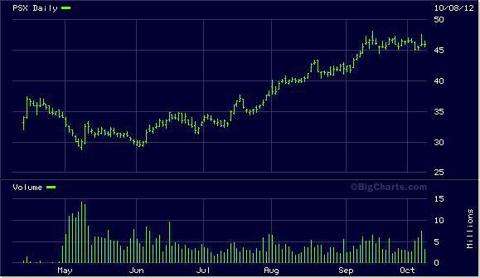 Strategies
The company uses free cash flow to expand Midstream and Chemicals capacity to drive earnings growth. Future opportunities are seen in the Midstream business as unconventional natural gas production grows. This will create new investment in pipelines, natural gas processing plants, and gathering systems. The Chemicals business should benefit from low natural gas liquids costs and increased processing capacity.
Phillips 66 also has a commitment to improve capital efficiency through portfolio optimization, improving Refining and Marketing, and by investing in higher-return projects.
It looks like Warren Buffett sees a leading profitable energy company that is undervalued and poised to grow steadily over time. This looks like a recipe for success for Phillips 66.
Disclosure: I have no positions in any stocks mentioned, and no plans to initiate any positions within the next 72 hours. I wrote this article myself, and it expresses my own opinions. I am not receiving compensation for it (other than from Seeking Alpha). I have no business relationship with any company whose stock is mentioned in this article.