Introduction
Cisco Systems (NASDAQ:CSCO) made its mark on the stock market in the early 90s as its products became essential to support the growing phenomenon of personal computing. Since 2000, however, the company has not been able to replicate its impressive performance of the prior decade. In this article, I analyze the company's potential for a long overdue upturn in price, efficiency and profitability.
Company Profile
Ranked number 10 on Forbes World's Most Powerful Brands, Cisco Systems designs, manufactures, and sells networking, communications and information technology related products and services. Over the past year, Cisco has undertaken a major restructuring, which has included cutting approximately 13,000 jobs and shutting down specified departments, e.g., its flip video camera business. It could be said that these measures are finally starting to bear fruit for Cisco, as in August 2012 the company raised its quarterly dividend rate by 75%. With a multitude of acquisitions, and new products being launched routinely, the company is continuing its culture of investing heavily into research and development.
Tracking Financials
According to data from Morningstar, Cisco Systems has been earning consistent revenues over the last five quarters, with each quarter reporting revenues of about $11 billion. Cisco derives much of the demand for its products from its reputation for reliability, as the networking giant has been in the business for close to three decades. Net income increased in Q2 2012 by 55%, compared to $1.2 billion in Q2 2011. Earnings per share in Q2 2012 stood at $0.36, up from $0.22 in the same quarter last year. Cash flows showed a positive trend, as net cash flow of $3.3 billion was reported compared to $1.0 billion for the same period last year. The upturn in cash flows has been primarily due to a positive net cash flow from investing activities. While quarterly cash flows are bound to be cyclical, year on year growth is very encouraging.
As of October 9, 2012, data from Morningstar indicates a price-to-earnings ratio of 12.7 for CSCO, compared to the industry average of 22.5. Its 52-week range spans from $14.96 to $21.30. The ttm ROE is 16.3, which is almost double the industry average of 8.6. Cisco's beta of 1.26 is reflective of its susceptibility to market volatility. However, it has managed to fare better than its competition in recent years. Since 2011, CSCO has been paying quarterly dividends. Its most recent quarterly dividend payment was $0.14.
Stock Performance
Cisco's main competitors are Hewlett-Packard Co. (NYSE:HPQ) and Juniper Networks (NYSE:JNPR). The two competitors offer different product portfolios. However, due to the diverse range of products Cisco manufactures, both companies are legitimate rivals.
Compared to the S&P 500 and the Dow Jones Industrial Average, CSCO stock has been underperforming for more than two years. Its recent upturn has been due to the announcement of strong earnings and financial results.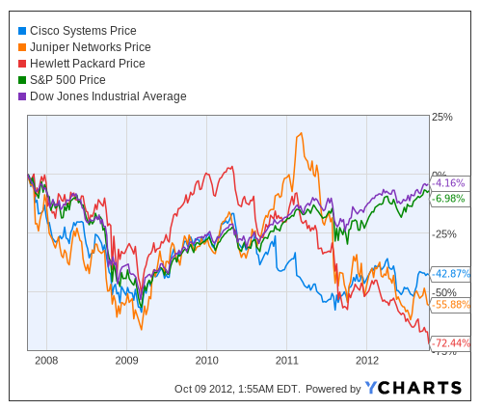 Cisco lagged behind its competitors from 2009 to the start of 2012. This was a time, the company's CEO John Chambers admits, that the company had lost its way. However, with cost-cutting measures in place, and the company heading in new directions, Cisco has been overtaking its competitors based on a stronger performance. HPQ and JNPR have fared poorly, which has also helped Cisco become a more attractive option for investors.
What Does the Future Hold?
Cisco has been known for heavily investing in research and development, and the trend is expected to continue for the future. Furthermore, the company's acquisitions of Lightwire, Virtuala and ThinkSmart Technologies are expected to be central in the Cisco's drive to improve growth. Virtuala's expertise in cloud computing is a clear sign that Cisco is venturing into this booming industry. ThinkSmart Technologies will be integrated into Wireless Networking Group.
The company is showing rapid improvement in all key indexes, such as earnings per share, net income, and return on equity. Cisco's dividend yield now stands at 2.97%, making it extremely favorable for investors. The company is also conducting a share buyback program and allocated as much as $10 billion to its stock repurchase program in August 2012.
Make or Break for Investors
Since Cisco pays a dividend and is buying back stock, along with having a sustained revenue growth, the company is currently considered a value play. The company has gone through a huge transformation and the restructuring costs incurred in the last year's final quarter have impacted results.
Cisco products are profitable, as is shown by the sustained revenue earned throughout the last four quarters. These revenues are reflected in the earnings as well, since the EPS is continuously increasing. Add to all this a dividend of Cisco's quality and quantity, and you have a 'Buy' rating for the stock. This option is also recommended by six out of thirteen analysts reviewing the stock on Morningstar. However, two others indicated an 'Outperform' rating, whereas five recommended 'Hold' rating as the best option.
The discounted earnings plus equity model, developed by EFS Investment partners and applied to Cisco, suggests that the company is currently trading at a solid discount. EFS's fair stock price valuation indicates that the CSCO stock currently has at least 35% upside potential to reach its fair value.
Bottom Line
At a current stock price of about $19, undervalued Cisco offers plenty of potential for increased EPS and dividend growth for investors, making it a 'Buy' option - an affordable and profitable investment for the coming year.
Disclosure: I have no positions in any stocks mentioned, and no plans to initiate any positions within the next 72 hours. I wrote this article myself, and it expresses my own opinions. I am not receiving compensation for it (other than from Seeking Alpha). I have no business relationship with any company whose stock is mentioned in this article.