A new study published last week by the RAND Corporation states that the proportion of Americans who are severely obese is rapidly increasing. In fact, it is increasing much more rapidly than the growth in the proportion of the population that is defined as moderately obese. The study defines "severe obesity" as being 100 pounds or more overweight or possessing a body mass index of more than 40. The percentage of the population that is defined as either moderately or severely obese continues to grow, but this study finds that "the proportion of people at the high end of the weight scale is increasing faster than any other group of obese people." It is important to keep in mind that this study is expressing its findings as a percentage of the total population and so the growing problem of obesity is not something that can be explained by population growth.
Fortunately, the study found that the growth trend of severe obesity has finally slowed for the first time in twenty years. The percentage of the total population that can be classified as severely obese is still growing, but the growth rate is less than it was. Currently, approximately 6.6% of Americans are considered to be severely obese. Ten years ago, only 3.9% of the population was considered severely obese. Health experts predict that this percentage will be 11% by 2030. It is not just the prevalence of severe obesity that is increasing either. Moderate obesity is affecting an increasing proportion of the population as well. The Center for Disease Control states, according to the earlier linked USA Today article, that approximately 31% of American adults were considered obese in 2000. By 2010, that figure had grown to 36% of the American adult population. It is expected that the percentage will reach 42% by 2030. Thus, the number of obese individuals in the United States is growing much faster than the actual population.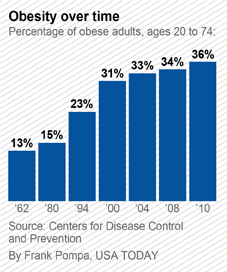 The RAND Corporation study also found that the prevalence of severe and moderate obesity is increasing more rapidly for younger Americans -- those under age 40 -- than for older Americans. The rate of obesity in children and adolescents now stands at approximately 17% and is also increasing. This trend is particularly disturbing for reasons that will be discussed shortly.
There are many health concerns with obesity. Obese people have an increased risk of heart disease, stroke, many types of cancer, sleep apnea, type 2 diabetes, and many other chronic and debilitating conditions compared to non-obese people. This has huge implications for public policy when we consider that the federal and state governments are responsible for the majority of healthcare spending in the United States. Most of these conditions are chronic; once a patient is diagnosed with the condition then that patient will have the condition for either a long period of time or for the rest of their lives. This results in the need for the people afflicted with the chronic condition to keep purchasing medical care for it.
I will save the debate over public policy for politicians and the people whom they represent. The focus here is how we, as investors, can profit off of this trend. One way is by purchasing shares in companies that provide medical treatments for people with these obesity-linked chronic conditions. One such company is Danish diabetes-care specialist Novo Nordisk (NYSE:NVO).
Novo Nordisk has the broadest portfolio of diabetes care products in the industry, including advanced products within the area of insulin delivery systems. In fact, diabetes care is by far the largest product division of Novo Nordisk, accounting for approximately 65% of the company's operating profit. The remaining 35% of the company's operating profit comes from a variety of biopharmaceutical products.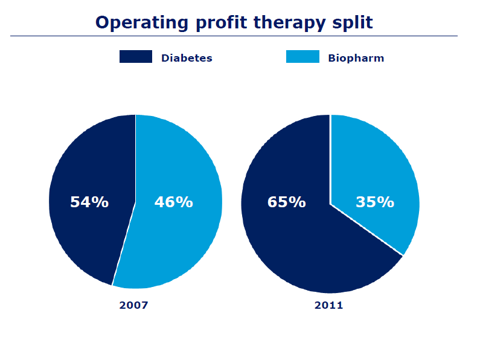 Source: Novo Nordisk
This focus on diabetes care products is unique among companies of this size. There are some smaller companies that focus on exclusively or nearly exclusively on diabetes care, such as Amylin Pharmaceuticals prior to its acquisition by Bristol-Myers Squibb (NYSE:BMY), but overall Novo Nordisk offers a unique opportunity to profit off of the worsening diabetes epidemic. The other companies with significant share of the diabetes care market include Sanofi-Aventis (NYSE:SNY) and Merck (NYSE:MRK). Novo Nordisk is by far the largest holder of market share and the most focused company of all the major players in the diabetes care market.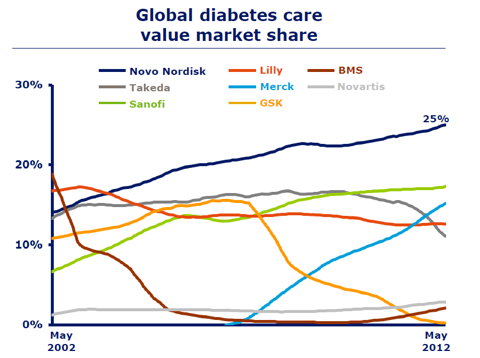 Source: Novo Nordisk
In a recent presentation (PDF), Novo Nordisk presented data from the Center for Disease Control that directly correlates a rising obesity rate with a rising diabetes rate. This provides even more evidence that Novo Nordisk could be a good way to profit off of a rising obesity rate.

Source: Novo Nordisk and Center for Disease Control
Novo Nordisk's stock has had a magnificent run over the past year, greatly outperforming the S&P 500 index (NYSEARCA:SPY).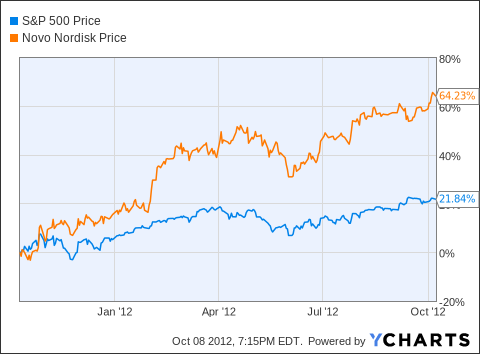 This outperformance may be partially attributable to the company's growth rate. Novo Nordisk showed a 17% increase in sales in the first half of 2012 compared to the first half of 2011. The company also saw its operating profit increase by 31% and its earnings per share increase by 26% over the same time period.
Despite the huge run-up that the stock has had this year, Novo Nordisk does not appear to be obscenely valued given the company's growth rate. However, the stock is also not clearly undervalued at these levels. At its current price, Novo Nordisk's stock has a trailing P/E ratio of 27.79 according to Yahoo Finance. This is roughly inline with the company's year-over-year growth rate as the trailing PEG ratio is 1.07. Analysts expect that Novo Nordisk's growth rate will slow going forward. According to Yahoo Finance, analyst consensus is for 15% EPS growth this year and 19.6% growth next year. Meanwhile, Zacks Investment Research believes that the company's growth will be stronger. That site's consensus is that Novo Nordisk will grow its earnings by 17.06% this year and 18.39% next year. According to that site, the stock has a forward P/E of 26.56 and a PEG ratio of 1.44 at the time of writing.
Novo Nordisk certainly has a lot going for it at this point. At its current price, however, Novo Nordisk stock does not appear to offer sufficient margin of safety for my taste. I would be very interested in adding to my position on dips as the growing obesity and diabetes pandemic provides strong tailwinds. We may see such a dip towards the end of the year if Congress fails to act to avert the looming fiscal cliff. Then again, the Fed's money printing could prop up the market for quite a while...
Disclosure: I am long NVO. I wrote this article myself, and it expresses my own opinions. I am not receiving compensation for it (other than from Seeking Alpha). I have no business relationship with any company whose stock is mentioned in this article.